Pop culture can be as forbidding as it is inviting, particularly in areas that invite geeky obsession: The more devotion a genre, series, or subculture inspires, the easier it is for the uninitiated to feel like they're on the outside looking in. But geeks aren't born; they're made. And sometimes it only takes the right starting point to bring newbies into various intimidatingly vast obsessions. Gateways To Geekery is our regular attempt to help those who want to be enthralled, but aren't sure where to start. Want advice? Suggest future Gateways To Geekery topics by emailing gateways@theonion.com.
Geek obsession: David Sedaris
Why it's daunting: David Sedaris has come to define the contemporary confessional essay, examining seemingly every event of his life, from his childhood growing up gay in a large Greek family in North Carolina, through a series of botched jobs, addiction, and eventually settling abroad with his partner. Since first appearing on NPR in 1992, Sedaris has been prolific, producing six collections of essays, publishing in the New Yorker and performing on This American Life and for sold-out audiences worldwide. Since his pieces are short, knowing where to start can be difficult; essay collections are bound to be hit-and-miss. Add in his new short-story collection, his plays (co-written with his sister, Amy Sedaris), and his many audio recordings and NPR appearances, and he has a surprisingly wide body of work for someone who started so recently.
Possible gateway: Me Talk Pretty One Day
Why: Sedaris' fourth collection is where he really hits his stride. By 2000, he'd been in the public eye for about eight years, and he'd homed in on a tight writing style that balanced diving into defining moments and stepping back to examine them. Sedaris plays cultural anthropologist in this regard, able to expose preposterous situations for their absurdity and add color to otherwise mundane moments by imagining what could have been. He's at his best when placing himself under scrutiny, assuming the role of a hapless, baffled participant in the folly.
G/O Media may get a commission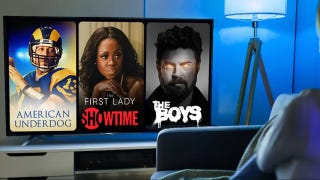 UNDER $1
99¢ Prime Video Channels
Sedaris splits Me Talk Pretty One Day into two sections, the first covering his life before a move to France, the second his life after. Part one tromps around some of Sedaris' best material, which almost invariably involves his family. He has talked at length about how such a public, ridiculous portrayal of his five siblings has sometimes strained those relationships; director Wayne Wang bought the film rights to Me Talk Pretty, but the project stalled because of Sedaris' concerns about how his family would appear. In this collection, it's easy to see why the family might be nervous: Sedaris' writing is gleeful in its exposure, though far from ill-willed. Though the essays involve his relatives, the focus is always on Sedaris and his interpretation of them. He loves them so clearly that any mockery comes across as familiar, gentle ribbing. In "Midget Abilities," his father, Lou, dreams that his love of music and jazz will be shared by his offspring: He optimistically buys Sedaris a guitar, pushes him into music lessons, and hopes Sedaris and his siblings will form a band. He takes his son to see Dave Brubeck for inspiration, but Sedaris dreams instead of an act that "consisted of me, dressed in a nice shirt and tie and singing a medley of commercial jingles in the voice of Billie Holiday…" In the end, the essays in part one of Me Talk Pretty evoke pathos common among family; they're hilarious, but also endearing in how foolish and almost naïve everyone seems.
To complement the nostalgia of part one, part two tackles the absolute absurd. Sedaris moves to France with his partner and documents his ludicrous attempts to learn the language and assimilate to the culture. Some of the best moments are downright silly. In the titular essay, "Me Talk Pretty One Day"—hands-down the funniest one in the book—Sedaris translates word-for-word the god-awful French sentences he and his classmates put together with their limited grammar and vocabulary.
Next steps: From here, move to à-la-carte Sedaris to determine whether you prefer his earlier work, which focuses largely on his unstable, wilder past, or his more recent work, after he settles abroad as a happy, successful author in a stable relationship. There are fewer antics in his later work, sure, but the tradeoff is that he's nailed his craft, and matured enough to broaden his scope and examine not only himself, but the world around him.
First, get to know Sedaris' voice. It can be a little sniveling at times, but the cadence of his bewilderment and amusement is well worth it. The archives of This American Life host about 50 Sedaris essays. Check out "Repeat After Me," which explains in part Sedaris' process and the fear it instills in his siblings; "I Like Guys," in which he talks about being a gay kid and fearing exposure at camp; and the more serious "Ashes," in which he talks about learning his mother has lung cancer. Next, head over to the New Yorker archives, where Sedaris published many of his essays before they appeared in his collected work. Start with "The Man In The Hut," a poignant essay about how Sedaris befriends a convicted child molester and then is shamed into shunning him. (It later appeared in When You Are Engulfed In Flames, Sedaris' most recent compilation.) From there, the only route is really back to the collections, whose essays are immensely re-readable, especially after hearing the audio versions.
Where not to start: Sedaris' most recent is Squirrel Seeks Chipmunk, a messed-up children's book of fiction, in which all of the characters are animals. The stories are clumsy and sour, lacking any of the careful detail—and surprisingly, the witty imagination—of Sedaris' non-fiction. Certainly don't start here; in fact, skip it altogether.