Here's what's up in the world of TV for Thursday, January 21. All times are Eastern.
Top pick
DC's Legends Of Tomorrow (The CW, 8 p.m.): Moving the TV landscape one step closer to non-stop superhero programming, The CW debuts the third series set in its Arrow/Flash universe. But unlike those solo-hero focused series, Legends Of Tomorrow centers on a whole team of time traveling heroes who hunt bad guys throughout the ages. In her less-than-glowing pre-air review, Gwen Ihnat writes, "[The] mistake here might have been creating a show starring characters who wouldn't be compelling enough to anchor their own star vehicle. The Marvel team movies work because almost all of those characters stand strong on their own in solo adventures. But if nobody wants to see a Firestorm or Hawkman movie, it's likely that nobody really wants to see those characters as a part of a ragtag team of superheroes either. The Legends' total sum turns out to be inferior to its individual parts." But given our love for Arrow and Flash, we're willing to give this one the benefit of the doubt as it finds its feet. As such, we asked resident comic book expert Oliver Sava to suit up for weekly reviews.
Also noted
Heroes Reborn (NBC, 8 p.m.): It's been a long and bumpy ride for NBC's Heroes reboot, and it all comes to a end tonight with a not-particularly-anticipated series finale. Malina desperately tries to fulfill a prophecy to prevent the end of the world. Frankly, Kate Kulzick isn't sure there's much worth saving here.
G/O Media may get a commission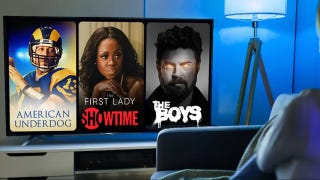 UNDER $1
99¢ Prime Video Channels
The 100 (The CW, 9 p.m.): Kyle Fowle called The 100's sophomore outing "one of the best seasons of television in 2015." Will the third season be able to live up to that high bar? At the very least, it has a cool, moody trailer that promises intrigue, war, and tons of kissing. And really, what more could you want from a CW sci-fi series?
Baskets (FX, 10 p.m.): Zach Galifianakis has admitted he has "no idea" if his new comedy about a would-be French clown turned rodeo performer will actually work. Though she admits it's a "depressing watch" in her pre-air review, Allison Shoemaker finds that at its best, Baskets "gracefully balances absurdity and despair, hostility and humanity, pratfalls and pathos." So we asked Vikram Murthi to don his clown makeup and check out the series in weekly reviews.
Portlandia (IFC, 10 p.m.): Fresh off her turn as a 1950s lesbian in Carol, Carrie Brownstein slips back into her various Oregonian characters. Fred Armisen is there too, of course, but Les Chappell is more excited by tonight's appearance from The Flaming Lips, who split into rival bands for Portland's Pickathon Music Festival.
Regular Coverage
Adventure Time (Cartoon Network, 7:30 p.m.)
Elementary (CBS, 10 p.m.)
Workaholics (Comedy Central, 10 p.m.)
Idiotsitter (Comedy Central, 10:30 p.m.)
Elsewhere in TV Club
We've got two brand new pre-air reviews today (check out "What else is on?" for more details on both shows). First up, Brandon Nowalk takes a look at BBC America's new spy thriller London Spy, where he notes, "London Spy's abstract cerebral approach is too reductive of individual humans, but it's just right for the macro question of what gay acceptance looks like nowadays."
Then Scott Von Doviak weighs in on Showtime's docu-series Dark Net and explains, "The limitations of Dark Net's format skew the series more toward a sensationalist skimming of the surface, rather than an edifying plunge into the depths of technology's dark side."
And finally, brave soul Keith Uhlich defends the much-maligned second X-Files movie in a brand new For Our Consideration.

What else is on?
Colony (USA, 10 p.m.): Will tackles his first day at his new job (a.k.a. as a forced government collaborator) and faces some unforeseen challenges. Elsewhere Katie reopens her bar. Presumably those alien overlords are still hanging out behind closed doors too.
Lip Sync Battle (Spike TV, 10 p.m.): Admittedly we probably highlight this show too much in our What's On Tonights, but it would be a crime not to inform our readers that the always fabulous Tracee Ellis Ross is one of the guests tonight, along with her Black-ish co-star Anthony Anderson. Here's hoping Ross channels her famous mom, Diana, in at least one of her performances.
London Spy (BBC America, 10 p.m.): BBC America debuts this British series starring Ben Whishaw as a young man who learns his recently deceased boyfriend was a spy. In his pre-air review, Brandon Nowalk writes, "The reasons the romance lacks life and the mystery lacks intrigue are one and the same: Plot leads character. London Spy is a game someone else is playing. Series director Jakob Verbruggen, who made Belfast such a creepy prowling grounds in the first season of The Fall, might have been able to fill in the skeletal storytelling, but London Spy, with its blend of queer, noir, and sci-fi notes, gets away from him."
Dark Net (Showtime, 11 p.m.): Showtime delves into the seedy underbelly of the web. In his pre-air review, Scott Von Doviak explains, "The implication is that Dark Net will open a window to the mysterious underbelly of the internet, but at least in its first two episodes, the series doesn't delve any deeper than a Google search….The subject matter is worthy of the docuseries treatment, but Dark Net is a shallow wade into the deep web."
Foreign Correspondent (TCM, 8 p.m.): This 1940 spy thriller is one of two Alfred Hitchcock films to nab a Best Picture Oscar nomination (the other being Rebecca). An American reporter tries to expose enemy spies in Britain and winds up stumbling upon a continent-wise conspiracy instead. Egads!
8 Mile (VH1, 8 p.m.): You only get one shot, do not miss your chance to watch 8 Mile on VH1.
Top Gun (AMC, 10:30 p.m.): Ride into the danger-zone with the most homoerotic movie this side of Velvet Goldmine.
College Basketball: Ohio State at Purdue (ESPN, 9 p.m.): Your What's On Tonight correspondent found one analyst who claims that this Ohio State/Purdue match-up "scares [him] more than any game." Sounds like the NCAA has finally implemented her idea of putting alligator-filled moats in front of each basketball net. Should be a fun.
In case you missed it
Arrow: Will Felicity survive the devastating attack she suffered in Arrow's winter finale? Only Alasdair Wilkins (and anyone who watched last night's episode) knows for sure!