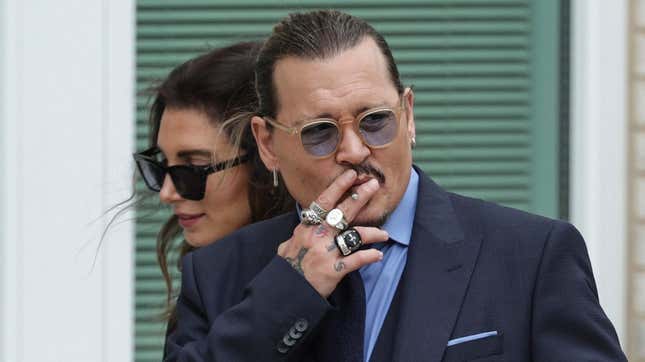 It's been 14 months since the divisive defamation trial between Johnny Depp and Amber Heard was controversially broadcast live on TV, TikTok, and YouTube for the world to salivate over. Fourteen months, too, since the jury ruled in favor of The Pirates Of The Caribbean star—despite a U.K. judge previously finding that Depp had abused Heard on at least 12 occasions. Fourteen months since a video of Heard, in which she spoke about the physical abuse that she had gone through in her marriage, started trending on social media as TikTok users recreated it in a bid for laughs. And 14 months since the world was left wondering what the shocking events surrounding this trial truly means for high-profile court cases going forward.
Netflix plans to make you freeloaders finally cough up the dough
Is it any wonder, then, that Netflix has already rolled out a new docuseries about it all?

On paper, Depp V. Heard has serious potential: Ahead of its streaming premiere, BAFTA-nominated director Emma Cooper promised to eschew the drama (and the trial's more disturbing revelations) to instead delve deep into the incredible, often horrible reaction of all those people who viewed the tumultuous defamation trial online, turning her camera lens squarely on us in the process.

"As I started to look at the noise on social [from the trial], I thought there were very, very many opinions about the material," Cooper told Netflix's You Can't Make This Up podcast. "I found it really compelling that we could all watch the same thing and have completely different responses and opinions to the evidence that was being put forward. There are many ways of looking at truth in a society." Further musing on the concept of truth, Cooper added that "it's a curious element of the human mind and brain that we observe the same scenarios differently, and have different perspectives." She continued, "I simply wanted to put forward that these two people passionately believed their own truths, but those truths were not interlocking."
No fresh insight, no new information
It's an interesting idea, especially since finding a way to take a truly neutral stance on one of the most divisive courtroom dramas in recent times is no small feat. (This writer found writing this article a headache, so a three-hour docuseries must be one hell of a cluster migraine.) Still, Depp V. Heard becomes so obsessed with its idea of neutrality—with avoiding being drawn into either side of the debate—that it fails to really say anything.

Using social-media responses from the trial, along with pool footage of courtroom testimony, the series doesn't take advantage of the (sorry to bring this up again) 14 months that have passed since the trial. Captain Hindsight was clearly too busy fighting fires elsewhere to offer us some useful retrospection here. By which we mean that there are no talking heads, no experts, no freshly contributed voices or information. The aforementioned U.K. trial, which this media circus is inextricably linked to, is barely mentioned. And the social-media commentary that buzzed around the case like a swarm of angry bees? Well, Cooper acknowledges that it existed, of course. The director also suggests that there was more money involved in churning anti-Heard sentiment than there was with Depp—but the reasons for this aren't discussed whatsoever in the docuseries.

It's an overwhelming oversight, to be perfectly blunt. Especially as Bot Sentinel, a research firm that uses data science and artificial intelligence to detect and track bots, trolls, and suspect accounts on social media, last year published a report that claimed some 627 Twitter accounts were dedicated primarily to tweeting negatively about Heard and her supporters. Almost 3,300 accounts were tweeting the hashtags #AmberHeardIsAnAbuser, #AmberHeardLsAnAbuser, #AmberHeardIsALiar, and #AmberHeardLsALiar, with the misspellings perhaps intended to get around Twitter filters. (It's important to note that while Heard's legal team hired the company in 2020, Bot Sentinel says it wasn't paid by anyone for the Heard research it did in June 2022 after a verdict was reached in the court case).

Does Netflix's three-part docuseries explore these claims? No, although it does find time (one whole episode, in fact) to rehash the infamous "poop-in-the-bed" incident from the trial. Does it explore what drove this online discourse? No, although Depp and Heard's gruesome recollections of that now-notorious sliced fingertip are painstakingly laid out side-by-side for all to see. Does it clarify any of the finer details around defamation law? Nope, although we get plenty of FaceTime with anonymous trolls in Deadpool masks and reenactments of ordinary people following the coverage at home. All of which are wonderfully produced, sure, but all of which are utterly pointless, too.

Angering both Depp and Heard supporters
We get it, of course: Cooper isn't a journalist; she's a filmmaker. Her aim isn't to expose any new truths about the Depp V. Heard trial, but simply to hold up a mirror to the events and allow us to reflect upon them. Which means, yes, she winds up dazzling us with all those same impartialities of which we were already painfully aware. Because, as mentioned, the trial took place just over a year ago. It has dominated headlines and conversations ever since. And, ironically, Cooper's delving into all of that social-media coverage earnestly points out that if there's one thing we really didn't need, it's a documentary that aims solely to "show us both sides" of the testimony we've already heard.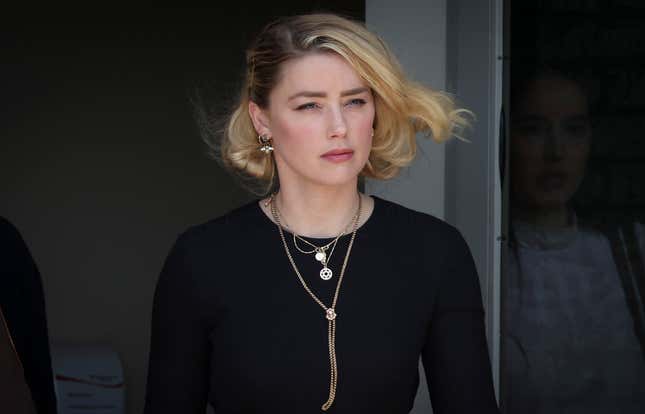 Similarly, we absolutely don't need to see a collection of tweets and TikTok videos about the trial. Anyone who hasn't been living under a rock for the past few years will undoubtedly have been fed a steady stream of them through social-media algorithms anyway. All it serves to do is reduce this documentary to serve as a highlight reel from one of the biggest lowlights of last year. As a result, it's royally pissed off everyone and no one somehow simultaneously: Depp supporters are fuming that it fails to address claims that Heard fabricated and "stole" her testimony from her assistant. Heard supporters, too, are upset that there is no scrutiny of the social-media trends against her.

All of these complaints are more than fair. Indeed, while the trial's verdict is final and the case is resolved, it would have been interesting to examine what this case means for the #MeToo movement. It would have been useful, too, if it had delved into Heard's allegations that Depp spearheaded the online hate campaign about her rather than waggle his metaphorical eyebrows and drop loaded hints about it. And it would have been far better to have at least some thoughtful analysis in the mix by, say, having legal experts explain what this particular case tells us about trials in the age of social media, or a charity spokesperson's concerns about how all of the memes might have changed the public's views of intimate-partner violence. It might be interesting to explore how the vitriolic debate on both sides has damaged friendships and relationships IRL or include a group of data scientists' take on how online discourse can or cannot influence trial verdicts, or … well, anyone talking about anything, to be honest. We'd have even gone for a court reporter or two's take on the whole "TikTok took our jobs!" dynamic.

Depp V. Heard is, we suppose, a good summary of the same events that basically anyone with a good internet connection is already aware of. It also, too, reminds us that Depp and Heard each had a different version of the events that led to that courtroom in the first place. But, to quote Community's Britta, duh doy!