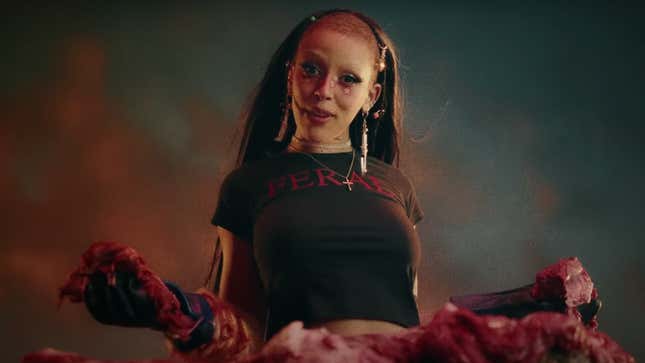 Doja Cat is taking an approach recently practiced by both Sam Smith and Lil Nas X. When haters call you the devil or tell you to go to hell, lean in. Hard. The only difference is that in Doja's case, the reasons have less to do with homophobia and more to do with dating an alleged abuser and being a pretty prolific shitposter, and instead of haters, it's more like her own fanbase.

"The Amazing Race" host Phil Keoghan on auditions, and being prepared
The rapper recently got into hot water with her "kittenz" for, among other things, taking shots at the fanbase's chosen name seemingly out of nowhere. "[My] fans don't name themselves shit," she wrote in a since-deleted Threads post. "If you call yourself a 'kitten' or fucking 'kittenz' that means you need to get off your phone and get a job and help your parents with the house." Fan-pages have also shut down in recent months over Doja's choice of partner, a popular Twitch streamer named J. Cyrus who has been accused of manipulating and emotionally abusing members of his team.
Doja hears all of this—and she doesn't care. "Yeah, bitch, I said what I said / I'd rather be famous instead / I let all that get to my head / I don't care, I paint the town red," she raps over a (delightfully chosen) sample of Dionne Warwick's "Walk On By" in the opening of her new track "Paint The Town Red"—the second from her as-of-yet untitled, upcoming fourth album.
The track itself is a reminder of why Doja is so famous in the first place. Her sounds is unique, lush, and 100% in control as she deems herself a "bad little bitch" and a "rebel," and directly calls out fans who melted down over her shaved head and eyebrows ("Ugh, I look better with no hair") and pivoting genre ("Said pop make money, now you try bitch / You could use a revamp with a new vibe, sis").
The video itself is a visual feast, with Doja posing as a Carrie-esque femme fatale, riding a green, horned creature through the sky, dancing with the grim reaper, dressed as the literal devil, and posing with chunks of (human?) meat in turn.
It's a strong statement from an artist who has never quite known how to navigate the rabid stan culture that's surrounded her from the beginning: from now on, I'll do, say, and make whatever I want. It's a message that's sure to further alienate fans of her earlier, poppier work, but could also bring in a whole new wave of listeners, eager to witness an interesting, complicated artist at the height of her powers.