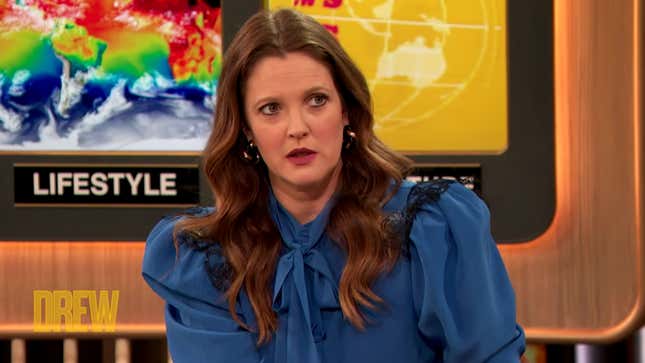 The Drew Barrymore Show will return on Monday, September 18, a decision that has proven controversial amid Hollywood's ongoing writers strike. While many daytime talk shows (like The View) have continued production because they never employed Writers Guild of America members, Barrymore's eponymous show was covered under the WGA contract. So how does the beloved actor square returning to production?

Taylor Swift went on a date with an NFL player and is now both cheer captain and on the bleachers
In a statement on social media, Barrymore writes that she was "making the choice to come back for the first time in this strike for our show, that may have my name on it but this is bigger than just me." She shares she walked away from the MTV Film & Television Awards because it was a "direct conflict" with the strike, and points out that the previous season of her show wrapped before the strike was called, so she didn't have to make a decision on how to move forward until now.
"I own this choice. We are in compliance with not discussing or promoting film and television that is struck of any kind," Barrymore claims. "We launched live in a global pandemic. Our show was built for sensitive times and has only functioned through what the real world is going through in real time. I want to be there to provide what writers do so well, which is a way to bring us together or help us make sense of the human experience. I hope for a resolve for everyone as soon as possible. We have navigated difficult times since we first came on air. And so I take a step forward to start season 4 once again with an astute humility."
In its own statement (via Deadline), network CBS asserts that "The Drew Barrymore Show will not be performing any writing work covered by the WGA strike." But the WGA, understandably, disagrees. "The Drew Barrymore Show is a WGA covered, struck show that is planning to return without its writers. The Guild has, and will continue to, picket struck shows that are in production during the strike," the WGA East posted on Twitter/X. "Any writing on 'The Drew Barrymore Show' is in violation of WGA strike rules."
Comedian Adam Conover, a member of the WGA negotiating committee, posted on his own social media, "This is incredibly disappointing. @DrewBarrymore's show employs WGA writers who are currently on strike. She is choosing to go back on the air without them, and forcing her guests to cross a picket line. Drew: This harms your writers and all union workers. Please reconsider." He added, "The worst part is that Drew and her production company claim that they're following WGA strike rules. They are not; they are violating them, by producing a WGA-covered, written show during a strike without WGA writers."
Writer David Slack (Person Of Interest), a former WGA West Board member and alum of the negotiating committee, provided a breakdown of the situation: "Drew Barrymore's talk show is covered under SAG-AFTRA's Netcode contract—which is not on strike. As long as she doesn't promote any of her old movies on the show, she's not violating SAG-AFTRA's TV/Theatrical/Streaming strike," he explained.
However, given that The Drew Barrymore Show is covered under the WGA contract, "By going back on the air without her writers, Drew Barrymore is 100% ensuring that *someone*—either herself, one of her non-writing producers, or all of the above—will be doing the writing work that WGA writers normally do," which includes delivering a monologue, coming up with questions to ask guests, and more. Even if Barrymore improvises her way through those segments moving forward, doing so is technically replacing the work of a striking writer, also known as scabbing. "It is not too late for @DrewBarrymore to stop this and do the right thing," Slack wrote. If her concern is paying the crew, it seems like someone who was born rich and has starred in hit movies since childhood might be able to find a better solution than working with scab writers."
"Drew Barrymore has always been someone who recognized her privilege and aimed to evolve, so I hope she will reconsider this hasty decision intended to pay her crew because it weakens both unions to openly endorse scabbing. She could personally fund their salaries for eternity," posted writer Gennefer Gross. Writer Claire Willett commented, "since the strike prohibits studios sending them out to actually promote work, i plan to heavily side-eye every single famous actor friend of Drew Barrymore who comes to sit on her couch and chat about skincare or their childhoods while their fellow union members are out picketing."
We'll see what the writer-less Drew Barrymore Show ends up looking like. Per Deadline, the series plans to introduce a new segment called "Take Care Everywhere" which tackles the tough questions many are too embarrassed to ask their own doctors with featuring Menopause Bootcamp founder Dr. Suzanne Gilberg-Lenz; celebrity hairstylist Chris Appleton will also join the show alongside regulars Ross Mathews, interior designer Mikel Welch, chef Pilar Valdes and sustainable living guru Danny Seo. Meanwhile, the WGA will be outside the studio making their objections heard on the picket line.