Evidence Of A Slow Entertainment News Day: 1. People care about the arrest and sentencing of one of the mouth-breathing stars of MTV's Laguna Beach. Truly, reality can be very difficult without a script supervisor. 2. Every other story is about American Idol, Rosie O'Donnell, or the incredibly boring "feud" between American Idol and Rosie O'Donnell. (Incidentally, if you're having trouble sleeping, try reading a story about the contestants on American Idol. It's better than Ambien.) 3. Star Jones Reynolds, or whatever's left of her, is back in the news. Evidently, her hammerhead-shark-like visage, and signature breathy huffiness will soon be coming back to a TV near you. (Provided, of course, that the TV near you is always tuned to Court TV during the early afternoon hours.) The photo TMZ.com used to illustrate this story?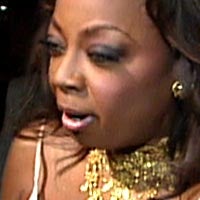 4. One of the top 10 stories on People.com right now concerns the unbelievable happiness of one of Hugh Grant's ex-girlfriends upon marrying someone who isn't Hugh Grant. (
Elizabeth Hurley: I Cried At My Wedding) 5. Anne Hathaway, desperate to keep talking to reporters about anything besides Prada or Meryl Streep, has bravely come forward with her tale of abuse at the hands of one of English literature's most famous ghosts:
"I had really bad dreams about being chased around and stabbed to death with a quill by [Jane] Austen. I was having panic attacks and would wake in the middle of the night sweating and breathing very heavily because it would have really broke my heart to have messed this one up. The pressure only stopped when people watched the film and they liked it. I guess I still need other people's approval.
(Anne Hathaway Has Jane Austen Nightmares) 6. I just watched this (at least 4-year-old) clip of Entertainment Tonight's coverage of Leah Remini's Stuff Magazine photoshoot. Not even the longest German word could cover the melange of emotions I feel when watching this clip. How can one thing be both so disturbing and so hilarious at the same time? When was Leah Remini ever considered sexy? And how often do you get to hear Mary Hart say, "The Insider found Leah Remini out of Queens, out of her clothes, and in a birdcage…" (Another question: Do you think Leah Remini hates the "troupes"?)