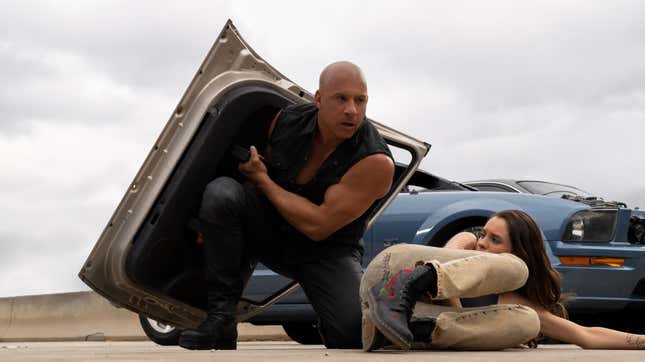 Vroom vroom! Vrrrrrrr screeech honk! Those are car noises in honor of Fast X, the Xth entry in the soon(?) to be ending(?) fan-favorite film franchise that is ostensibly about cars. In its debut, the movie made $67 million, which is just a little bit under the debut of F9 a couple of years ago. That put it well ahead of second place's Guardians Of The Galaxy Vol. 3, but in its third week, that movie is still no slouch. It made $31 million for a total of $266 million. (Also, Vin Diesel is in both of them!)
Judy Garland's previously missing Wizard of Oz dress to be auctioned off
The rest of the domestic box office chart is almost identical to what it's been for a little while now, with The Super Mario Bros. Movie ($9.8 million, total of $549 million, and it's now available to rent at home), Book Club: The Next Chapter ($3 million, $13 million after two weeks), and Evil Dead Rise ($2.3 million, $64 million after five weeks) rounding out the top five.
In the bottom five (of the top 10), we have Der Babo Yeega (as Scott Adkins says it) in John Wick: Chapter 4 ($185 after nine weeks), Are You There God? It's Me, Margaret ($18 million after four weeks), Hypnotic ($4 million after two weeks, ouch), Love Again ($5 million after three weeks, ouch), and finally Dungeons & Dragons: Honor Among Thieves ($92 million after eight weeks). That movie has really been hanging around, making money for months, possibly because it's just waiting for Jarnathan to show up. Jarnathan was kind of important to the whole plan….
Anyway, the full top 10, courtesy of Box Office Mojo, is below.
Fast X
Guardians Of The Galaxy Vol. 3
The Super Mario Bros. Movie
Book Club: The Next Chapter
Evil Dead Rise
John Wick: Chapter 4
Are You There God? It's Me, Margaret
Hypnotic
Love Again
Dungeons & Dragons: Honor Among Thieves