There are more confusingly named electronic-music subgenres around than ever, and even the full-time, full-on culture dorks at The A.V. Club can't figure them all out. That's when they point to Michaelangelo Matos and shrug, "Ask him." Beat Connection is the result: This monthly column sorts through "full-lengths" (or, as they're known to normal people, "albums"), EPs (which are not, as so many 12-inch aficionados insist, two-sided singles with very long tracks, but three-songs-or-more items too short for albums), compilations, mixes, and the absolutely ridiculous array of free, downloadable DJ sets this fabulous interweb of ours offers up on a daily basis. You can dance if you want to, you can leave your friends behind, but if you don't dance—well, some of this stuff is really made for nodding off to anyway.
‬
THREAD COUNT. It can take a while to get going musically when a new year begins, but 2010 is already sounding really good in electronic music. Take Martyn's Fabric 50 (Fabric), a 26-track DJ set that sounds like a culmination of the post-dubstep nexus that's still in progress. It isn't the only one, but it's hefty nevertheless. It seems a little odd that such a rhythmically bumptious mix is in the Fabric series, which generally caters to four-on-the-floor beats, rather than its FabricLive sibling, which is where breaks and the like go. It's also telling: Right now in London, home of the club that issues the series, the bass-driven stuff Martyn spins here is king. But the disc's strength is that it jumps all over. It includes techno tracks (by DJ Bone, as well as Ben Klock, who remixes both Martyn and Deepgroove & Jamie Anderson) and broken beat from Nubian Mindz, as well as a passel of recent London front-runners: Zomby, Actress, Roska, Joy Orbison, Cooly G, and Martyn himself. By the time he finishes off with Dorian Concept's whizzing "Trilingual Dance Sexperience," which stretches its keyboard riff around like taffy, it's clear just how vital this slice of the world is right now.
ALLIEN BREAK-IN. I seldom revisit the albums of Berlin producer-DJ Ellen Allien, because when I'm in the mood for her, I go back to her mix-CDs, particularly 2002's Weiss.Mix and 2007's Boogybytes Vol. 4. The new Watergate 05 (Watergate) is likely to join them. It starts out spongy (the synths of DJ Yellow's "Lost" and John Tejada's "The End Of It All"), enters the mist with the choirs of Luciano's "Celestial," cuts the groove to a hard angle via tracks by Dark Unknown and Juno 6, and veers into near-straight near-pop with Röyksopp and Fever Ray's "This Must Be It," before Allien's own "Pop The Clock" skedaddles in and skews everything properly back to the abstract. Whew.
MEANWHILE, BACK IN THE JUNGLE. I admit it: I largely gave up on drum-and-bass more than a decade ago. Sure, the occasional track or mix still piques my ear, but not often enough. So The Kings Of Drum & Bass (BBE), a double CD mixed by 4 Hero and DJ Marky, is a nice reminder of what I've missed. That's maybe not as much as I sometimes fear, but judging from Marky's second disc, it's enough to make me wonder. Disc two covers the '00s, and while the beats of tracks like Random Movement's "Waterlogged" or Marcus Intalex's "Airbourne" and "Temperance" don't blister à la the mid-'90s stuff that made me fall for it in the first place, they roll out beautifully anyway, and the gliding/swooping synths tend to be lovely without coyness. Marky's selection dovetails nicely with 4 Hero's first disc, which offers a nice spread of mostly mid-to-late-'90s tracks that range from tail-end-of-ravey to jazz-tinged sophisticated—sometimes literally, as when the giddy "Maximum Style," by 4 Hero alias Tom & Jerry, fades out to make way for the glossy keyboards and meticulously structured hi-hat patterns of Aquasky's "Images." Back then, I found the latter type too fussy for its own good, but it's only gotten more lustrous with time.
G/O Media may get a commission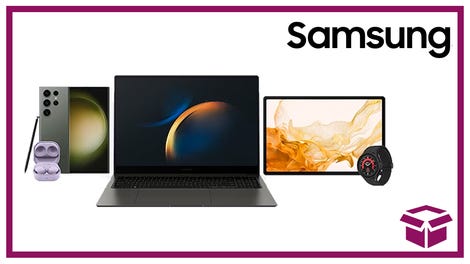 24 hour deals
Discover Samsung - Daily Deal
NEXT STOP, EARTH. Lindstrøm & Christabelle's Real Life Is No Cool (Smalltown Supersound) should be a little easier going down than usual for the producer. Norway's Hans-Peter Lindstrøm is known for his glacially paced space-disco extravaganzas, both alone and with frequent partner Prins Thomas, but teaming with vocalist Solale Christabelle (this album is their debut together, though they've recorded together for a while) enforces whatever pop instincts he has. But "Lovesick" and "Let It Happen" show he can write tight as well as conjure icy vistas, and while my favorite line of her MySpace bio reads (verbatim), "On stage Christabelle is singing over this slow paced disco, making it sounds like voodoo," this isn't particularly spooky—just skillful synth-pop.
SHLOH DOWN. So all these newly emergent Los Angeles laptop-etc. producers—Flying Lotus, Nosaj Thing, etc.—are basically the new IDM front line, right? That's certainly the case with 19-year-old Henry Laufer, who goes by the name Shlohmo and makes bass-heavy laptop glitch that could have been issued 10 years ago on Tigerbeat6. Shlomoshun Deluxe (FoF) comes complete with a-little-too-on-the-nose titles such as "Post Atmosphere" and "Dead Pixel"—the twittering cartoon glitches and stuttering-stoned kick drum of the former have some appeal, while the latter is pretty by-the-numbers. Deluxe is uneven, but I do keep replaying "Antigravity," a gawky beaut whose stumbling bassline gives its chime sweeps a weird heft, as well as providing a platform for straighter (and better) remixes by Fulgeance and Low Limit.
NOD YOUR HEAD. The test of Pop Ambient 2010 (Kompakt), like that of the Cologne label's nine annual collections of pretty torpor before it, is whether you can pay attention to it as easily as you can ignore it. (That was how Brian Eno defined "ambient music" in the first place.) As usual, some of it just disappears with attention, like Andrew Thomas's "Clouds Across Face," Dettinger's "Therefore," and Mikkel Metal's "Blue Items." But the slow delay-decay repetitions of Marsen Jules's "The Sound of One Lip Kissing," the lovely rain-patter hiss of Triola's "Schildergasse," and the smeared vocal hum, horn, piano, and bass of DJ Koze's reliably eccentric "Bodenweich" will keep listeners' minds occupied even while the rest of them goes on break. When Orb's "Glen Coe" introduces a brief spoken vocal sample, it's not so much jarring as flashback-inducing: Kompakt's foggy monochrome was always a couple of steps away from Alex Paterson's roots in tape collage.
REISSUE OF THE MONTH. Anthony "Shake" Shakir is one of those producers whose name is routinely accompanied by the phrase "Detroit techno legend." In his case, it's legitimate, not least because "legend," in music circles, often denotes "obscure," and Shakir's music has often been hard to find. This will probably soon be the case with Frictionalism: 1994-2009 (Rush Hour): the CD edition is limited to 1,000 copies. But it's a mammoth selection—not simply because it's three discs and 35 tracks long, but because there's so much variety here, from flinty dance-floor techno such as "Breathe Deeper" and "Electron Rider" and the jacking house of "Get a Feeling (Trackmode)" to the cool space-synth disco of "The Other One" to downtempo tracks like "Detroit State Of Mind." Every selection sounds like itself, and all of it sounds like the work of one of electronic music's most restless creators.
ON THE WEB. I had so much fun putting together my favorite web mixes of 2009 last month—and was able to begin the new year by pretending, for a couple weeks at least, to be on top of the new ones—that making it a regular part of the column seemed like the next step. Below, 10 mixes from January I especially enjoyed, briefly annotated and in order of posting.
Finn Johannsen, Promo Mixes 001: Front Club, 1990 (posted January) 
"The premise is simple," says the Promo Mixes website. "A different DJ each month makes a promo mix from a club of the past." In other words, dance music fan-fic—a wonderfully creative idea, full of possibilities, and nicely executed on this first pass, a 91-and-a-half-minute tribute to a mythical Hamburg disco.
Jackmaster, Numbers Dazed Mix (posted Jan. 7)
The Glasgow bass meltdown keeps on churning, with a generous helping of shameless old house bangers like DJ Slugo's "Wouldn't You Like To Be A Hoe Too" and Mike Dunn's "Deep Down" to set the stage for exclusive tracks by Joy Orbison and Terror Danjah.
Shortstuff, XLR8R Podcast (posted Jan. 7)
More bass, this time from London and with an emphasis on the glossy and luscious—see Shortstuff and Brackles' remix of Deadboy's "If U Want Me." And Steve Poindexter's 1989 "Work That Motherfucker" makes me wonder who sold their old jacking 12-inches to the post-dubstep record pool.
Camo UFO's, Lighta! Vol. 1: Bludclott Jungle Tekno (posted Jan. 9) 
L.A. DJs Nate Day and (thee) Mike B (yes, that's how he writes it) have been revisiting mid-'90s ragga jungle as Camo UFO's, and this blistering mix (32 tracks, 72 minutes) is both a history lesson and a culmination, surrounding their reworking of Major Lazer's "Pon De Floor" with vintage greats from Shy FX, Lemon D, Remarc, and Urban Shakedown.

Simian Mobile Disco @ Essential Mix (BBC Radio 1) (posted Jan. 9)
For those about to bang, we salute you.
Beyondjazz Podcast #360: Newness (posted Jan. 10)
A two-hour weekly Belgian radio show devoted to post-'70s jazz and the hip-hop, R&B, and club music that reveres it. It can be gelatinous at times, but after an agreeable first hour, things get going at about 56:45 with Raoul Lambert's deep-house pastiche "3 Seconds," and come to a peak with a remix of Joy Orbison's "Hyph Mngo" by Swedish veteran Andreas Saag, who transforms it into a swirling gospel-house number.
Chrissy Murderbot, Week 33: Post-Disco, Pre-House (posted Jan. 11) 
Exactly what the title says: 1980-86 roller-skating R&B, evenly divided between live and synth-constructed, that glides, swivels, and struts. Every transition contains real wonder; every selection (Kool & The Gang's "Get Down on It," Luther Vandross's "Never Too Much," Tramaine's fiery "Fall Down") is improbably better than the last. I'm not sure I've ever encountered a better compilation (never mind DJ mix) of this stuff.
Marcus Worgull, RA.189 (posted Jan. 11) 
In the accompanying Q&A, Marcus Worgull explains that he set aside his usual dance-floor leanings for this podcast: "[T]he listener is listening to this at home or in front of the computer while working, maybe while driving the car, but definitely not in a club or on a dance floor." His solution: slightly spooked soft-rock and wispy disco that he mixes into an ideal version of the last few years' "Balearic revival."
Shed, FACT Mix 116 (posted Jan. 18) 
One of Berlin's best goes to the wall with hard, dark techno (UR, Drexciya, Moving Ninja) that easily morphs into and out of dubstep (Zomby, Skream, Joy Orbison) without seeming at all gimmicky. It's not too early to call this one of FACT's definitive podcasts.