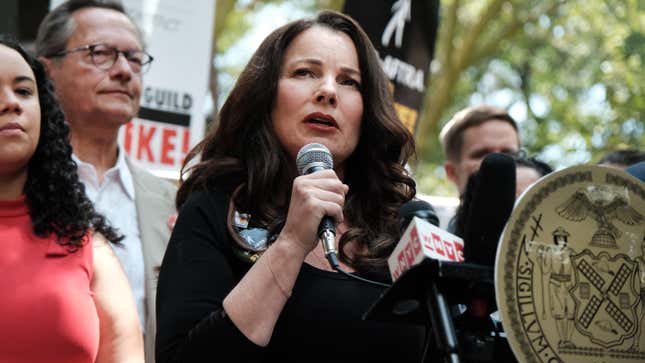 GLAAD released its annual Studio Responsibility Index, the organization's assessment of representation in film, and we have good news and bad news. First, the good: Representation of LGBTQIA+ people is at an all-time high, with more LGBTQIA+ characters than ever before. However, and here's where the bad comes in, SAG-AFTRA President Fran Drescher says that the AMPTP drawing out the strike threatens to undo that progress. In a statement, Drescher argued that the studios are keeping Hollywood shut down at a terrible time for the LGBTQ+ community when violent threats and bigoted legislation are on the rise.
Lizzy Mathis and Jessica Alba on "Honest Renovations," the SAG-AFTRA strike, and first impressions
"Right now, there's a very tiny but loud segment of our population that's hard at work spreading hate and fear while attempting to squash all storytelling that showcases the full, beautiful reality of the human experience," Drescher said. "Seeing diverse representation on screen is vital for empowering everyone to embrace their authentic selves."
GLAAD's results show that progress is being made. 100 (28.5%) of the 350 films released in 2022 by 10 distributors (A24, Amazon, Apple, Lionsgate, NBCUniversal, Netflix, Paramount, Sony, Disney, and Warner Bros.) contained an LGBTQIA+ character. That's a high for GLAAD since it began conducting the study 11 years ago. There were still some less-than-stellar results, though. For example, over half of those characters clocked in fewer than five minutes of screen time.
However, the studios' refusal to end the strikes threatens to undo the gains. "Sadly, the longer the AMPTP companies keep the entertainment industry shut down by refusing to come back to the bargaining table, the more risk there is for disrupting the progress that's been made in terms of inclusive representation," Drescher said.
GLAAD is in lock-step with Drescher, stating that by drawing out the strike and delaying production on, well, everything, those strides will slow. This means there won't be stories reflecting our actual society in the pipeline until the AMPTP returns to the negotiating table and agrees to a fair deal.
"At a time when the LGBTQ community is under unprecedented cultural and political attacks, it is more important than ever to hold film studios accountable for how our community is represented on screen," said GLAAD CEO Sarah Kate Ellis. "It is crucial that the AMPTP reach a fair deal with striking writers and performers — that these talented creatives can return to work as soon as possible so that the progress made in LGBTQ representation remains on track."
The study included a number of fascinating findings, including that comedy is the genre with the most LGBTQIA+ representation and action, sci-fi, and fantasy (regarded as one in the study) being the least inclusive. GLAAD also rated A24, NBCUniversal, and Disney as having "good" inclusivity while Apple had "poor" and Lionsgate "failing." But since even fewer movies will be produced now, we can probably expect those scores to drop as well.