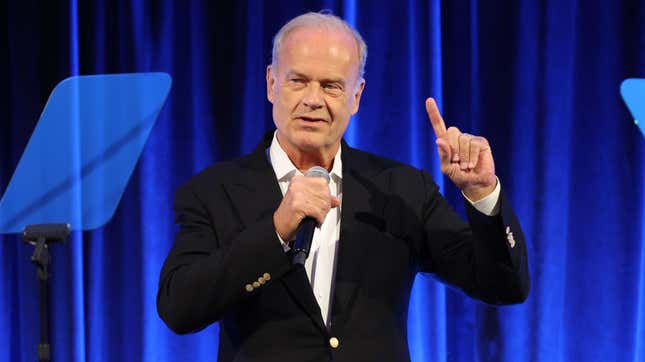 Oh, baby, we hear the blues a-callin', and we're hoping for the best.
There's been a lot of concern about the upcoming Frasier revival. Namely, the only returning cast member is Kelsey Grammer, leaving behind one of the best ensembles in television history. Niles (David Hyde Pierce), Daphne (Jane Levees), and Rox (Peri Gilpin) won't be on this upcoming Paramount+ season—though we've gotten word that Niles and Daphne's son David (played by Anders Keith) will be on the show. While imagining a Frasier without Niles is hard, it isn't unprecedented, and for the revival, Frasier's going back to his roots: Boston, Massachusetts.
The character Frasier Crane first appeared in 1984 on Cheers before spinning off to Seattle, where he resided for 11 seasons on NBC. The seminal Boston-set sitcom was co-created by James Burrows, who will also be directing the first two episodes of the reboot. Burrows directed nearly every episode of Cheers and Frasier, so that's another reason to be slightly more optimistic about the new show. It's not like Burrows has been idle, either; the man directed all 246 episodes of Will & Grace, including the recent revival.
Deadline notes the core cast of the new Frasier, aside from Niles' son, is Frasier's son Freddy (Jack Cutmore-Scott); Frasier's college professor friend Alan (Nicholas Lyndhurst); Alan's boss Olivia (Toks Olagundoye); and Freddy's roommate Eve (Jess Salguerio). While we have no specific reason to speculate, the hope is that by setting this in Boston, some of the barflies from Cheers might show up, which certainly reframes the reboot. If we can't have the Seattle crew, then the Boston one is an acceptable substitute.
In 2021, Grammer said he reached out to Hyde Pierce, Gilpin, and Levees about returning—we assume that they opted not to join or there was no place for them. He also said they would acknowledge the death of John Mahoney in the first episode. Mahoney, who played Frasier's father on the show, died in 2017.