A three-part portrait of female friendship, falling-out, and reconciliation on an Israeli military base, Talya Lavie's Zero Motivation makes no mention of the Palestinian occupation. That makes sense, since the film focuses on young women performing two years of mandatory military duty on the administrative sidelines. Patriotic zeal has nothing to do with why they're there.
Zohar (Dana Ivgy) practices overt, aggressive disregard for her tasks, focusing on mastering Minesweeper instead. Foil Daffi (Nelly Tagar) exhibits a seemingly guileless chirpiness and a detail-oriented mastery of her paper-shredding responsibilities that only slightly conceal a desire to flee desert-bound Shizafon for the cosmopolitan flair of a posting in Tel Aviv. The two are best friends in nonconformity on the base, and their split comes over Daffi's willingness to leave her friend behind, something an increasingly dysfunctional Zohar can't accept.
In interviews, Lavie's discussed how her film operates against a tradition of Israeli films, many unknown here, which view military life almost exclusively through male eyes. Zero Motivation's partially corrective take isn't flattering, taking in a culture run by preening males who tell gay jokes at meetings next to the lone female colleague, whose biggest responsibility is coordinating officers' coffees. Zohar and Abbi's increasingly violent misbehavior (if a staple-gun is introduced in the first act, it must be fired in the third) falls right into the lineage of Daisies, antisocial disruption as a necessary and understandable reaction to an intolerable situation.
While the middle segment restricts its focus to Zohar's dogged resolve to lose her virginity, the first and final parts depict the climax and slow dissolution of her friendship with Daffi. First their falling out is violent, but their post-basic-years training is compacted into a brisk, time-jumping, slow-disconnect epilogue. Zero Motivation is Ghost World-esque in showing how two friends brought together in solidarity in an oppressive mandatory environment (high school in that film) fall apart when mutual personality incompatibilities arise.
G/O Media may get a commission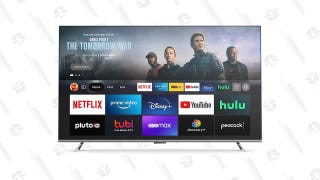 Save 46%
Fire TV 55" Omni Series 4K UHD Smart TV
Melancholy climactic trajectory aside, Zero Motivation is primarily very funny, thanks both to its game cast and Lavie's flair for unexpected gags; the paper-shredding motif reaches its illogical climax in a near-surreal act of revenge for bureaucratic tyranny. Darker elements punctuate the film's fundamentally peppy disposition: suicide, an attempted rape, and a not-quite-horrific but still unexpectedly creepy nighttime encounter with a ghost who wants to cuddle. With sometimes black-hearted drollery, Zero Motivation considers the underrepresented dissatisfactions of a mostly mandatory rite of Israeli passage, largely nailing a tricky balance between day-to-day banalities and the unpredictably out-there.