In the grubby, squirrelly, one-crazy-night New York crime drama Good Time, Robert Pattinson disappears under a ratty haircut, a mangy beard, and a thick glaze of animal desperation. His character, a petty crook named Connie Nikas, spends almost every second on screen running into or out of trouble, and the star wears that frazzled frenzy—that state of constant back-against-the-wall anxiety—like another layer of his baggy wardrobe. What we're seeing, in the mad scramble of this outlaw dirtbag, is a career transformation. Stripping away almost all traces of movie-star glamour to reveal the naked, nervy talent underneath, Pattinson finally bursts out of the chrysalis of his pin-up boy celebrity. The metamorphosis from YA heartthrob into electrifying character actor is complete.
Like his one-time co-star Kristen Stewart, Pattinson has been course-correcting away from Twilight for years—allowing David Cronenberg to twist his star power into strange new shapes, logging eccentric supporting performances in films like The Rover and James Gray's The Lost City Of Z. But Good Time, directed by the loudly underground sibling auteurs Josh and Benny Safdie, seems expressly tailored to showcase his underutilized intensity. Pattinson appears in almost every scene of the movie, beginning with the first one, in which Connie barges into an office where a specialist is assessing the developmental disabilities of his sullen, monosyllabic brother, Nick (Benny Safdie himself). Connie is fiercely protective of Nick, but it's quickly clear that he doesn't always do what's best for him. Case in point, the two are next seen entering a bank, lifelike rubber masks pulled tightly over their faces, in a robbery scene that's almost unbearably tense in its tunnel vision.
Things do not go as planned. Connie escapes by the skin of his teeth. Nick isn't so lucky. Most of Good Time unfolds over the hours that follow, as Pattinson's small-time hustler tries to figure out a way to get his brother out of the hot water he got him into. Connie, as Pattinson plays him, is a quick-on-his-feet bullshit artist, and the actor lets us see not just his survival-mode stress but also the improvisational spark of his intellect—the click click click of turning wheels behind his eyes, as he weasels his way out of every new dilemma. At first, Connie just plans to coerce his smitten girlfriend (Jennifer Jason Leigh, amusingly and kind of sadly playing a grown woman with the emotional maturity of a teenager) to put the $10,000 bail on her mother's credit card. But when Nick is moved from Rikers to Elmhurst Hospital after a fight in the clink, our hero decides to bust him out instead (an episode with a delayed and truly inspired punchline), and the movie spins off into an odyssey of foibles, bouncing the character across boroughs, from frying pans to fires, through a kind of scuzzier After Hours.

This might sound like uncharted territory for the Safdie brothers, who specialize in proudly janky, digressive New York character pieces. But just as their breakthrough, Heaven Knows What, was a freshly idiosyncratic spin on the addiction drama, Good Time funnels a crackerjack genre scenario through the peculiar particulars of their style: the shaggy storytelling, the affection for twitchy misfits from NYC's underbelly, the alternately seductive and oppressive blare of an electronic score (in this case, by Oneohtrix Point Never, whose hypnotic, feverish tango of synths and guitar supply the movie a retro Tangerine Dream vibe). Part of the good fun of Good Time is how it marries a bootleg Michael Mann urgency to an older, grungier species of NYC movie. (From the fleabag backdrops to the fringe-dwelling characters, a Safdies production never gives us a romantic or upscale New York.) But there's also the thrilling unpredictability—the way the plot keeps zigging when you expect it to zag.
G/O Media may get a commission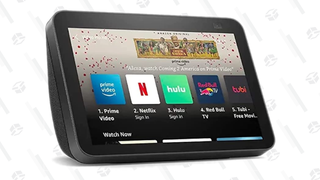 At a certain point, Good Time becomes about as exhausting as any real up-all-night misadventure. As if attempting to upstage the abrasiveness of their own characters, the Safdies capture everything in unflattering telephoto close-ups—a confrontational and literally in-your-face shooting strategy. But their boldest gamble is building this mess of exploits around such a belligerent, blatantly selfish protagonist: Connie, in his reckless flight through the night, has a way of fucking over everyone he encounters, from the teenage girl (Taliah Webster) whose car he commandeers to a hapless, fast-talking knucklehead (Buddy Duress) who hilariously stops the movie cold with an anecdote about his own troubles. Only an intense brotherly devotion redeems this flawed specimen—and the Safdies, who know a little something about the subject, are unsentimental enough to see his particular family bond as quite the double-edged sword. Of course, they were also smart enough to entrust the role to Pattinson, who's impossible to take your eyes off, even as Good Time gleefully pushes in on his sweaty, uncharacteristically splotchy mug. He's never looked worse or been better.