Last week, Johnny Marr revealed in an excerpt from his upcoming memoir that a Smiths reunion was in the works as recently as 2008. It obviously never came to pass, which is kind of surprising given that the intentions were declared while Marr was having drinks with Morrissey—and we all know that plans made over pints are basically carved in stone. Now it looks like the eight years that have passed since the Smiths frontman and guitarist last considered getting the band back together have done little to make their hearts grow fonder.
Exacerbating matters is Morrissey, naturally—specifically, the activist-artist's seemingly pro-Brexit statements. In an interview with Sky News on Tuesday, Marr questioned his old bandmate's recent lauding of the Brexit decision, indicating that if the sentiment's authentic, then they don't really have much more to say to each other. When asked about that other notable English split, Morrissey told Australia's Faster Louder the "result was magnificent" before disparaging the American and British media: "These news teams are exactly the same as Fox and CNN in that they all depend on public stupidity in order to create their own myth of reality. Watch them at your peril!" We would say "Bigmouth strikes again," but that joke isn't funny anymore.
Well, Marr caught wind of Morrissey's latest controversial remarks, and while he told Sky News that he doesn't entirely believe they represent his old friend's beliefs, he'd be even less chummy with his former collaborator if they do.
"Yes, that's probably right—I always forget about that, it's stuff I hear secondhand and I don't believe everything I read but if that is the case that he's pro-[Nigel] Farage, there would be a slight drawback in that, as anyone would imagine."
Marr opposed the decision to leave the European Union, so it's not hard to see this disagreement as another hurdle on the road to a Smiths reunion. But, politics aside, the legendary guitarist says he's not really feeling a reformation anyway, telling Sky News "Doing what I'm doing now, it doesn't feel necessary at all. I really like moving forward."
G/O Media may get a commission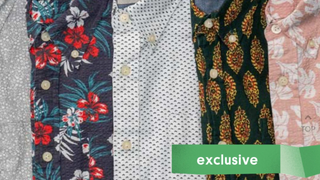 Grab three styles!
JACHS NY Summer Pack