It began as a joke, but comedian Hannibal Buress' "Gibberish Rap" went on to become a hit single in Norway. In a new episode of web series Hot Ones, in which celebrities get interviewed while tasting a variety of intensely hot sauces, Buress takes a moment to reflect on his less-heralded follow-up: "Versace Breakfast," which isn't nearly as renowned as it should be.
"I don't think a lot of people know about 'Versace Breakfast'," he says with a chuckle. "I made the 'Gibberish Rap' song and got really excited about it. A couple blogs picked it up. I was hyped, and I just told people send me a beat and I'll do some features." Here, Buress loses it, laughing at himself. "I'm gonna do a bunch of features, yo!"
The only one to take him up on it was Frederick Scott, who invited Buress to a Williamsburg studio to record lyrics like, "Scramble my eggs, Versace breakfast / Prada Lunch, I don't eat brunch / Fuck mimosas, no limit soldiers / Duck hunt, fuck cunts, luck bunch."
"And then nothing else after that," he says "It just stopped."

Listen to it below:
Just because he couldn't cut it as a rapper, however, doesn't mean he's not a fixture in the hip-hop community. Throughout the interview, Buress tells stories of Danny Brown's ill-fated trip to the Eric Andre Show and names T-Pain as one of the rappers he finds most hilarious. "When you pour your own drinks, that's when trouble happens," he says of a night at the strip club with the latter.
G/O Media may get a commission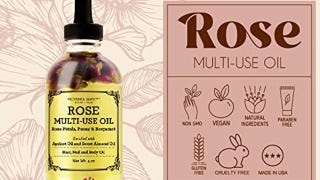 Provence Beauty Rose Multi-Use Oil
Buress caps off the episode, during which he teeters on the verge of unconsciousness after sampling the hottest sauces, with a freestyle about the Pepto Bismol he drank before the tasing and how he wishes "later someone else could take a shit for me."
Watch the whole episode above.