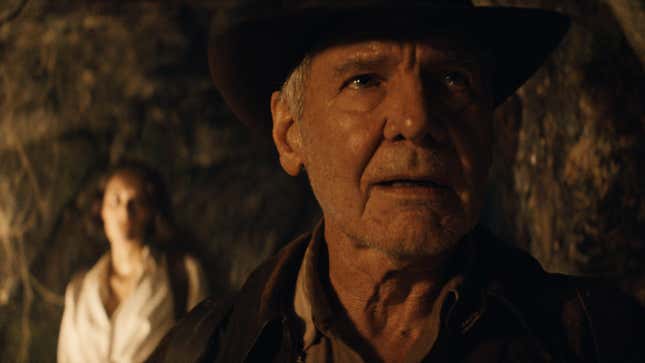 Much like Ben Affleck during his tenure as Batman, Harrison Ford has spent the last few years doing everything he can to avoid ever having to play any of his iconic characters ever again—whether that means dying onscreen as Han Solo or putting a perfectly poignant period at the end of Rick Deckard's story—and now he's doing it again for Indiana Jones. In fact, regarding director James Mangold's Indiana Jones And The Dial Of Destiny, Ford insists that this will be the last time he ever plays the whip-swinging, hat-wearing archeologist… and it might even be the last time Indiana Jones ever appears on film.
Harrison Ford doesn't think de-aging is weird, so shut up
Now, we've heard that sort of thing before, and Han Solo did come back in The Rise Skywalker (even if it was just as a memory-ghost, not a real ghost like all of those times Obi-Wan came back), so it might be wise for Ford to leave himself a little wiggle room, but no! Speaking with Total Film, Ford claimed that Dial Of Destiny will be the last film in the Indiana Jones series, that it will be the last time he plays Indiana Jones, and that it will probably be the last time anyone ever sees Indiana Jones in a movie.
That's bold, considering Indy is now owned by Disney, a company that loves its intellectual property so much that it's probably just a few years away from doing a traditional cartoon adaptation of the Lion King remake, but Ford at least seems committed to this. He even says that, should Disney's planned Indiana Jones TV show actually happen, he "will not be involved." You hear that? He's done!
Now Ford just needs to star in a years-later legacy sequel to The Fugitive so he can kill off Richard Kimble and he'll never need to act again. He can just crash airplanes in peace, like he always dreamed.