Just hours before the release of The New York Times report on the multiple women accusing Louis CK of sexual misconduct, the world-famous comedian canceled both his upcoming film premiere and his appearance on The Late Show With Stephen Colbert. Fans of the show were likely eager to see how Colbert would handle the awkward situation he'd been left in, or how the comedy community at large would respond to CK's long-rumored misdeeds finally coming to light. So, as the fallout from the Times report continues, let's take a look at how Colbert and his fellow late-night hosts addressed, or rather skirted around, the issue on their respective shows.
It can be hard to keep up with the never-ending deluge of sexual assault allegations, but yesterday was also the day we first heard allegations that Senate hopeful Roy Moore once assaulted an underage girl, which is why the majority of Colbert's monologue was spent discussing that political bombshell of a story. The host did, however, briefly address the fact that CK was supposed to appear on his show. saying, "For those of you tuning in to see my interview with Louis CK tonight, I have some bad news. Then I have some really bad news." After a quick callback to a joke about Jesus, Colbert transitioned into a larger bit about the recent "avalanche of allegations" and performed a mocking parody of Keith Urban's ill-advised anti-assault anthem, "Female."
Over on NBC, Seth Meyers also segued to the Louis CK story from the Roy Moore stuff, saying "Man, politics is so full of perverts and deviants; I'm so glad I work in comedy," just as an image of the Times story appeared on screen. "Aah, damnit!" It was a only a quick, mid-monologue jab, but Meyers has previously committed longer segments to addressing the Weinstein scandal and the systemic issue of abuse.
Trevor Noah and Jordan Klepper at Comedy Central were a bit more pointed with their jokes. "When I saw this story, I thought, 'Man, this is the most pervy story of the day,'" said the Daily Show host, referring to Facebook's announcement that they'll be reviewing users' nude photos. "And then Louis CK said, 'Hold my penis.'" Noah then went on to say there should be a new Oscar category this year for Best Actor Whose Movies We Can't Watch Anymore.
Klepper, in his cocky, far-right satirical persona that hosts The Opposition, warned his audience about the threats against the "world's most vulnerable population: powerful white men." He also harkened back to the days when we could separate the art from the artist and advised fans planning on watching CK's new film I Love You, Daddy, "a film about an old man dating an underage woman featuring a serial masturbator, please don't think about Louis CK's accusers."
G/O Media may get a commission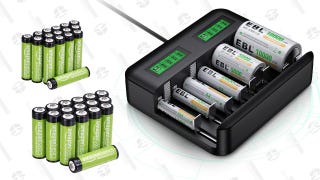 Neither Conan O'Brien, Jimmy Kimmel, nor James Corden addressed the story last night, either because they didn't have time (most late-night shows film in the afternoon, right around when the Times report came out) or because their previous relationship with the comedian would have made things awkward. But now that the floodgates have opened and reports like this are likely only going to become more common, late-night hosts better get comfortable talking about.