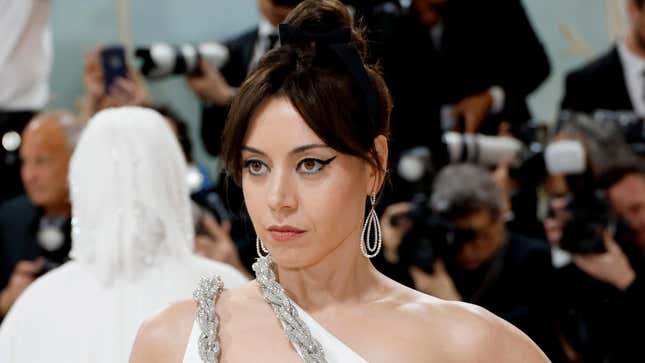 Everybody knows (or is) a weirdo who still buys movies and TV shows on DVD or Blu-ray even though streaming is so easy, and while those collections have gained value in the wake of all of the big streamers cutting things from their libraries and an attempt to satiate their unending greed (somehow, we still don't completely get it), the DVD and Blu-Ray people are still generally regarded as the weirdoes. Well, it turns out there is a third kind of person: Someone who doesn't stream or use DVDs but does buy TV shows and movies on iTunes. On top of that, these people now have their very own patron saint in Aubrey Plaza.
This came up in a chat with Vanity Fair that somehow went on to cover different topics after this stunning revelation, during which Plaza noted that she's recently been watching all of The Sopranos for the first time after working with Michael Imperioli on The White Lotus. As for why she's just getting around to The Sopranos now, Plaza explained that she never had HBO and doesn't use any streaming services, so she just ended up buying the series on iTunes. (Also, her and Jake Johnson text each other about The Sopranos, which is cool.)
Plaza has apparently made "I don't stream anything" part of her personality since then, saying she'll "get really angry" when she tries to figure out how to work the various apps and has simply decided to give up. "I was trying to watch Top Chef season 20," she explained to Vanity Fair in a feature that—again—was somehow about other things than this, "Couldn't figure out how to fucking get Hulu+Live. I give up! I can't. I just can't. And so what I like to go is go on iTunes and buy movies that are old." She says her husband will point out that you can get The Sopranos on HBO Max, but she refuses. She's so committed to the cause that she hasn't even seen her season of The White Lotus.
And good for her! Live your life, Aubrey Plaza. Don't let anyone judge you. Someday, the streamers will just delete everything to save money and there will be no more devices that play discs, and you'll be the one sitting on a mountain of prestige TV shows from several years ago.