Here's what's up in the world of TV for Friday, September 28, and Saturday, September 29. All times are Eastern.
TOP PICK
Fringe (9 p.m., Friday): As improbable as it seems, Fox's sci-fi cult sensation has made it to five seasons and will end on the 13th episode of this season—its 100th episode exactly. Noel Murray has been there to cover (almost) every episode, and he'll be there for the final 13, with occasional drop-ins from your old Fringe pals, Zack Handlen, Todd VanDerWerff, and whomever else we can find once Noel goes to Sundance. In tonight's premiére, which Noel likes, the final season, with its story of the Fringe team battling for freedom in the future, begins.
---
REGULAR COVERAGE
Boss (Starz, 9 p.m., Friday): Kane might have to throw an old friend under the bus to get what he wants, but we're not sure why this is such a big deal. Tom Kane will throw anyone under the bus if he thinks it's going to help him out. Sonia Saraiya started throwing her friends under the bus years ago. It works!
Grimm (NBC, 9 p.m., Friday): After a bizarre stint on Mondays, in which it got absolutely none of the Voice boost that's helping other NBC series' fortunes, Grimm returns to Fridays, and NBC returns to using the awful "Thank Grimm it's Friday!" tagline. Kevin McFarland thanks no one it's Friday.
Gravity Falls (Disney Channel, 9:30 p.m., Friday): Dipper's tired of being so short, so he decides to figure out a way to become taller. Hey, Dipper. We all tried that. It was called "puberty," and not a one of us enjoyed it. Alasdair Wilkins has no idea what this is about. He's been 7'9" since he was 8.
G/O Media may get a commission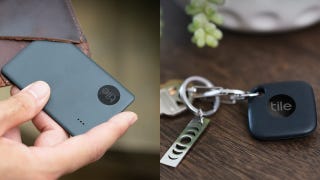 Up to 35% off
Tile Item Trackers
Strike Back (Cinemax, 10 p.m., Friday): Political unrest follows the assassination attempt, which sounds like a really basic answer to a cause and effect question in a Weekly Reader puzzle. What follows an assassination attempt? Well, it's sure as shit not waffles! Even Myles McNutt knows that answer.
Young Justice (Cartoon Network, 10:30 a.m., Saturday): Oliver Sava covered this excellent little animated superhero show last spring, but none of you read his reviews, which means this is your last chance. This one's called "Satisfaction," so it's probably just a lipdub of Superboy mouthing the Stones.
Doctor Who (BBC America, 9 p.m., Saturday): Too bad for Doctor Who that Fringe is back tonight, because the midseason finale is surely the sort of thing we'd normally make the Top Pick. Keith Phipps bids adieu to some important folks and hopes the Doctor can keep the Weeping Angels out of the U.S.
---
TV CLUB CLASSIC
Firefly (1 p.m., Friday): Noel Murray and Donna Bowman reach the last of the unaired episodes, and they're surprised by just how much "Heart Of Gold" hits on Western tropes. Sure, it's a sci-fi Western, but where are all the spaceships and aliens and Sasquatches? Where, Joss Whedon? Where?!
The X-Files/Millennium (1 p.m., Saturday): Mulder gets his "I Want To Believe" poster back this week, in an episode that should be a lot more powerful than it actually is. Instead, Zack Handlen has to put up with some unspeakable lameness involving dogs and shit on the way there. He's not even a dog person!
---
WHAT ELSE IS ON
Teenage Mutant Ninja Turtles (Nickelodeon, 8 p.m., Friday): Nickelodeon airs the first part of the two-part series premiére tonight, then the second part Saturday morning. Emily Guendelsberger will be there to let you know if the Chuck Lorre-penned theme song is still as awesome as it ever was.
Flea Market Flip (HGTV, 9 p.m., Friday): Teams compete to win design challenges with objects they find at a flea market. We're just excited for the episode titles, which include "A Chandelier Made Of A Metal Orb Versus A Sink Transformed Into A Mini Bar." We appreciate wordiness in our episode titles.
Made In Jersey (CBS, 9 p.m., Friday): The evening's one new show is this legal drama about a woman from New Jersey who becomes a lawyer—because that's never happened before—and her family of stereotypes, straight outta Jersey Shore. Todd VanDerWerff and Noel Murray are made in TV Club.
Tales Of Masked Men (PBS, 10 p.m., Friday): Looking for a way to close out your evening? You could do a lot worse than checking out this hour-long documentary about the exciting world of Mexican wrestling. Strap on your mask, adopt a colorful persona, and head into the ring. You know you want to.
Star Wars: The Clone Wars (Cartoon Network, 9:30 a.m., Saturday): You've been telling us you wanted a review of this for a while, and Sonia Saraiya is there to give you one. Darth Maul and Savage Opress are up to something, and all we have to ask is: Who the hell is Savage Opress? Maybe Sonia knows.
Chef Race: U.K. Vs. U.S. (BBC America, 10 p.m., Saturday): In this new reality series that apparently aims to combine all of the other reality series into one show, eight chefs from the United Kingdom and eight from the United States prepare meals while traveling between two locations. Sounds weird.
Willy Wonka And The Chocolate Factory/Charlie And The Chocolate Factory (ABC Family, 6/8:30 p.m., Friday): Watch both film versions of the popular children's novel, one after the other, to determine if Gene Wilder or Johnny Depp made a better… oh, who are we kidding? We all know the answer to this.
In Time (HBO, 8 p.m., Friday): Justin Timberlake and Amanda Seyfried mostly just stand around being attractive—something they're very good at—in an over-the-top foofaraw about a society where time is money, literally, or something. Andrew Niccol can call us when he finally makes Gattaca 2: Gattac-er.
Big Fan (Sundance, 8 p.m., Saturday): Everybody knows The A.V. Club likes Patton Oswalt, but you don't need to take it with a grain of salt when we say that this movie about a sports talk radio fan who meets one of his idols under less than ideal circumstances features great work from the comedian.
WNBA Playoff: Game 1: Seattle at Minnesota (ESPN2, 9 p.m., Friday): The Minnesota Lynx is the top seeded team in its conference, but the Seattle Storm won't just let this one get away from it. Actually, we have no idea. We don't follow the WNBA. We know this makes us terrible people. We're sorry.
College Football: Wisconsin at Nebraska (ABC, 8:07 p.m., Saturday): Call it pro-Midwest bias, but we're picking this game to watch over all of the other big match-ups on the other networks this evening. Okay, it's also our pro-cornhusker bias. Not the team. We hate the team. We just like cornhuskers in general.
---
ALSO RETURNING THIS WEEKEND
CSI: NY, season nine (CBS, 8 p.m., Friday)
Blue Bloods, season three (CBS, 10 p.m., Friday)
48 Hours, season 26 (CBS, 10 p.m., Saturday)
---
IN CASE YOU MISSED IT
Person Of Interest (Thursday): We don't know why somebody gave Ben Linus a machine that would let him see future crimes, but somebody did. Phil Dyess-Nugent was pleased with the turn this show took in the back half of its first season, and he'll let you know if the second season premiére was any good.