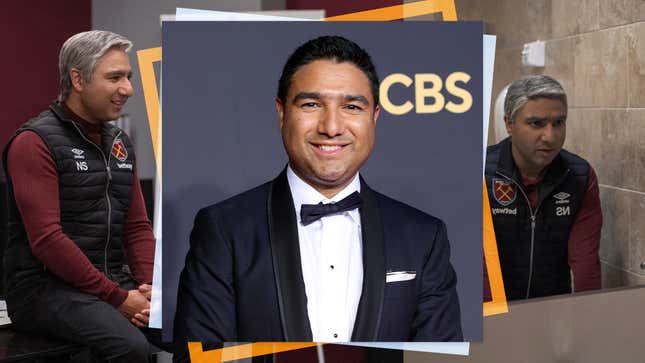 At its core, Ted Lasso is wholesome as hell. Apple TV+'s award-nabbing comedy won the audience with its feel-good charm. That's why it was a discourse-worthy level of shock when Nate Shelley's arc turned antagonistic in season two. Nick Mohammed's shy, sweet Coach Nate got a heel turn that made him scornful of Ted (Jason Sudeikis) and Richmond A.F.C. overall. So he naturally teamed up with the enemy, Anthony Head's Rupert, by joining West Ham.

Jack Champion on "Scream VI" and working with James Cameron
However, halfway through season three, Nate's actions have only resulted in some superficial wins. He's popular, has a love interest, and is wealthy. But is he truly happy? Ted Lasso's recent episodes dig into Nate's life, but it seems quite empty. No Diamond Dogs to give him advice, no group to hang out and laugh with, and no one genuinely supporting him at work. So how will the journey of Nate the Great, a.k.a. the Wonderkid, end in the remaining four episodes? Will he be transformed before Ted Lasso wraps, and will he make peace with Ted and the rest of his former crew? (He has to pay the price for tearing up that "Believe" sign, right?)
The A.V. Club spoke to Mohammed about what to expect from Nate in the rest of the outings, why he's satisfied with how his story concludes, working with Sudeikis, and if it's really the end of the road for Ted Lasso.
---
The A.V. Club: So far in season three, it's safe to say Nate is on a superficial high with West Ham's success. He's in Rupert's good graces and is dating Jade (Edyta Budnik). But do you think he's feeling the same level of triumph?

Nick Mohammed: No, it's the opposite, in fact. He's on that superficial high and proving his worth in some regards, but we are seeing cracks begin to show. Undoubtedly, the way he left Richmond and the things he said to Ted, it's still eating up his mind. He's dealing with his own mental health. A lot of that stems from insecurities with his dad, and we'll get flashes of that dominance. Until he addresses those core issues, he's never going to find the happiness he craves. He might have tried to fill that void with a fancy car, or coaching a big Premiere League club, but he is finding that's not giving him the happiness he needs.
AVC: Nate's arc is kind of between a redemption story and trying to understand where his negative actions are coming from. Why do you think it was important to explore that?
NM: It's really smart of the writers because it's more realistic. It would be great to think there's a fairytale ending and everything is sorted overnight. And part of me, as an actor, wants to be back with the guys in Richmond and be back as a Diamond Dog. I love filming those scenes. But it's not realistic. We need to see him struggle. And I think in episode one, we see elements of those villainous qualities, but it's cheap shots. He is doing it to impress Rupert. I don't think he necessarily believes the things he says at that moment because he changes his attitude a lot depending on who he is talking to. I feel that he ultimately knows by now he's not happy. So there's still a ways to go for Nate.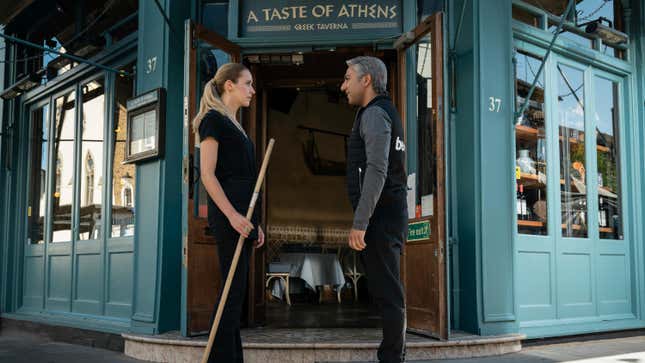 AVC: Did you get information on Nate's arc this season beforehand, and did that help your approach to play him because you have to toe the line between being antagonistic and sympathetic?

NM: I would be given information in advance sometimes. We usually wouldn't see scripts that long in advance of shooting, maybe a week, but they would inevitably be changed or rewritten on the day. But broadly speaking, I've known where the character is headed so that I could prepare to a degree. That's been part of the thrill as well, getting to watch Jason and the writers find the sweet spot of showing Nate's struggle and newfound success, and there are signs of him being remorseful.
AVC: We've seen Nate in bits and pieces so far, but what can you tease about the rest of the season?
NM: Yes, the latter half is more weighted toward unpacking Nate. We know there is unfinished business with Ted, the club, and his dad, so we'll see more of that. What I like about episode seven onward from a narrative point-of-view is that we discover new things about him every episode, like his relationship with Jade. The writers are so smart about it. We know what villainous Nate is like, and we've seen it, but they're giving us new strands of his journey. Without giving away whether there's a full redemption or not, and it's not as black-and-white anyway, but there's an element of catharsis. We do reach an endpoint. That story feels complete by the time we get to the end. I'm excited and mildly apprehensive about how the fans will react to where that storyline is headed.
AVC: So you're personally satisfied with how Ted Lasso ends for Nate, whether or not it's a series finale?
NM: Yes, absolutely. Again, the writers have drip-fed it. Nate's story is a slow burn. They've done it real justice. The last few scenes we filmed of it were on the last days of shooting the season overall, so if that happens to be the end of the show altogether, there's certainly a nice degree of satisfaction to it. I obviously can't speak too much about it yet.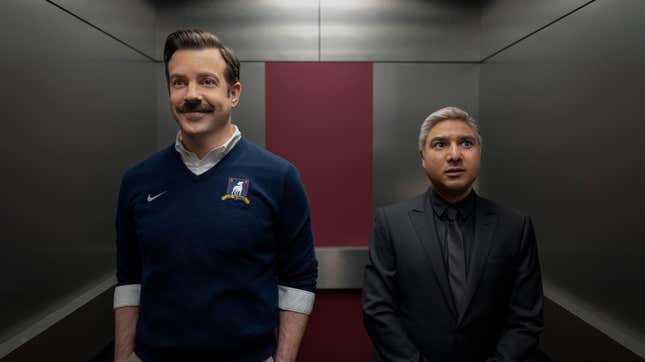 AVC: What were these last days of filming like? Did you get to reunite with the rest of the cast?

NM: Yeah, we were all together. They brought in the whole cast even if not everyone was filming. Everyone came back. It was wonderful and emotional. The scenes we were filming were also emotional and happened to be scheduled on that day. Whether it was by design or fortuitous, I don't quite know. I won't be surprised to find out it was on purpose [laughs]. We've been through a lot as a cast. We've been together for over three years and are big fans of the show. We still can't believe and are overwhelmed by how many people's lives it's touched. We feel a degree of responsibility, and we know there's a privilege that comes with it.
AVC: Are you ready to say goodbye to Nate Shelley?
NM: Oh, that's a good question. Yes, I am ready. There's a catharsis that's come with his story and how it plays out. I adore Jason, and Ted and Nate's dynamic is precious to me. I've always been a huge fan of Jason, so to have gone on this journey with him ... Our scenes together are quite private and raw. They feel very real. We can anticipate more of those in the remaining few episodes; that's not me giving anything away. That will be a big take-home for me. I'll be sad to lose that connection—not Jason and me, we're mates—but for those two characters. There's a real truth there.