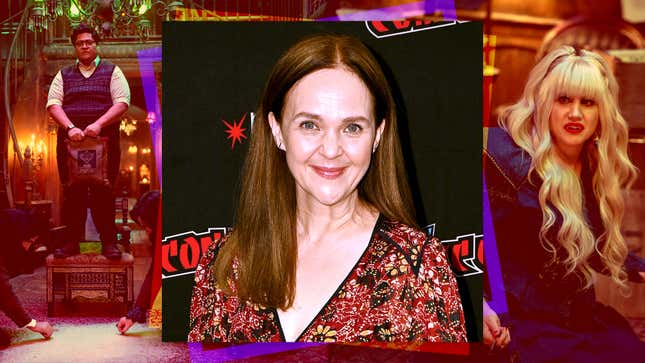 Yana Gorskaya arrived in What We Do In The Shadows' director's chair with an undeniable bang: After working on the show as an editor for its first season, the longtime Taika Waititi collaborator took the reins for the first time with "On The Run," the instant-classic second-season installment that introduced fans to the joys of Jackie Daytona, Regular Human Bartender.
"Lincoln Lawyer" star Manuel Garcia-Rulfo on working with Neve Campbell
Gorskaya's resumé has since been dotted with many of the FX show's most ambitious and visually daring episodes, including standouts like "The Casino," and last season's Property Brothers-riffing "Go Flip Yourself." (She also serves as a co-executive producer on the series, and recently filmed an episode of Waititi and Jemaine Clement's upcoming Time Bandits show for AppleTV+.)
Gorskaya sat down with The A.V. Club to talk us through her multi-episode run on the show's ongoing fifth season, which wrapped up with tonight's excellent "Urgent Care." Along the way, she fielded our questions about hairy frogs, bombing news trucks, and the unexpected moment when she had to ask the show's puppeteers whether they wanted to have a sit-down with its intimacy coordinator—because What We Do In The Shadows is just that kind of show.
---
The A.V. Club: First, most important question: Did the show actually make the Guillermo frogs?
Yana Gorskaya:  Yes! Yes, we made those frogs, and there were puppeteers actually moving them through space and pumping them. Some of them were VFX creations as well—we scanned the frogs that Paul Jones, our special effects guru, prosthetics master, created to do the VFX frogs as well. They have little bulbs that you can pump, and they would actually inflate! 

AVC: How did the script describe the frogs?
YG: Guillermo frogs! I believe the description was "frogs that look like Guillermo."
We went through rounds of design on that. And Paul would send us drawings and ideas and visions, and then we have rounds of talking about ways to make it look more or less like Guillermo. And I think we kind of settled that the hair was the key.
AVC: A lot of your episodes are action heavy, like last year's "Night Market," and now "Urgent Care." What goes into setting up an action sequence on What We Do In The Shadows?
YG: Well, it's wonderful. Our writers are brilliant, and Paul Simms leads that team with an amazing hand. And he gives us a tremendous amount of freedom in designing fight sequences, like in "Night Market," he wrote out some basic beats, but then we had a meeting and he just said to me and to Tig Fong, our stunt guru, "I just want it to be cool and big." It's incredibly fun. When I first got into directing, I didn't know that I would enjoy that part of it so much, but I love it. The little geek girl in me is so happy to design a fight. The action stuff is my favorite.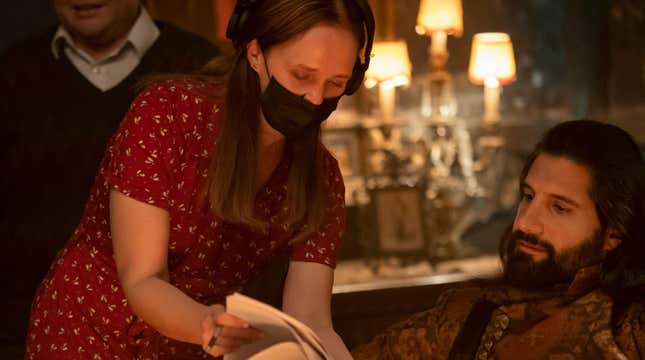 AVC: With "Urgent Care," how do you make a fight that's mostly about using telekinesis work on the screen? How much of that sequence is practical?
YG: I mean, we did have guys just off camera throwing stuff. [Laughs] I was really excited by that fight, because it was our first Nadja fight. Tig and I sat down to talk about ways that Nadja might fight differently, or how it might feel different from any other fight that we had seen on the show. And it was an interesting episode, because I think there's always one or two every season that flirt with actually being a little bit scary. And this was that one.

I pulled a lot of horror movie references for lighting, and the action element and the real jeopardy of it. We wanted to feel something actually scary. We had a stunt double for Natasia [Demetriou], but she ended up doing all her own stuff because she got so excited. She was just filled up with adrenaline. She's like, "No, I'm good to go!" Coordinating that, and figuring out how she might move, and what kind of things that we could do that would be special to a hospital space, like the gurney. And then, with the telekinesis—the Sire also used telekinesis against Nandor in the "Escape" episode, which was really fun. So we used a lot of the same tricks, which was to scan a lot of those items and to do most of it with VFX, because we didn't want to hurt any of our cast when we were tossing what should look like genuinely heavy items directly at them.
AVC: Over on the other side of the episode, was the celebrity cameo for Colin always written to be John Slattery?
YG:  We had a whole list of people we were considering, and John's name was on that list. And it kind of seemed like the most interesting name actually that came up, because a lot of the other people, I think, had done kind of cameo types of work before. And we wanted sort of a left swing, like someone you just wouldn't expect to do this kind of thing. And John really checked that box. And he was so game, and he really loved the improv part of it. He was thrown for a bit when I first told him to look at the cameras. "Oh, I've never done that before!" But he really relished it, and was a blast—a gentleman, lovely on set.
AVC: How often are you thinking about the role of the camera crew on the show? A lot of shows that use this format don't usually take the physicality of the camera into account. 

YG: I love that about our show. I think the thing about Shadows is that it's written with some fairly broad comedy strokes, and the documentary element grounds those things and makes them so much funnier. So, calling attention to the way the camera moves or the camera people themselves, I think, only help make the format feel real—and therefore the jokes land harder. 

---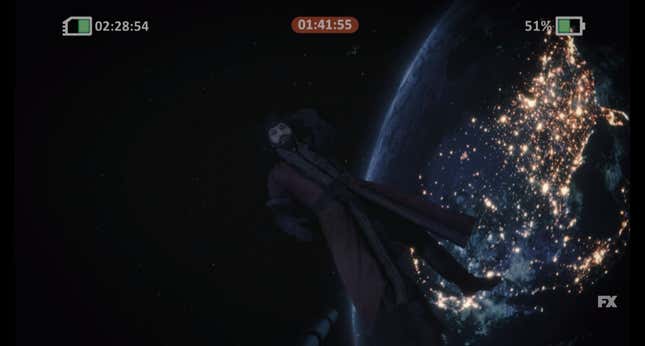 AVC: Dipping back into earlier in the season: When did you know, "Oh, I'm going to have to film Nandor going into space"?

YG: We started the space conversations really early on. It's very important to everyone that works on the show that our stuff looks like a documentary as much as possible. In particular, everyone was like, that has to look real, or it won't be funny. What we really struggled with, most of all, was how his hair would interact. Because we have a VFX budget, but we don't have, you know, Marvel money. And hair is really, really tricky. And so I looked up all these ways that it had been achieved in previous incarnations of people in space on stuff that was lower budget, and on Barbarella, they kind of just laid her down on a glass plate, and she just sort of moved her hair around. 

And we did all these tests, and the Barbarella test was the best test. So that's how we did it, on our budget. Laying Kayvan [Novak] on a couple of green screen plates and kind of moving them around.
AVC: What was the thinking on the forehead camera shots from that sequence? They look great, but it's not an angle you see much on TV.
YG: I actually lobbied for that one, because I love that kid that does the trains [British trainspotter Francis Bourgeois]. And it just struck me as, like, incredibly funny. We were going to do just one camera, which would have been the kind of frontal, the one he's holding on a stick. But it just seemed like, editorially—and I always think in editorial terms—that having two cameras would help us, but also that that angle is just incredibly funny. And then Kayvan was super into it, and also really likes that train guy. And so he sent me pictures of himself holding his camera from that position, and distorted his face in the most delightful way. And we had to do it.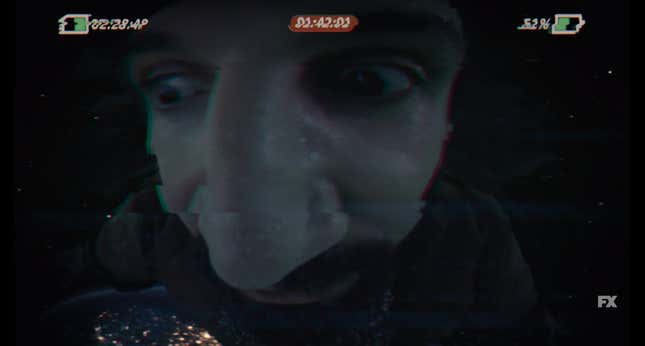 AVC: What was the filming of the pride parade itself like? It looked so chaotic.
YG: The most chaotic part of it was the fact that both Natasia and Mark [Proksch] had prosthetic versions of each other on the backs of their heads, and they were rather heavy. We tried them out for the first time when we were shooting that parade. But they looked amazing, and they were tripping and having such a good time with it. I think the part that was a little bit of a struggle was that, because it was a Sean and Charmaine parade, it needed to be kind of small and a little bit lame.
The thing that we discovered is that there's kind of no way to make a pride parade feel lame. Like, it just doesn't feel sad. No matter what, no matter how pathetic the floats are, it just was fun. Even the writers came out and, and we all had boas on, and everybody kind of got into it.
AVC: What were the mechanics of filming the sex scene at the end of that episode?
YG: As you're aware, intimacy coordinators are a part of television now. But the cast refused the help of the intimacy coordinator. They were just having a really funny time. We tried to put Mark's head on the back of Natasia's head, but it was too heavy, it just kept falling off. And so her part, she just did by herself. But then Mark put her head on the back of his head, and we cut a hole into the same table. And he was, like, in it. And it looked amazing even before we VFX removed his arms. So he had a fake prosthetic body coming off of him, while he was tucked in a hole. And then we had the puppeteers—we had a whole conversation about whether or not the puppeteers needed to talk to the intimacy coordinator. Because they were being part of, you know, a sexual act scene. And the puppeteers also declined the intimacy coordinator.
I think the hardest part for all of us was just keeping a straight face as we were filming it.
---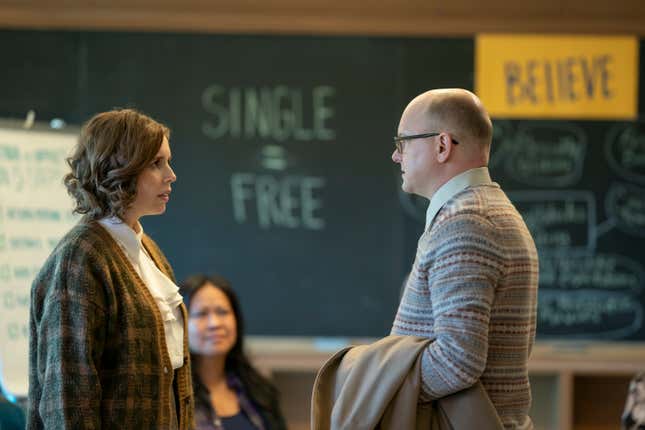 AVC: It feels like the show is really taking advantage of the fact that Mark is back on set this year by putting him through the wringer. What's your favorite thing that you've subjected him to this season?

YG: I've always wanted to do a Colin episode, and then also getting to do Evie was just, as a fan, incredibly exciting for me. And Vanessa was a delight. All of their stuff together was wonderful, and it was painful, actually, in editorial, to get that episode to time because there was so much happening … and the Energy Vampire Council, and the way Mark just kind of lit up engaging with comedians with a similar kind of pace and tone. 

AVC: What was the casting process for the council like? Because every reveal, is like, "Oh my God, it's them."
YG: Initially, our concept was to hire people that maybe had a reputation for being annoying. And celebrities. But that … was not a fun call to make. And so we pretty quickly pivoted to this idea of getting comedians that tonally are extremely deadpan. And they kind of lined up relatively quickly. But the thing is, because of availability, we actually shot that scene in three chunks. So we initially shot with Vanessa and Mark, and I did all the reading of all the parts, and so did other crew members. And then we brought in the actual Energy Vampire Council, and we had a body double for Vanessa, and Mark was there and interacted with them. But Martha [Kelly] wasn't available. So we actually shot her on a green screen in L.A. And so we rebuilt that set three times. And then through the magic of editorial, made them all feel like they were in the room annoying the fuck out of each other.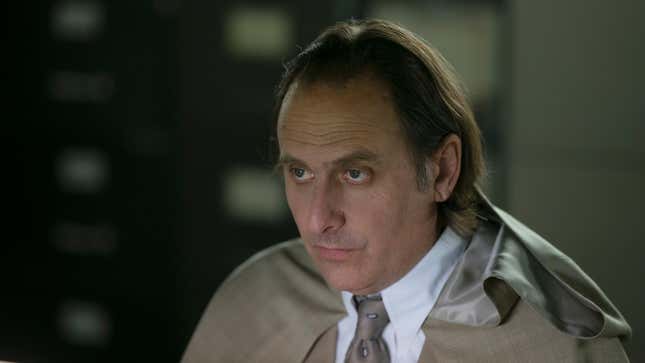 AVC: When you have a big speech like the one Laszlo has at the end of "The Campaign," how much direction are you giving Matt Berry? Or do you just tell him to let loose?
YG: Well, first and foremost, we have phenomenal writers who give a lot of incredible raw material. And then on top of that, we have really skilled improvisers, Matt Berry very much being one of them. We always do a scripted round, and then that kind of gives them the meat to riff off of, and then I'll shoot him ideas as well. So I'll be like, let's add "as long as all of them are English" to "I speak 14 languages." And I think I pitched him "vulva garden," and riffing on the illnesses.

But "Night Fever" was all his own. 

AVC: Last year, we asked our staff, "What is your favorite Matt Berry line reading?" Do you have one kind of the kicks around in your head?

YG: I love the way he says "Cameraaah." But also, you know, my very first episode was "On The Run." So when we did what I thought was going to be kind of a less important scene, when he's talking to the barmaid, and he says, "I'm from Tucson, Arizon-ya," I was so delighted that we ended up spending a lot more time shooting that, because in the moment it just felt so funny and surprising to me. That might be my all-time. "Tucson, Arizon-ya."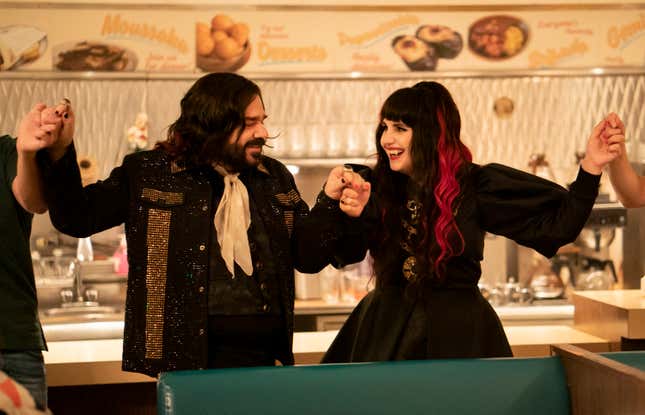 AVC: Are you getting the same read from him every take, or …
YG: Oh, he always does it differently. Matt, I don't think, has ever said a line the same way in his life. [Laughs] And there are multiple good versions of it, too. When I did "Go Flip Yourself," and we were editing the "New York City" thing, there were probably three really good, completely different, reads on making a meal out of that.
---
AVC: Speaking of "Go Flip Yourself," that's an episode I thought about a lot while I was watching "Local News," where you're replicating this very specific style of TV. What went into making that fake vampire news broadcast?

YG: When we do a meta episode, I always volunteer, because I love format, and I love getting things right. So, as with "Go Flip Yourself," we contacted a lot of people that actually work in the field. We had consultants from actual local news stations, and we wanted to get all the details right, and when we cast the lead anchors, they were actual people, with actual local news anchors. And we built our set based on models of actual local news sets.
And in these conversations, sometimes, it can be kind of difficult to get to these people, because there's a lot of security around news. I had a kind of family connection to a cameraman who worked for ABC, and we sat him down with our DP, and we were like, "So if your news truck is bombed [laughs] … how do you react?" And there was a moment of "Are you terrorists? Are you trying to figure out how to bomb news?" "If your station were attacked …"
But we wanted to get it all right. Detail matters. We're a documentary, so none of that can feel artificial. In terms of directing the news people, we tried very hard to make them not be funny. I did feed the "Nandor de Laurentiis" line to the anchor, and Kayvan knew it was coming, and he still broke. So we had to do it twice.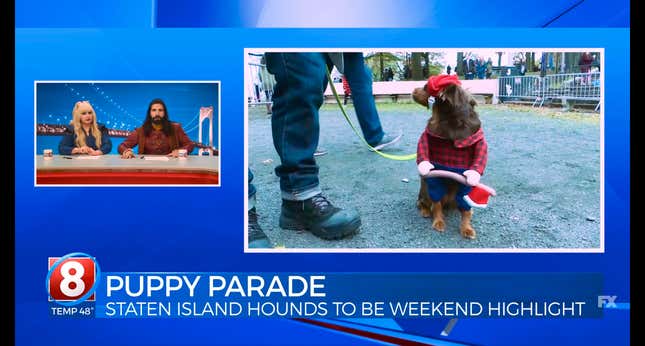 AVC: With Guillermo's side of that episode, how do you approach these season-long moments of actual transformation for him, after so many seasons of stasis?
YG: Harvey's a really nuanced actor, and he digs into that stuff. We go for a range with him, because he's so versatile. You'll get a more interior, and then a more exterior, version of the emotion of everything like that, and in his evolution with his family. But really, I think that's the brilliance of the writers, to not let this concept get stagnant, to allow for some change within—well, particularly Harvey's character, since he's the only human on board. But, you know, all of them have moved in ways, and have grown as vampires, as eternal beings.
AVC: That moment, with Guillermo's mom putting the cross on him, is such a weird mix of funny and sweet and sad …

YG: [Myrna Cabello] is a wonderful actress, and that whole family, they're so warm. They light up, and they play off of each other in a very, very natural way. They already feel very much like a family when the cameras aren't rolling. I encouraged them to actually keep talking in the background. Sometimes we struggled with the audio, but that's a good problem on our show because, again, we're a documentary. They're very warm and alive and they feel like a real family. I felt like I was at a real little party. It was lovely. And Harvey's connection with them is very genuine. He adores them, too.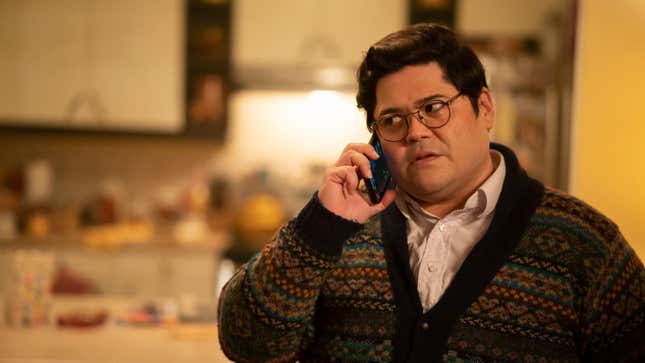 AVC: With scenes like that, how much of a conversation is there about when to use subtitles and when to let the dialog in Spanish stand on its own?
YG: That's an interesting thing. Paul Simms moved around a lot as a kid. I'm an immigrant. There are a number of immigrants that work on this show. And part of making something feel real is maybe not understanding everything all the time—but you get it through context. So we choose to only subtitle when, if we don't subtitle, you really won't understand what's happening. Because, you know what? It's okay to not get everything. 

In a way, that feels more respectful. Kinder, more genuine. 

AVC: On the less sentimental side of things, Harvey also drops a really precise "fuck" in that episode. It's always surprising to hear Guillermo swear. 
YG: It's rare when Harvey curses. Harvey, the actor, might curse, but Yana the editor will probably take it out. For both Guillermo and Colin, I don't actually—and Paul Simms doesn't either—particularly like it when they swear. They're sort of sweeter, more wholesome characters. But nobody can drop F-bombs like the Brits. Automatically funny. And it's so in keeping with their personas as vampires. I love it. Just the juicy way "fuck" sounds with a British accent is a delight.