You really have to wonder about the thought processes behind ABC's decision to bring Once Upon A Time back for season seven. Series lead Jennifer Morrison announced she wasn't coming back; meanwhile, the series managed to tie up all loose ends with a musical Hook-Emma wedding. It was announced that several other characters—Snow White, Prince Charming, Henry, Belle, —also would not be returning. Meanwhile, ratings had tumbled from a series high with season one of almost 12 million to less than 5 million. All elements pointed to a perfect time to wrap up Once Upon A Time in one of its beloved Happy Ever Afters.
Somehow, former Lost writers and current OUAT creators Adam Horowitz and Edward Kitsis either must have offered a hell of a pitch or have built up a certain degree of trust with the network, because a season seven is kicking off tonight.(Granted, it's kicking off on a Friday night, the traditional TV ratings graveyard, instead of OUAT's traditional Sunday night slot.) With such so many drastic cast changes, a complete reboot is necessary, and a reboot we do have. The problem is that it's so unfamiliar, there's not a ton for old OUAT fans to cling to, if what they're looking for is more of the same. And if the viewers are new, it's not really a great enough pilot to hook people in—on a Friday night, especially.
Casting aside the Cinderella the show already introduced in episode four of season one, the "Hyperion Heights" version of the famed Disney princess is portrayed by Dania Ramirez (Devious Maids and Heroes). Her daughter Lucy is our counterpart to the previous version of Henry, trying to convince Henry that she's his daughter and he's in love with her mom, who is really Cinderella. The Enchanted Forest flashbacks at least offer a familiar setpiece where OUAT fans should feel comfortable—and fortunately, it offers enough twists on the formula (Cinderella going after the prince with a knife, for some reason) to remain captivating.
Best of all, the show pulled off a masterstroke with the casting of now-adult Henry. Andrew J. West, late of The Walking Dead, is almost charismatic enough to pull this whole Seattle setting off, and his chemistry with Jacinda/Cinderella is indeed palpable. His Henry is a failed author who, like his mom, has a troubled past that makes him extra-dubious of the story Lucy is offering him. In the Enchanted Forest realm, he's still Rumple's grandson, but all those old family ties seem extremely far away. There's no recognition when he walks into Regina (now Ronnie)'s tavern, where she plays a weary, streetwise bartender on the same side of the street at Maria Bello in Coyote Ugly (sans floor show).
G/O Media may get a commission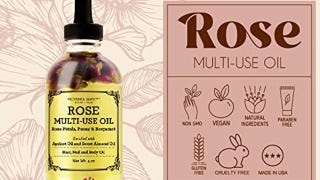 Provence Beauty Rose Multi-Use Oil
Maybe Lana Parrilla has been fighting to play a hero instead of a villain for a long time; her Regina certainly went through the greatest transformations over the course of the last six seasons. Fortunately, there's an evil queen all ready to take her place, by way of Victoria Belfry/Lady Tremaine/Evil Stepmother in an unrecognizable Gabrielle Anwar. (I guess it's been a few years since Burn Notice?) Sorry, her Devil Wears Prada intro was too on-the-nose to be actually clever. Also, Hook really does seem like a boring boy scout police officer, as he's teased by his former partner. At least Rumple is playing both sides again, a torture-minded water-boarder called The Weaver (clever, show), as well as a police detective and Hook's new partner, who likes to brag about breaking people's thumbs. Do you think anyone wonders why are there two police detectives partners in Seattle with U.K. accents?
Like our Rumple, Alice is also refreshingly complex, fed up that she's so intrinsically linked to Wonderland and apparently on the dark side of things with a variety of magic potions at her disposal. Also on the side of the evil: Lady Tremaine's non-ugly henchman/stepdaughter.
On one hand, there's a nice sentiment going along with the show's move from Storybrooke to an up-and-coming Seattle neighborhood: Magic doesn't have to only exist in this hidden village that no one else in the world can even see or get to. On the other, all Hyperion Heights has shown us so far is a drab vacant lot with a weak-looking wishing well, which hopefully will make it all the more impressive when Lucy, like her dad, figures out how to undo the curse and get the magic flowing again.
Can the magic flow again for the show, though? OUAT season seven suffers from the same anvil-ish dialogue it always has, when the writers fall in love with certain key phrases—Here it's all about writing your own story!—which the characters will repeat ad nauseum until the word story has lost all meaning and we have forgotten what "story" ever meant in the first place. "Ronnie"'s speech at the end of the episode also seems tremendously tone deaf: Are we to believe that Victoria just sat there calmly while this barkeep waxed rhapsodically for several minutes about the importance of inspiration?
Again, its a nice thought: Believing in fairy tales, in happy endings could be a source of comfort for a child like Lucy, say, who's in a tough spot. The blooming of the hyacinth appears to indicate that the faith will be borne out. For the rest of us, though, believing in fairy tales isn't as important. Once Upon A Time talked about the magic of true love, and still, the ties between people represent the greatest magic we still have (maybe this show has affected more over these several years than I realized): The tangible spark between Henry and Cinderella, the tremendous outpouring of emotion we have for a child. Maybe the magic of Hyperion Heights just seems more incongruous in its bleaker urban setting—where instead of Granny's loving diner we have mean chicken restaurants—raising the stakes even higher for OUAT to sell it. And if the show can't sell that, can it sell this unfamiliar season seven at all? For the diehard fans, there's probably enough here to keep them enraptured for awhile. For the non-true believers (myself included)… I'm not so sure.
---
Stray observations
Disney shoutout: Mickey Mouse ears on the dad in the back of the "Swyft," where Henry is once again more of an observer than an actual teller of his own tales.

Yeah, you guys, I'm out for recapping. I might drop in once in awhile, but there's not enough here to sacrifice twenty-odd upcoming Friday nights. What did you guys think? Inspired reboot or different show altogether? I still wish they'd just wrapped up with last season's decent finale, and put Andrew J. West and Dania Raminez in a better show somewhere.
But thanks for reading all these OUAT posts over the years; I think it was one of the very first shows I was assigned at The A.V. Club. Remember Neverland? Camelot? Good times.