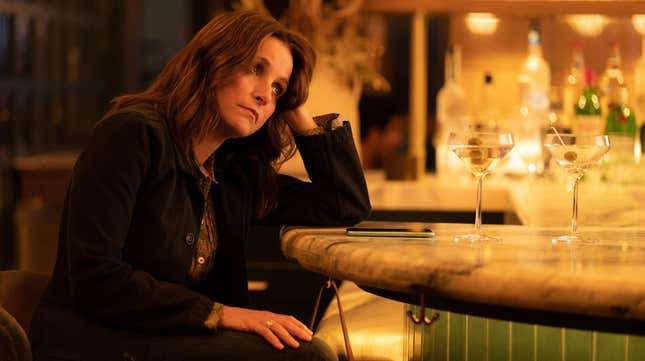 Walking And Talking director Nicole Holofcener returns with the marital comedy You Hurt My Feelings starring Julia Louis-Dreyfus, whose life is upended when she learns what her husband really thinks about her career.
John Hughes says the director called his Ferris Bueller performance "boring"
Louis-Dreyfus stars in You Hurt My Feelings as an author struggling to find her place in the writing world amongst those with stories of "refugees, cancer, murder, and abuse." Despite Beth's own insecurities, her longtime husband (Tobias Menzies) has always remained supportive—at least when talking with her.
When Beth decides to sneak up on Eliot while he's shopping for socks with his friend (played by Succession gem Arian Moayed), she overhears him revealing his true thoughts about her new book, sending her into a spiral. Meanwhile, Eliot struggles with his own feelings about aging. Together, they move through a series of white lies and hurtful reckonings.
Real-life spouses Amber Tamblyn and David Cross appear in the film as two of Eliot's marital therapy clients, with supporting cast members including Owen Teague, Michaela Watkins, Jeannie Berlin, and Zach Cherry.
You Hurt My Feelings is Holofcener's first feature film in five years, and reunites the writer-director with Louis-Dreyfus following 2013's Enough Said. At the film's 2023 Sundance premiere, Holofcener told IndieWire she wrote the role of Beth with Louis-Dreyfus in mind.
"I knew how brilliantly she'd do this. If I was wondering if this was too sappy or too silly, I was like, 'No. It's going to work out. She's just going to nail it,'" Holofcener said. "My movies are so personal, so I feel like, 'Well, if you really like me but don't get my movies, then I instinctively feel like you don't get me,' which is weird because they're not me. And yet, I'm so vulnerable and sensitive to that. I just thought that was an interesting thing to ponder and play out."
You Hurt My Feelings arrives in theaters on May 26.