No sneeze in a movie is ever insignificant. Savvy filmgoers quickly learn that any character who sneezes is almost certain to get sick shortly thereafter; in a certain kind of gloomy prestige period drama—one set during an era when people regularly died of consumption, for example—the prognosis is especially bleak. So when Todd Haynes' Safe introduces its heroine, Carol White (Julianne Moore), by having her sneeze before she's spoken even a single word of dialogue, it really doesn't look good, even though the film, initially released in 1995, is set in 1987. Sure enough, Safe is a portrait of a serious illness… though not the illness that it purports to examine. Voted the best film of the 1990s in a poll of major critics conducted by the Village Voice at the end of that decade, Haynes' magnum opus uses the conventions of the "disease of the week" melodrama, familiar primarily from television, to expose a much more insidious malady, with such subtlety and sly misdirection that viewers can profitably argue about exactly what his target is.
One thing's for sure: Something needs to befall Carol, as she's almost surreally uninteresting. A wealthy L.A. housewife, she spends her days doing aerobics, chatting with friends, and redecorating her ridiculously luxurious house; the film's first hint of high drama occurs when a new couch that's been delivered turns out to be the wrong color. Little by little, though, Carol begins having what seem to be allergic reactions—first to exhaust fumes from a truck she's following, then to the chemicals in a perm, then apparently to nothing at all. A flyer she spots provides a possible answer, suggesting that she suffers from "environmental illness," sometimes known as multiple chemical sensitivity. ("Are you allergic to the 20th century?" the flyer asks.) Before long, she's taken up residence at a treatment facility called Wrenwood, where a charismatic guru (Peter Friedman) prescribes general withdrawal from the world, at one point revealing that he no longer reads or watches the news because it only makes him nauseous.
Safe was only Haynes' second feature, following 1991's Poison, but the formal control he demonstrates is awe inspiring. Visually, he shoots it like a horror film, often placing Carol at the center of the frame in compositions that see her dwarfed by her surroundings, then slowly tracking in toward her blank face. Sound design plays an even more crucial role, with unpleasant ambient noises constantly invading placid imagery. The movie wouldn't work, though, without Moore's stupendous performance as Carol. Rather than make her seem like a vacuous idiot, Moore suggests a woman whose sense of self is so stunted that she can barely even speak a declarative sentence. When Carol decides that everyday chemicals are causing her problems, and seeks help, the stage is set for a conversion narrative. Instead, Carol's residency at Wrenwood pushes her in another direction—one that Haynes and Moore cagily depict as somewhat liberating even as it becomes increasingly clear that the facility itself is toxic. "I love you" are the final words spoken in Safe, again and again, and they've never been quite so chilling.
Of the various theories that have been floated over the years regarding the true source of Carol's illness, the most arresting is the idea that she's choking on her vacant lifestyle. At the same time, it's fairly clear that much of the Wrenwood material represents Haynes' anger about the way certain self-help programs encouraged AIDS victims to shoulder the blame for being sick—not because of any behavior involving sex or drugs, but because their attitude was insufficiently positive. There's arguably a slight disconnect between the film's first and second halves, but the resulting ambiguity works in Safe's favor, forestalling any simple interpretation that would dilute the sheer uneasiness that pervades every scene. With the 1999 Columbia TriStar DVD out of print, it's been difficult to see this stunner for the past several years, so its reissue as part of the Criterion Collection (porting over the original DVD's excellent commentary track featuring Haynes, Moore, and producer Christine Vachon) is one of the year's major cinephile events. To watch it is to find yourself questioning everything inside you, in discomfiting ways.
G/O Media may get a commission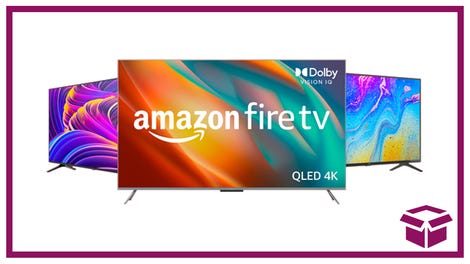 Ooh. stunning.
New Amazon Fire TVs
Safe is available on Blu-ray and DVD from the Criterion Collection.