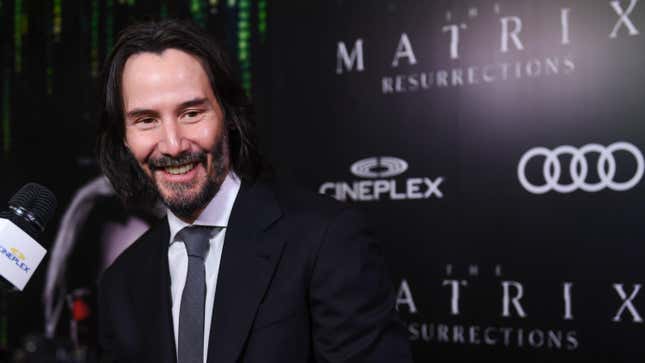 Against our better judgments about the perils of stan culture, it saddens us to admit that we stan Keanu Reeves. The hover hand master, the afterlife explainer, the sad lunch-eating prince of Hollywood, Reeves is the one celebrity we're all allowed to like as we pray that we never learn anything disreputable about him. But as of this writing, Kate Beckinsale has confirmed via Instagram that Reeves really is a thoughtful and proactive guy.
Keanu wonders if "John Wick" has gone too far
With the Cannes Film Festival closing over the weekend, Beckinsale reflected on Cannes' past on Instagram. Sharing a photo unearthed by her mum, Beckinsale told followers of when she and Reeves attended the 1993 festival in support of Kenneth Branagh's Much Ado About Nothing. Unfortunately, as is a common occupational hazard in her business, Beckinsale experienced a wardrobe malfunction. "Never fear," the fates told her. "Keanu is here."
"I had bought the bodysuit in the Sock Shop at the airport," Beckinsale wrote before launching into some of the heaviest name-dropping this side of Watch What Happens Live. "When I got in the car to drive to the premiere with Denzel and Pauletta Washington, all the poppers in the crotch popped themselves open, and it flipped up like a roller blind."
As Beckinsale "quietly panicked" because she "didn't feel it was appropriate to go delving around in my undercarriage" with Denzel in the car, she prepared for "the biggest red carpet of [her] life." Then, a miracle of miracles, after whispering to Reeves and castmate Robert Sean Leonard (who sadly doesn't get the props that Keanu gets in all this), the two held the outfit up for pictures, one of which Beckinsale shared.
"Absolute legends who may not even have fully understood the physics of what was happening or even heard the word 'gusset' before, but both jumped in to save me, no questions asked."
We are left with no choice. We must stan Robert Sean Leonard.