Barack Obama has already secured his legacy as a fairly cool president, but in October he's going to make sure to underline that point by holding South By South Lawn, his very own festival celebrating music, film, and "interactive"—the same three pillars used by the real South By Southwest. We first reported on South By South Lawn earlier this month, and now the White House has officially announced some of the cool stuff that people attending the festival will be able to experience. Naturally, a lot of it is based around education and making the world a better place, but there's also music, a student film fest, and a virtual reality experience that shows you what it's like to live in a tiny prison cell, so there will be some more traditionally entertaining things as well.
The music section is the lightest, but the South By South Lawn website suggests that additional performances will be announced later. For now, it includes The Lumineers, Sharon Jones & The Dap-Kings, and DJ Beverly Bond. Considering President Obama's love for telling people about his favorite bands (and his aforementioned status as a fairly cool president), we imagine some more big names are on their way.
In the film section, President Obama will be having a "conversation" with Leonardo DiCaprio and climate scientist Dr. Katharine Hayhoe (Lumineers reference) about DiCaprio's Before The Flood documentary, and after the conversation, there will be a "first-of-its-kind" film screening of the documentary on the White House's South Lawn. There will also be a film festival featuring the work of students in grades K-12, with Alfre Woodard and Stranger Things' Matt and Ross Duffer as "special guests." After that, there will be a screening of student film selections featuring Millie Bobby Brown, Caleb McLaughlin, Finn Wolfhard, and Gaten Matarazzo—better known as the kids from Stranger Things.
The interactive stuff includes a bunch of panels on how to improve the world, including talks from some important people who aren't quite as famous as Leonardo DiCaprio. There will also be the aforementioned VR experience about living in a six-foot by nine-foot prison cell and a second VR experience that takes you through the Obama family's recent trip to Yosemite featuring narration from President Obama himself about the importance of conserving the national parks. In other words, you can go on a virtual road trip with President Obama and he'll literally tell you about how you're not appreciating the natural beauty enough, just like if he were your VR dad. Basically, they finally found a good use for that stupid, gimmicky VR technology.
South By South Lawn will be held on October 3, and you can find more information at this link.
G/O Media may get a commission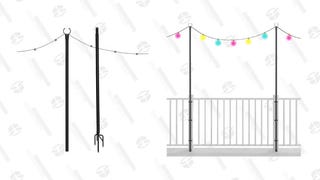 Up To 49% Off
Holiday Styling String Light Poles