Here's what's happening in the world of television for Friday, January 11 and Saturday, January 12. All times are Eastern.

Top pick
Sex Education (Netflix, Friday): Meet Otis Milburn (Asa Butterfield). He's your average, run-of-the-mill, socially awkward high school student. But Otis has a secret, something that gives him a leg-up over his peers and that most teenagers across the globe have reason to envy: a thorough, positive sex education.
Growing up with an intrusive—if well-meaning— sex therapist as a mum (Gillian Anderson), Otis always knew a bit more than he wanted to know about shagging. That is, until the cute, smart, edgy girl at his high school finds out about his unbidden wealth of knowledge, and proposes they team up to run an underground sex therapy clinic for the ill-informed and sexually repressed kids at their school. Through answering uncomfortable questions and counseling his peers through arguably the most confusing time in their lives, Otis comes to examine his own questions about life, as well as what he wants for himself.
Regular coverage
Rupaul's Drag Race All Stars (VH1, Friday, 8 p.m.)
Crazy Ex-Girlfriend (The CW, Friday, 9 p.m.)

G/O Media may get a commission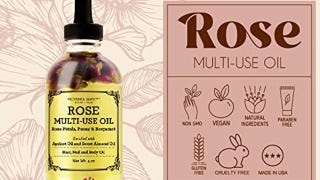 Provence Beauty Rose Multi-Use Oil
Wild cards
Informer (Prime Video, Friday): When Raza Shar (Nabhaan Rizwan) is taken into custody for a minor drug offense, he is coerced by a mysterious Counter-Terrorism officer (Peaky Blinders' Paddy Considine) and his bright, ambitious partner Holly (The Diary Of A Teenage Girl's Bel Powley) into becoming an informer. And if BBC's recent hit drama Bodyguard garnered criticism for nursing elements of xenophobia, the network's latest terrorism-themed project seems to aspire to (hopefully) do better, presenting its white Counter-Terrorism officer as a shady and morally ambiguous character and lending complexity to the motives and moral qualms of its British-Pakistani lead. The six-part thriller was generally well received by audiences and critics alike when it initially aired on BBC, with many viewers asserting that is, in fact, better than Bodyguard.
"I think it's just important that it's about what's happening in London now, rather than it being us looking at it through a veneer, like a sensationalized, glamorized War on Terror," Powley told the Radio Times. "It's about humans, and humanity, and people who are living in this city right now, and how they're existing—and their relationships with each other and their relationships with politics."
Future Man (Hulu, Friday): It is the year 2162. Janitor/gamer-turned-time traveling hero Josh Futturman (Josh Hutcherson) and his friends Tiger (Eliza Coupe) and Wolf (Derek Wilson) discover that their last-season mission to prevent the cure from being released was all for naught. In the timeline they unwittingly created from their failure, Dr. Stu Camillo (Haley Joel Osment) has ascended to power and launched a plan to relocate humankind to Mars. Meanwhile, a sketchy organization called the Pointed Circle attempts to recruit Josh to take Stu down, challenging his understanding of what is right and wrong.
Also, apparently executive producer Seth Rogen will appear as a jailer named... Susan. Which, you know, sounds pretty much in line with what we've come to expect from the batty sci-fi comedy that is Future Man. All 13 episodes drop on Hulu today.