Li Jun Li, or LiLi as she prefers to be called, knew she had to play Lady Fay Zhu in Babylon from the moment she first heard about the project. In a film packed with powerhouse performances, Lady Fay stands out as a badass queer icon who can sing, dance, and suck snake venom from Margot Robbie's neck—and look fabulous while doing it all. It sounded like a dream role to her, except that she originally thought she was signing on to play Anna May Wong.

"I received an email and when I saw that I didn't even look at the name," LiLi recalls, in an exclusive interview with The A.V. Club. "I just saw Anna May Wong and Damien Chazelle in the same email and I just said, 'I have to have this. This is mine. I need it.'"

Eventually, she found out that the role was actually a fictional character based on Wong, the trailblazing Chinese-American actress and producer who appeared in more than 60 Hollywood films from the 1920s to the '40s. By that point, she had already done her research, visiting the New York Public Library for the Performing Arts and diving deep into online rabbit holes. She admits to being a bit disappointed by the switch, but ultimately found it liberating. "In a sense, it kind of relieved me of my pressure to portray her accurately. I was a little sad, but at the same time I really appreciated the creative freedom that I was kind of granted in that moment."

In Babylon, Lady Fay begins her career writing title cards for silent films and works her way up to stardom in talking pictures. It's a tough road that accurately reflects the real-life discrimination Wong experienced as an Asian actress in the early days of Hollywood, including being boxed into stereotypical roles because that's all the studios would offer her. LiLi couldn't help but identify with those struggles, though she acknowledges progress has been made through the solidarity and support of a growing community of diverse actors who are making their voices heard.

"I can't even imagine what it was like for her a century ago," she says. "I got snippets of it from her biography, which was quite brutal. And, you know, the difference between now and 100 years ago was that nowadays we have more people of color in the industry and we can confide in each other. And we're all making a lot of noise, especially in the last few years. And we can all stick together and push for more diversity and inclusion. She was just all alone, and she stood her ground. And she still made such a monumental mark on history despite that."

In preparation for the role, Lili spent three days with Chazelle building the character from the ground up. She also worked with costume designer Mary Zophres to recreate some of Anna May Wong's actual looks for the film. Even after all that work, though, they were still tinkering even as production got underway. Initially, Chazelle wanted Lady Fay's voice to be delicate and soft-spoken, in contrast to the bombastic high energy of Robbie's Nellie LaRoy. But after their first day on set, he suggested lowering her voice by two octaves, resulting in the smoky-toned, jaded version of the character we meet in the film.

G/O Media may get a commission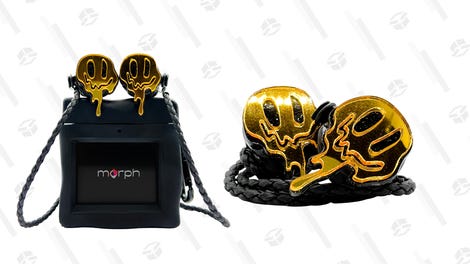 morph audio
Morph Earphones
Her memorable introduction is a musical number called, "My Girl's Pussy," a cheeky novelty song full of double entendres that, believe it or not, was a real song written in 1931. She's no stranger to musical performances on stage and screen. A graduate of New York's famous Fiorello H. LaGuardia High School (the Fame school, for those who "re-mem-ber"), she's performed on Broadway and in national tours. Dressed in a Marlene Dietrich-inspired top hat and tuxedo, she commands the full attention of a ballroom full of raucous revelers in the intense, chaotic party scene that opens the film. The entire sequence takes up most of the first half hour of the three-hour-plus run time, but was supposed to be even longer.

"It was a much longer song and a full dance number," she says. "It was choreographed by Mandy Moore, who also choreographed La La Land. And I think a lot of it didn't make the cut. But I always say that I hope there'll be a director's cut from Damien or even a music video. Who knows? It was so titillating the way she choreographed based on the lyrics [Laughs]."

She also has a hilarious story about recording a censored version of the song for non-theatrical release on airplanes and other venues. "Can I tell you something really fun? I recently had to go in and do ADR [additional dialogue replacement] for the airplane version of Babylon, which I think is hilarious because the entire movie is just full of cursing and I have no idea how they're going to do it. But I had to replace the word 'pussy.' Originally, they suggested the word 'puppy.' 'My Girl's Puppy.' [Laughs] Yeah, no. Absolutely not. So we called it 'kitty,' which makes a lot more sense."

Although the musical scenes in Babylon were the first opportunity she's had in a long time to perform in front of a live audience, LiLi has been working steadily in TV and film for the past 15 years. Some of her most recent projects include regular roles in series like The Exorcist and Quantico, as well as recurring roles on Evil and Blindspot. Babylon is easily her most high-profile film yet, earning her a Screen Actors Guild Award nomination along with her fellow cast members for Best Cast in a Motion Picture. She has nothing but affection for them, and for Chazelle, for encouraging her and making her feel comfortable on set.

"What I learned from this is you have to trust things happen exactly when they should happen," she says. "And because I have so much experience under my belt and I have finally built the confidence I was able to step onto this project with the greats of Hollywood in modern times and not be intimidated."