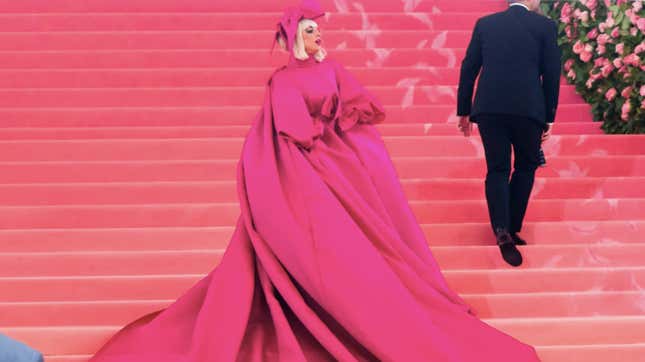 When celebrities fail at the Met Gala, it's often because they either didn't go big enough or veered off theme. This year, the Met Gala's Camp theme upped the stakes even higher by centering on Camp, the idea of embracing the unnatural and extravagant. Lady Gaga, as you might expect, nailed it in all her Mother Monster-ness. Camp has arguably been part of Gaga's aesthetic since the beginning, so it came as no surprise when she came in four different outfits, layered so that she stripped down to each. And Vogue had a camera on Liza Koshy the whole time, offering a real-time reaction that'll give you a good laugh.
Koshy started out on YouTube, and has hosted Vogue's Met Gala red carpet interviews for the past two years. She's known for her hilarious videos, so her over-the-top reaction here is expected, but still delightful. "Oh my Gaga," Kosky says through gritted teeth, high off of the excitement. "This is what culture is all about!"
We in the future are prepared for Gaga to reveal her four different outfits, but, preserved in amber is Koshy's in-the-moment surprise at the costume changes. She's fairly tame when Gaga takes off her outer layer, but once she gets to the third Koshy can no longer contain herself. The best part, of course, is when Gaga gets down to her final, two-piece set, causing Koshy drops her damn mic. Gaga didn't have to be that extra, but she did it anyway. She did it for everyone at home, and for Liza Koshy.