In We're No. 1, The A.V. Club examines an album that went to No. 1 on the Billboard charts to get to the heart of what it means to be popular in pop music, and how that concept has changed over the years. In this installment, we cover Madonna's Like A Prayer, which went to No. 1 on April 22, 1989, where it stayed for six weeks.
Sharon Stone made a fraction of what Michael Douglas did for "Basic Instinct"
As 1989 dawned, it seemed like business as usual for Madonna. Her movie career continued to chug along: She was in throwback starlet mode in the forgotten Bloodhounds Of Broadway and gearing up to play the coquettish caricature Breathless Mahoney in Dick Tracy. Meanwhile, her personal life was attention-grabbing tabloid bait. Her tumultuous marriage to Sean Penn finally ended in divorce and she was making Pepsi gunshy about their endorsement deal, because people mistook the edgy "Like A Prayer" video—which featured burning crosses, among other things—for part of its ad campaign. (In reality, the Pepsi clip's main emotional tug was rather innocuous black-and-white footage of Madonna as a beatific child.)
All of this turmoil overshadowed the fact that as a musician and songwriter, Madonna was looking to deviate from the formula that made her famous. For 1989's Like A Prayer, that meant a serious musical upgrade from popcorn-flick dance-pop fluff and faux-retro Top 40 cuteness. Working again with Stephen Bray and Patrick Leonard (who had helped her take baby steps toward maturity on 1986's True Blue, including the trembling ballad "Live To Tell" and the strident hit "Papa Don't Preach"), Madonna debuted a more sophisticated approach. "In the past, my records tended to be a reflection of current influences," she told Rolling Stone. "This album is more about past musical influences. The songs 'Keep It Together' and 'Express Yourself,' for instance, are sort of my tributes to Sly & The Family Stone. 'Oh Father' is my tribute to Simon & Garfunkel, whom I loved."
Despite her assertions, Like A Prayer was Madonna's most contemporary-sounding record to date—from the stellar Prince collaboration "Love Song" (a slinky, slow seduction with plenty of Purple One falsetto) to the painfully 1989 "Keep It Together," a fleet-footed funk-pop number with multi-tracked vocals all over the chorus. Yet, the album also boasted some energetic imperfections—she worked with live musicians and declined to polish many of the vocal tracks—and thoughtful arrangements that created complexity. Gospel choirs and stern organ cushion the title track, while "Till Death Do Us Part" veers between ominous spoken-word choruses, a bluesy guitar bridge, and bustling synthpop verses that resemble Talking Heads' hyperkinetic rhythms. "Dear Jessie," meanwhile, is a mincing, string-dusted minuet with latticed harmonies, and the waltzing "Oh Father" blooms with syrupy orchestras. Especially on the latter song, Madonna pushed herself vocally, becoming more comfortable connecting to (and conveying) the emotional content of the lyrics. Even the record's more universal songs—the girl-group-glossy "Cherish" and the horn-bolstered "Express Yourself," a bold-and-underlined female empowerment anthem—sound like the work of a woman more confident in her skin.
All of this pointed to Madonna establishing herself a serious artist (emphasis on the "art") who had significant things to say. Lyrically, Like A Prayer certainly felt weightier. In the case of "Till Death Do Us Part," she dealt with violent power dynamics and their aftermath; it's "about a destructive relationship that is powerful and painful," she told Rolling Stone. "In this song, however, it's a cycle that you can't get out of until you die. It's futile. I wanted the song to be very shocking, and I think it was. It's about a dysfunctional relationship, a sadomasochistic relationship that can't end." But instead of continuing to rely on sex for controversy, she staked her reputation on something much more meaningful and personal: religion.
G/O Media may get a commission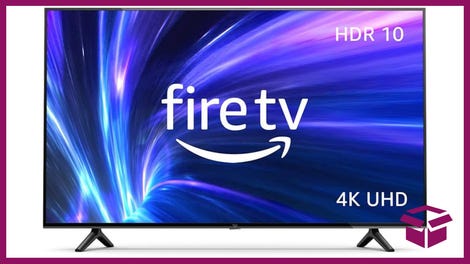 42% Off
Amazon Fire TV 50" 4K Smart TV
The title track conflates a higher being with a lover, adding sexual undertones to the cries of faith, while "Oh Father" and "Express Yourself" similarly hint at religious imagery. "Spanish Eyes" is skeptical about God's existence ("And if there is a Christ, he'll come tonight / To pray for Spanish eyes"), and "Act Of Contrition" takes a facetious look at repentance. Madonna juxtaposes sentiments from the Catholic prayer with sizzling Prince guitar, "Like A Prayer" played backward, and a bizarre non-sequitur that skewers high-maintenance divas: "I have a reservation! / What you do you mean it's not in the computer?" The effect is dryly funny. She toyed with religion, its iconography and its tenets—which was both radical and taboo—but in questioning, not sacrilegious, ways. "I don't make fun of Catholicism," she told Vogue. "I deeply respect Catholicism—its mystery and fear and oppressiveness, its passion and its discipline and its obsession with guilt."
Certainly Madonna was a savvy marketer, and knew that pushing her art in this direction would garner attention. Yet, Like A Prayer wasn't cheap provocation. While approaching religion—in addition to sex and glamour, or love and loss, or her family—Madonna did so from an insightful, adult perspective. "Oh Father" captures the relationship shift that happens as a daughter grows up—but while the song starts off taking a slightly defiant pose ("You can't hurt me now / I got away from you, I never thought I would"), she ended up in an empathetic place: "Oh Father, you never wanted to live that way / You never wanted to hurt me." The lovely "Promise To Try" honors the memory of her mother, who died when she was young; her absence looms large in the song, which is wracked with regret, loneliness, and longing—as well as tough truths: "Don't let memory play games with your mind / She's a faded smile frozen in time." And "Keep It Together" is an ode to family values: "'Cause blood is thicker than any other circumstance."
These sentiments were not surprising topics of discussion—Madonna freely talked about her roots and family in interviews—but they did provide new, more nuanced musical fodder. And it had a humanizing effect: Rather than coming across as a one-dimensional character in her songs, she gave listeners glimpses underneath the superstar facade. "I didn't try to candy-coat anything or make it more palatable for mass consumption, I guess. I wrote what I felt," she told SongTalk in response to a question about the record's honesty, before later clarifying, "In the past I wrote a lot of songs that [revealed my inner self], but I felt they were too honest or too frightening or too scary and I decided not to record them. It just seemed like the time was right at this point. Because this was what was coming out of me."
This placed Madonna in the unique position of being both bulletproof and vulnerable, making her an even more intriguing pop star. She saw the writing on the wall with changing pop trends (see: Milli Vanilli creeping into 1989's mainstream music landscape) and knew she had to evolve to stay on top. Being bold enough to delve into her parental issues was a start; starting a conversation about religion—which remains one of the most incendiary topics a musician can address—was even braver.
Like A Prayer was Madonna's first truly substantial record, the dividing line between her chirpy club-kid days and the mature sounds and themes that increasingly marked her '90s work. The album's sustained run at No. 1 buoyed her self-assurance and bravery, and validated that people were willing to follow her even as she transitioned into adulthood. And even today, Like A Prayer remains provocative and progressive: The racial tension alluded to in the "Like A Prayer" video is striking, while the album's themes of religious and sexual oppression still feel all too relevant. Madonna dictated pop's future direction while also being firmly in control of her own fortunes.