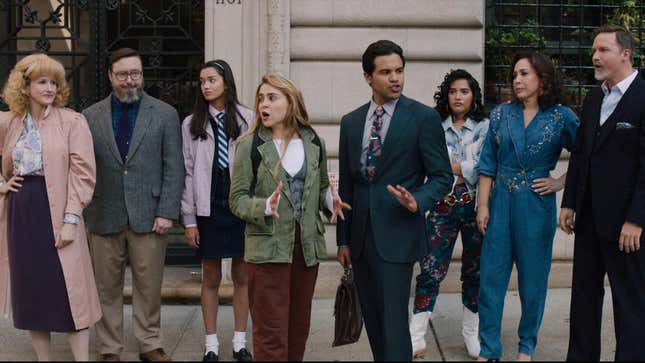 Hulu's once again trying to trick audiences into watching a dang rom-com. While other studios have tried couching the genre everyone's always eager to save in action comedies and celebrity vacation videos, Hulu's been craftier. Following the success of the tricksy time-loop comedy, Palm Springs, the streamer that Disney seems desperate to offload has put together Up Here, a musical rom-com from some of the biggest names in the game.
Set in 1999, Up Here stars Mae Whitman (her?) as Lindsey, an aspiring writer who wants to ditch her loser boyfriend and move to New York before that pesky Y2K bug wipes out her story ideas. However, with the year 2000 quickly approaching, the parental voices in her head pressure Lindsey to make safe decisions. So when she meets Miguel (Carlos Valdes), who has the same inner voice dilemma, her world turns into a glorious rom-com musical that better end with these two people kissing. It's the least the show can do for those people who can't stand P.D.A. in movies or on television. Close your eyes, you prudes!
Up Here certainly has bona fides, with an absolute murderer's row of modern musical talent. With songs by Kristen Anderson-Lopez and Robert Lopez, the couple behind all those songs from Frozen and Coco parents are tired of, and scripts by Steven Levenson (Tick, Tick…Boom, Dear Evan Hanson) and Danielle Sanchez-Witzel (The Grinder), Up Here also boasts Thomas Kail, the director of Hamilton. Plus, the great John Hodgman will lend his dulcet tones to the series, which should please Coraline fans worldwide.
All episodes of Up Here premiere on Hulu on March 24.