Although many books written for children and young adults take place in entirely fictitious worlds, there are plenty more whose plots unfold in actual, real-world locations that can be found on the map. A team from Atlas Obscura has taken the liberty of compiling just such a map with blue, green, and teal dots denoting the places where famous children's and YA novels took place.
Among the titles referenced here: Anne Of Green Gables, Charlotte's Web, The Wizard Of Oz, Catcher In The Rye, and Twilight. Anyone planning a children's-literature-themed road trip of the United States would do well to start here. It might be iffy taking an actual kid on such a sojourn, however, since the famous fictional characters won't be be waiting at the destination.
A project like this needs boundaries or else it could easily get out of hand. In the article accompanying the map, writer Sarah Laskow explains the parameters:
For this map, we have restricted ourselves to literary heroes who happened to live in North America—Maniac Magee, Anne of Green Gables, Holden Caulfield—but even though the original idea was to feature children's books, we included some more likely to be filed under "young adult." How could we resist revealing the location of V.C. Andrews' Flowers in the Attic or Bella Swan's hometown of Forks, Washington? We also focused on books that could be linked to a specific town, street, or even house.
G/O Media may get a commission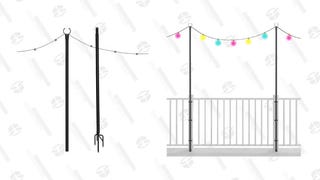 Up To 49% Off
Holiday Styling String Light Poles
As that passage explains, the map is character-based. Clicking on the light blue dot in Texas brings up Stanley Yelnats of Holes, while a darker blue dot to the north brings up Esperanza from the Chicago-set The House On Mango Street.