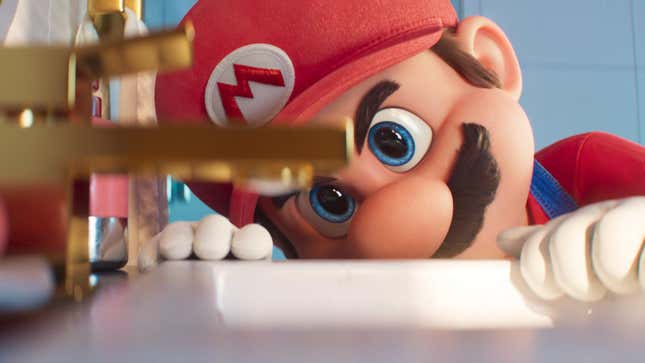 Hindsight is 20/20. Maybe in six months, when The Super Mario Bros. has been released, forgotten, and rebooted, we'll all wax nostalgic about how wrong we were about Chris Pratt as Mario, how he's so much better than who they get to play Mario next (probably Tom Holland), and how it's another example of audiences not seeing a director's vision, like when fans broke out in hives over Michael Keaton playing Batman.
Chris Pratt thinks you'll really like his Mario voice
Of course, many concerns regarding the casting of Batman and Batman villains dissipate after a trailer when fans can see the actor's take. Thus far, in the Super Mario Bros. press cycle, we're still waiting to actually hear this voice. One could argue that the marketing hides Chris Pratt's take on Mario's voice. Three trailers in, he still feels miscast, and waiting to really hear Pratt's Italian accent has only fueled more speculation that it's worse than we think. Thus far, we heard Mario say, "Mushroom Kingdom, here we come," and "Alright, let's a-go" in a manner that could be described as Chris Pratt's normal speaking voice with a slight tinge of the accent to make fans happy.
Nevertheless, the film's directors, Michael Jelenic and Aaron Horvath, say Chris Pratt made "total sense." Way more sense than, say, an actual voice actor (we can't have those in animated movies these days), like Charles Martinet, who has voiced Mario for decades and probably deserves the sweet payday and notoriety that comes from a massive Hollywood picture. Still, for this movie, Horvath says Pratt was the guy.
"For us, it made total sense," the director stressed about casting Pratt. "He's really good at playing a blue-collar hero with a ton of heart. For the way that Mario is characterized in our film, he's perfect for it."
How's Mario characterized in this movie? According to Horvath, this is more of an "origin" story "of Mario becoming Super Mario." It's about "a blue-collar guy from a family of Italian immigrants," which explains why he sounds like Chris Pratt unless he's doing one of his catchphrases. "We wanted to make this movie a very authentic Nintendo Super Mario experience," he said. "From story to visual development to the animation, Nintendo has been with us every step of the way."
Still, it is bizarre that we don't get much of Mario talking in these trailers—well, outside of screaming, "get it off," and "wah-hoo." Even the seemingly costly Big Game ad is a music video for the Super Mario Bros. Super Show theme song, "The Mario Rap." We suppose we should reserve judgment, but that's very hard when the trailers give us every reason not to.

Look, we'd be lying if The Super Mario Bros. Movie was our most pressing problem these days. It's merely our second most pressing one—our first is that Pratt is also cast as fucking Garfield (though Samuel L. Jackson is playing Garfield's dad Vic, so maybe we have a third most pressing problem). Will Chris Pratt bring that blue-collar energy that made his depiction of a velociraptor trainer who holds his arms out so compelling? Maybe, one day, when we see the movie, the answer will be yes. Until then, we'll say, let's a-go see something else.