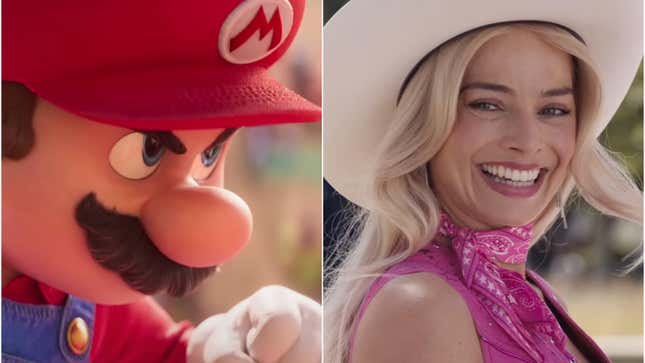 You had a good run, Super Mario Bros. Movie, but we all knew this moment was coming. That's right, Chris Pratt's Mario is no longer the biggest beloved children's IP film on the block. The crown has obviously been passed to Barbie, the biggest cinematic sensation of the year (and perhaps most years in recent memory). Per Variety, Greta Gerwig's girlhood opus has officially generated $575.4 million in North America, surpassing Mario's flat $574 mil. With a haul of $1.3 billion globally, the film is on track to overcome Mario's $1.35 billion worldwide gross, as well.
Patrick Wilson thought "Watchmen" was cool, so take that
Becoming the biggest film of 2023 is just another feather in the cap for the Margot Robbie and Ryan Gosling-led comedy. Barbie scored the best debut of the year, the biggest opening weekend for a female director ever, and the highest-grossing movie directed solely by a woman (via Variety). Warner Bros. Discovery has made the puzzling decision to offer Barbie streaming on demand starting September 5, despite the fact that it still has momentum in theaters. But a newly announced IMAX run (and probably an awards run near Oscars time) will no doubt boost Barbie up the rankings even further; right now it's the 14th-biggest domestic release and 20th-biggest global release of all time, and it still has room to grow.
For those interested, the Oppenheimer half of summer's favorite double feature is still doing tidy numbers, too. Christopher Nolan's historical epic has taken home $700 million globally, making it the fourth-highest-grossing movie of 2023 and the fifth-biggest R-rated movie of all time, behind The Matrix Reloaded ($738 million), Deadpool ($781 million), Deadpool 2 ($786 million) and Joker ($1.066 billion), per Collider. This summer at the movies, everybody wins!