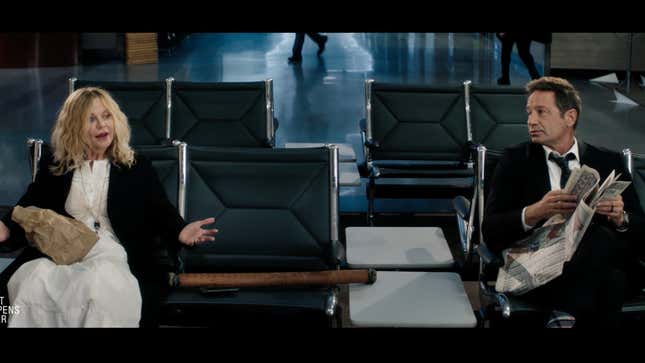 Romantic comedy lovers, our queen has finally returned. After a long hiatus, Meg Ryan—When Harry Met Sally's Meg Ryan, Sleepless In Seattle's Meg Ryan—has returned to the genre that made her a household name. And in What Happens Later, which debuts in theaters October 13, Ryan isn't just the leading lady; she's also the film's co-writer and director.

Why Christian Bale would love to be friends with Burt Berendsen
The synopsis is as follows: "Two ex lovers, Bill (David Duchovny) and Willa (Meg Ryan) get snowed in at a regional airport overnight. Indefinitely delayed, Willa, a magical thinker, and Bill, a catastrophic one, find themselves just as attracted to and annoyed by one another as they did decades earlier. But as they unpack the riddle of their mutual past and compare their lives to the dreams they once shared, they begin to wonder if their reunion is mere coincidence, or something more enchanted."
The trailer portrays a charming second-chance meet-cute with a slightly magical edge (depending on how you view the "Voice of God" over the intercom interacting with our main characters). As the two reconnect and goof off in the empty airport in a sort of mature Mixed Up Files Of Mrs. Basil E. Frankweiler, they come closer to understanding what really drove them apart in the first place.
Ryan adapted the script from the play Shooting Star by Steven Dietz, co-writing alongside Dietz and Kirk Lynn. She previously tried her hand at directing with the 2016 historical drama Ithaca, but there's no doubt the romantic comedy feels more in her wheelhouse. "It has a relationship to movies from the '40s, like Bringing Up Baby, in terms of the banter and the rhythm of things and a lot of that era of filmmaking," she told Entertainment Weekly in a recent interview. "Nora Ephron used to say about rom-coms that they were really a secretly incredible delivery system to comment on the times, and we do that in this movie." Those are some high expectations to live up to, but seeing Meg Ryan as a rom-com heroine again is probably enough of a lure on its own!