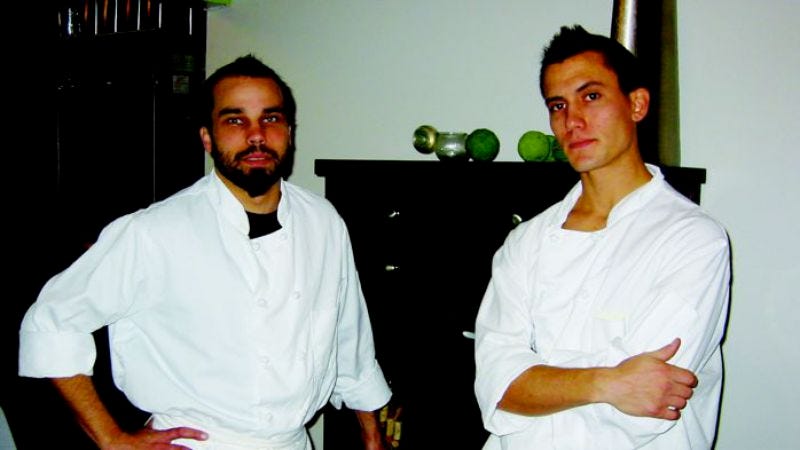 Schwa opened in September, shortly after the space's former occupant, Lovitt, shut down, but the two restaurants share more than an address. Lovitt's sous chef, Michael Carlson, is now Schwa's head chef, assisted by manager Keri Putney and sous chef Nathan Klingbail. The small space's atmosphere lacks the self-importance of other contemporary American restaurants: The staff mingles and converses with guests as independent music plays in the background—a welcome change from Muzak and 1996's Top 40 hits. The A.V. Club recently spoke to Carlson about the clientele, the music, and, of course, the food.
The A.V. Club: You have MF Doom playing right now. Will you change the music when guests are here later tonight?
Michael Carlson: No, we usually play stuff like this during seatings. We'll play some Atmosphere, some Cut Chemist, things like that.
AVC: Does that draw a younger crowd?
MC: Not necessarily. We find that some of the older guests will be nodding their heads along while they're eating.
AVC: It's rare for finer restaurants such as Schwa to be BYOB. Why do you like that?
MC: We'd prefer for diners to spend more money trying different food items—that's why they're here in the first place.
AVC: Does it bother you when people make terrible pairings or drink bad wine?
MC: Maybe a little, but people have such different tastes in wine, so who are we to say what they should be drinking?
AVC: How many people can you seat?
MC: We can get about 28 at a time, and we prefer to not turn that many tables, to have people stay a while and keep it to one seating. On weekends and other busy nights, we'll turn a few more.
AVC: Do you prefer working in a smaller restaurant?
MC: Definitely. With a small staff, it's easier to interact and keep things running more smoothly. That also gives us the time and ability to step out of the kitchen and mingle with our guests.
AVC: How would you classify your cuisine? And how often do you change the menu?
MC: Contemporary seasonal American, which basically means a style that uses both classic and newer methods and ingredients. We're able to make changes to the menu on a daily basis, whether it's removing an item entirely or adding or subtracting just one ingredient. We tend to see what people are enjoying and what they aren't.
AVC: Did any particular restaurant inspire Schwa?
MC: I would say just the opposite is true. I think we created this because there are so few places like this.