As we now exist in a world where festivals are so plentiful that it's almost impossible to keep track of them, The A.V. Club elected to try to find the best one each state had to offer. Of course, some places had a bevy of great options. But for others, finding a fest with a notable component proved difficult. Below is The A.V. Club state-by-state guide to the 2016 summer music festival season (though a few technically occur in the spring and fall). In addition to picking the best festival in each state, we've paired each with another activity to make that trip to Wyoming a little more worthwhile.
Where? On the beach in Gulf Shores
When? May 20-22
Why is it the state's best festival? In an age when every biggish music festival has pretty much the same lineup, Hangout stands out because of its location. It's smack-dab in the middle of one of Gulf Shores' loveliest beaches, and boasts amenities like hammocks, a side-stage pool and hot tubs for VIPs, carnival rides, and all sorts of Alabama seafood in its food court. Seriously—at Hangout, you can munch on peel-and-eat shrimp and raw oysters while you watch Calvin Harris bring the bass. If that doesn't appeal to you—the shrimp part, at least—then you're a monster.
What else should you do in Alabama? Gulf Shores is a thriving tourist destination, with water parks and a zoo. If you fly in for the fest, you'll either be coming in through Pensacola, Florida, or Mobile, Alabama, and Mobile boasts both a retired battleship (the U.S.S. Alabama) and a sweet-sounding Mardi Gras museum. [Marah Eakin]
Where? Ninilchik
When? August 5-7
Why is it the state's best festival? You can combine do-gooding with camping at Salmonfest (née Salmonstock), the appropriately—if unassumingly—named music festival that was founded to support conservation efforts near Bristol Bay. The Indigo Girls, reggae act Clinton Fearon, twang-rockers Dead Winter Carpenters, and The Young Dubliners are all in the lineup.
What else should you do in Alaska? Go see the glaciers (while they're still there), or do some whale-watching. And there's no shame in enjoying some baked Alaska while you're in the state. [Danette Chavez]
G/O Media may get a commission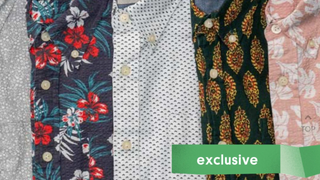 Grab three styles!
JACHS NY Summer Pack
Where? Arcosanti
When? May 13-15
Why is it the state's best festival? Let's let the website explain it: "In the alien landscape of Arizona's high desert sits the micro city of Arcosanti. For one weekend 1,200 participants will gather among its surreal architecture and terrain to experience form." Curated by Hundred Waters, this "free by application" festival in the Arizona desert wants to inspire creators, with acts like Skrillex and Tortoise performing alongside lectures, workshops, and art installations.
What else should you do in Arizona? You'll probably be longing for civilization after all the arty desert time: May we suggest "downtown" Sedona, which offers majestic red rock views but also some fun cheesy souvenir shops, as well as crystals and fossils galore. And if you've never seen the Grand Canyon, you really should. We know, everybody says that, but it's just one of those things you should see. [Gwen Ihnat]
Where? Little Rock
When? June 3-5
Why is it the state's best festival? Past lineups at Riverfest have been wildly diverse—its site champions previous performers like 311 and Al Green—and the 2016 edition is no different. Country singer Chris Stapleton has been slowly crossing over into the mainstream, and The Flaming Lips are always good in a festival setting. But it's the event's third-billed headliner, The Goo Goo Dolls, that highlights the fest's grab-bag nature. It's got current hits, bands with strong back catalogs, and former radio-rock darlings that have, somehow, endured. It may not be a destination festival, but it's nothing to shake a stick at either.
What else should you do in Arkansas? Go to Little Rock Central High School. The A.V. Club is sure it's on Trip Advisor for a reason. [David Anthony]
Where? Los Angeles
When? August 27-28
Why is it the state's best festival? Though it started innocently enough as a small punk festival—then billed as Fuck Yeah Fest—FYF is one of the rare fests to have grown in size without losing sight of what makes it stand out. This year boasts such buzzy headliners as Kendrick Lamar and LCD Soundsystem, but its undercard proves just as powerful. With acts like Julien Baker, Andy Stott, Sheer Mag, and many more, the fest unites punk, electronic, and singer-songwriters under one banner, making it a great billing for anyone with diverse taste.
What else should you do in California? Drop by Donut Fiend, the donut shop owned by Drive Like Jehu's Mark Trombino, which features pun-fueled confections such as Chocolate From The Crypt and Fudgegazi. [David Anthony]
Where? Downtown Denver in the RiNo Neighborhood
When? May 20-21
Why is it the state's best festival? Hey, Pabst is a decent beer choice when you're looking for affordable brew that's still drinkable. This festival looks to be just as solid and cheap as its namesake, with tickets going for $65. There's also artsy stuff, incorporating Pabst's campaigns to draw your own beer cans, and an old-school arcade. With Courtney Barnett, Violent Femmes, Nathaniel Rateliff & The Night Sweats, Baroness, and more, it looks like a nice, compact festival.
What else should you do in Colorado? Rent a car and drive through the mountains while you listen to the festival bands through speakers. You can't really go wrong with the sight-seeing in Colorado, but we recommend keeping with the beer theme and heading southwest to check out Wilson Peak, the mountain adorning the Coors Light cans. [Caitlin PenzeyMoog]
Where? Veterans Memorial Park in Shelton
When? July 9-10
Why is it the state's best festival? Because no other event in Connecticut so brazenly combines live music with culinary word play. The main attraction here are the cooks competing for top prizes in soup and chili categories; sets from a handful of regional acts are the side dish. Proceeds from the gate benefit a local arts charity, The Mary A. Schmecker Turtle Shell Fund, though charity-hating cheapskates who don't suffer from motion sickness are in luck: According to the official Soupstock website, "This year there will be no charge for the bounce house."
What else should you do in Connecticut? TV fans won't find Stars Hollow on any maps of the Constitution State, but they can do the next best thing: Spend some time in Washington, Connecticut, the burg that charmed Amy Sherman-Palladino into creating Gilmore Girls. [Erik Adams]
Where? The Woodlands Of Dover International Speedway
When? June 16-19
Why is it the state's best festival? Dover International Speedway is guarded by a geological creature of massive proportions, but Firefly's lineup expands beyond rock monsters (speedway mascot Miles The Monster) and monsters of rock (Kings Of Leon, Blink-182)—this year's headliners include Deadmau5 in addition to featured performances from Disclosure, Vince Staples, and Earth Wind & Fire. The branding and setting promise a pastoral retreat, but the Firefly grounds set are the summer festival equivalent of glamping: There's an onsite brewery run by Delaware's own Dogfish Head, while the intimate Coffee House stage includes baristas, couches, and other elements not commonly found in nature. This year, the festival adds a beercade, so there's no telling if the bleeps and bloops you're hearing are emanating from M83 and Major Lazer or Pac-Man and the missus.
What else should you do in Delaware? After a weekend of celebrating the musical present, celebrate the recording industry's past at the Johnson Victrola Museum, a monument to Victor Talking Machine Company founder and Delaware native Eldridge Reeves Johnson. [Erik Adams]
Where? Gainesville
When? October 28-30
Why is it the state's best festival? The A.V. Club has previously extolled The Fest's virtues, with its micro look at the punk scene and intimate, South By Southwest-like setup. This year sees it enter its 15th year, and along with that comes a lineup packed full of Fest favorites. It's one of the few festivals that would count Propagandhi as a top-tier name, but it's that kind of selective booking that makes The Fest worth the trip.
What else should you do in Florida? Go to Arrow's Aim Records, one of the best record stores in the country. [David Anthony]
Where? Atlanta
When? August 13-14
Why is it the state's best festival? Though only in its second year, Wrecking Ball burst onto the scene last summer with a lineup that connected punk's past to its present. This year, it's managed to do it once again, nabbing a few high profile reunions—Thursday, Piebald, and Rainer Maria, just to name a few—but features plenty of newcomers, too. In many ways, Wrecking Ball positions itself as a competitor to The Fest, with a good mix of old and new, all housed in a mid-sized club that best suits this kind of frenetic music.
What else should you do in Georgia? Get thoroughly creeped out at the Center For Puppetry Arts. [David Anthony]
Where? Waikiki, Oahu
When? July 17
Why is it the state's best festival? While Hawaii is surely a travel destination for those looking to unwind on sandy beaches, it doesn't share the same type of festival culture that its mainland cousins do. So the celebration of all things ukulele seems an appropriate pick for the island state. It at once speaks to the light, breezy nature of a Hawaiian vacation without having to be reined in by the confines of a music festival.
What else should you do in Hawaii? Hang loose, brah. [David Anthony]
Where? At Expo Idaho in suburban Garden City
When? June 25
Why is it the state's best festival? In short, because it's pretty much Idaho's only festival. How else would a festival headlined by Coolio, of all people, make this list? There are only three other acts playing: Nelly, Daughtry, and bland pop act Andy Grammer. Thus, "best" is a relative term.
What else should you do in Idaho? If you're willing to drive three-and-a-half hours, you can go to the Idaho Potato Museum in Blackfoot, Idaho. Otherwise, there's always the World Center For Birds Of Prey, which is located right outside Boise and features the world's largest captive flock of California Condors. [Marah Eakin]
Where? Chicago
When? July 15-17
Why is it the state's best festival? Now in its 11th year (12th, if you count its humble Intonation roots), Pitchfork offers nearly as extensive a slate of artists as Lollapalooza, but with decidedly fewer stoned suburban kids flopping around the park grounds. Where else can you see The Hotelier, FKA Twigs, and Sufjan Stevens in one weekend, with Brian Wilson performing Pet Sounds live for what could be the last time?
What else should you do in Illinois? Stick to Chicago to enjoy great food and drink—the shuttle buses will take you along a strip of restaurants on Randolph, including Little Goat Diner. You can also go a little further south to feast on carnitas in Pilsen, or linger near Union Park for a "cheezborger" at the Billy Goat Tavern. [Danette Chavez]
Where? Hammond
When? July 20-24
Why is it the state's best festival? There's not much competition in the corn-filled boundaries of Indiana. While it's been home to various fests that have died as quickly as they came together, Festival Of The Lakes has been the long-standing county fair with musical bookings that make little-to-no sense together. This year sees Ludacris, George Thorogood & The Destroyers, and a polka band headlining various nights, showing that Indiana is just as strange as everyone assumes it is.
What else should you do in Indiana? Sure, there's 3 Floyd's in the neighboring town of Munster, but downtown Griffith is really where it's at. With a handful of breweries, a record store, and the best coffee shop the region has to offer, it's a nice place to spend an afternoon before seeing Ludacris. [David Anthony]
Where? Western Gateway Park in Des Moines
When? July 8-9
Why is it the state's best festival? Beyond having a pretty good website, 80/35 also has a pretty good lineup. This year, the fest is headlined by Nas and The Decemberists, with supporting performances from acts like Lizzo, Black Lips, and Thao And The Get Down Stay Down. Also, if the fest's Instagram is to be believed, there are also big-ass smoked turkey legs for eating, and a guy hanging around who just wears a snake on his neck.
What else should you do in Iowa? While the Field Of Dreams field is a three-hour drive away, there's still plenty of baseball in Des Moines. Head over to Principal Park to cheer on the Iowa Cubs, the AAA minor league affiliate for the Chicago Cubs. Just outside Des Moines is Adventureland, an amusement park that features the Tornado, a wooden roller coaster that's been named one of the 10 best in the United States. [Marah Eakin]
Where? Wichita
When? June 3-11
Why is it the state's best festival? Across its week-long run, Wichita Riverfest boasts a grouping of bands with a little something for everyone. Whether it's The Roots, Violent Femmes, or the good version of Black Flag that's currently touring (Flag), there's no lack of quality or variety. Couple that with its multi-day, multi-venue format, and it's a fest that offers plenty of great options without becoming overwhelming.
What else should you do in Kansas? Explore the history of barbed wire at the Kansas Barbed Wire Museum. [David Anthony]
Where? Waterfront Park, Louisville
When? July 15-17
Why is it the state's best festival? Location, location, location: The official Forecastle website touts the festival's conveniently situated homebase, "located within a day's drive of half the U.S. population." Surely there are fans of 2016 headliners The Avett Brothers, Alabama Shakes, and Death Cab For Cutie among those 159 million people—for the rest, Forecastle offers up Ben Harper & The Innocent Criminals, Sylvan Esso, or Bully. The festival is steeped in its Bluegrass State setting, be it through bourbon-soaked bookings like Ryan Adams, Brandi Carlile, and Gary Clark Jr., or the actual bourbon poured at one of two whiskey-centric pop-up saloons. The flashier of those spots, The Gonzo Bar, pays tribute to late Kentucky native Hunter S. Thompson, an amusement park treatment of the author's legacy that's either the least "gonzo" concept ever—or the most.
What else should you do in Kentucky: If the destination of your day's drive is Tennessee, Virginia, or the Carolinas, why not make a pit stop to honor another larger-than-life son of the Commonwealth: The Kentucky Colonel who laid the foundation for a finger-lickin' empire at the North Corbin service station now known as the Harland Sanders Café And Museum. [Erik Adams]
Where? New Orleans
When? June 30-July 3
Why is it the state's best festival? Describing itself as the "Largest Stateside gathering of African-Americans in the United States," Essence offers a solid musical lineup, including Babyface, Maxwell, Ciara, New Edition, Mariah Carey, and Kendrick Lamar, who had the A.V. Club's favorite album last year.
What else should you do in Louisiana? The Essence festival is conveniently located in New Orleans, so whenever you're not enjoying awesome music, you're hopefully eating something, because all of the food in New Orleans is amazing. Take a cemetery tour or jump on one of those trolleys to check out neighborhoods outside the tourist-laden French Quarter. And the Audubon Aquarium Of The Americas is also on the not-to-be-missed list. [Gwen Ihnat]
Where? Rockland
When? August 3-7
Why is it the state's best festival? There's not much in the way of music at the Maine Lobster Festival and, in fact, it's somewhat shocking that Maine didn't have some weird, jam-band-focused fest to take this spot. That said, a celebration of lobster is the kind of festival that transcends things like music, as chowing down on a bunch of crustaceans may be far preferable to huffing it between stages on a hot summer's day.
What else should you do in Maine? What? Bathing in giant vats of butter isn't enough for you? [David Anthony]
Where? Boston City Hall Plaza
When? May 27-29
Why is it the state's best festival? This one has a solid lineup, including Sufjan Stevens, Janelle Monáe, Haim, and Courtney Barnett, with many others. Its downtown location makes it ideal for the U.S. history-minded festival attendee, with the Freedom Trail heading straight out of the festival space to early American landmarks.
What else should you do in Massachusetts? Eat oysters, obviously. The storied Union Oyster House is a literal two-minute walk from the fest—but take advantage of the East Coast location and go up the coast, eating Atlantic fare the whole way. [Caitlin PenzeyMoog]
Where? Baltimore
When? May 26-29
Why is it the state's best festival? While Europe is filthy with enormous, open-air metal festivals, here in North America, it all comes down to MDF: a four-day, three-stage celebration of the world's fastest, heaviest, most punishing music. Despite the name, MDF isn't strictly a haven for death-metal fanatics; this year's lineup features everything from hardcore punk (Discharge) to grindcore (Magrudergrind) to thrash (Testament) to doom (Bongripper) to stoner metal (Bongzilla) to just plain-old, classic heavy metal (Venom). Big names abound, but the real draw is the promise of discovery—that ability to stumble onto your new favorite band while staking out a spot in the pit for the headliner.
What else should you do in Maryland? After a weekend of watching corpse-painted frontmen pretend to serenade Satan on stage, take a short drive to the "Hell House Altar" in Patapsco Valley State Park. The only remaining structure of the long-demolished St. Mary's College, this spooky stone gazebo is rumored to have served as an unholy space for real devil worshipers. Horns up for history! [A.A. Dowd]
Where? Howell
When? May 28
Why is it the state's best festival? Surprisingly, Michigan is bereft of a festival that catches the spillover from the Midwest's other big fests. Michigan's music festivals are smaller, scrappier, and far more interesting as a result. Bled Fest has often felt like a testament to the DIY spirit, and this year's lineup does a good job of catching artists that embody that across genres. This year sees the state's own melodic death metal heroes The Black Dahlia Murder headlining a fest where it's the token metal band, but still feels united to the likes of The World Is A Beautiful Place & I Am No Longer Afraid To Die.
What else should you do in Michigan? Drop by the Historic Howell Theater, which has a pretty impressive, art-focused list of films playing inside its walls. [David Anthony]
Where? Minneapolis
When? June 18
Why is it the state's best festival? Held in Minneapolis' best neighborhood, Northeast, Rock The Garden puts you on Boom Island along the Mississippi with a view of the city skyline and tunes from a stellar lineup that includes eight bands from national darlings The Flaming Lips and Chance The Rapper to Minnesota-based Polica and Hippo Campus.
What else should you do in Minnesota? You need to eat and drink at almost every Northeast establishment nearby, but if you only have time for one stop make it Kramarczuk's Sausage Company. This Easter European deli is the perfect place to fill up on classic deli sandwiches or something heartier like goulash (add some horseradish) and a hard roll, which can be washed down with imported beverages and followed by a tasty dessert. This is just the fuel you'll need to keep you dancing for hours. [Becca James]
Where? Greenville
When? September 30-October 2
Why is it the state's best festival? For a festival that plays off the nickname of the Mississippi River, the Mighty Mississippi Music Festival is appropriately rustic. Although it's headlined by G. Love And Special Sauce, the rest of the lineup is less focused on G. Love's mixing of genres and love of jamming. Though the Jimmie Rodgers festival that just passed is a slightly better option on the whole, for the rest of the summer Mighty Mississippi will have to do.
What else should you do in Mississippi? Elvis Presley's birthplace is now a museum, and that's surely a good option. [David Anthony]
Where? St. Louis
When? September 10-11
Why is it the state's best festival? They have a nosh pit, which, unlike a mosh pit, is aggression-free and full of food from some of St. Louis' best vendors.
What else should you do in Missouri? Check out the Missouri Botanical Garden. The oldest botanical garden in the nation, it includes an impressive 14-acre Japanese strolling garden so that you can stretch those tired festival legs. [Becca James]
Where? Bozeman
When? August 5-7
Why is it the state's best festival? For a rinky-dink street festival in Bozeman, Montana, Sweet Pea has historically landed a pretty good lineup of performers. While the lineup for this year's event isn't out yet, last year's hullabaloo was headlined by Shakey Graves and Anderson East. It's also crazy cheap: In 2014, a three-day wristband went for $15.
What else should you do in Montana? There's a lot of nature-type stuff to do in Montana, including hiking, camping, and whitewater rafting. Bozeman's a college town, meaning it has all sorts of modern "cool" amenities, including wine bars, Indian restaurants, and artisanal coffeehouses. [Marah Eakin]
Nebraska: Maha

Where? Omaha
When? August 20
Why is it the state's best festival? Its lineup may be small, but Maha packs a wallop with its handful of bookings. With Passion Pit, Grimes, and Vince Staples serving as headliners, Maha has found a way to book from disparate genres yet still have it all make sense under one roof. There are some older acts added in (Matthew Sweet) and some up-and-comers that are dominating the festival circuit (Car Seat Headrest, Diet Cig), making Maha the type of festival that's solid from the top of its poster all the way down to the bottom.
What else should you do in Nebraska? Drop by the Saddle Creek shop and buy some records from Omaha's best and brightest. [David Anthony]
Where? Las Vegas
When? August 26-28
Why is it the state's best festival? For its fourth anniversary, this smartly curated metal-and-rock fest relocates from Southern California to Vegas, expanding to accommodate an even better, larger, and more eclectic roster of heavy buzz bands. A sort of artisanal answer to Maryland Deathfest, Psycho is positively stacked from top to bottom, grouping headliners Alice Cooper, Drive Like Jehu, and Electric Wizard with critical darlings like Baroness, grunge survivors like Mudhoney, and talented up-and-comers like Elder. Basically, if you like monster guitar riffs, you'll find something to enjoy at this festival.
What else should you do in Nevada? Half the lineup makes music that practically begs to be listened to on a lonely stretch of desert highway, windows down, volume up, cactus as far as the eye can see. Download tracks from your favorites of the weekend and peel out into the arid unknown. [A.A. Dowd]
Where? Peterborough, New Hampshire
When? June 9-12
Why is it the state's best festival? The small state of New Hampshire doesn't draw a lot of festival action. The Thing In The Spring is the exception, and even then, it's pretty small potatoes. Headlined by the Chicago Underground Duo, Beauty Pill, Susie Ibarra, and O'Death, The Thing In The Spring is more of a celebration of the arts in general than a straight-up rock 'n' roll blowout. Given that it's curated by a non-profit art space, The Glass Museum, that should come as no surprise.
What else should you do in New Hampshire? Peterborough is only 70 miles from Boston, so that's always an option, though that would take you out of New Hampshire. If you want to stay in town, there's always the QR code tour of the Peterborough metro area, which might be more fun than it sounds, considering the little hamlet inspired Our Town's Grover's Corners. [Marah Eakin]
Where? The convention center in Asbury Park
When? September 16-18
Why is it the state's best festival? The New Alternative Music Festival could just as easily be called Don Giovanni Records Festival, given the fact the label is putting it on and much of the lineup is culled from its roster. That's by no means a bad thing, as Don Giovanni has released plenty of great albums in recent years from bands with wildly disparate sounds. The fest also has a commitment that few others do, which is to avoid corporate sponsorship at all costs. It's a festival based around idealism, shared ethos, and friendship. What more could anyone ask for?
What else should you do in New Jersey? Head to the boardwalk and see if Bruce Springsteen is just wandering around eating an ice cream cone. [David Anthony]
Where? Santa Fe
When? September 2
Why is it the state's best festival? Zozobra is by no means a music festival, though that hasn't kept it from having one lengthy, metal tribute written about it. The tale of Zozobra (also known as Old Man Gloom) is that the 50-foot-tall marionette is burned annually as a way of cleansing people of their impure deeds throughout the year. Started in the 1920s, Zozobra has become a long-standing tradition for the city of Santa Fe, attracting many participants from the world over. But, if music is a must, just blast some Old Man Gloom as countless spectators cheer on the burning of the puppet from which the band took its name.
What else should you do in New Mexico? Visit the Space Hall Of Fame at the New Mexico Museum Of Space History. [David Anthony]
Where? Brooklyn
When? August 27-28
Why is it the state's best festival? Though New York City now offers not one but two summertime megafests—Governor's Ball and Panorama, respectively—AfroPunk is where it's at. Small enough to not be overwhelming but with a pretty badass lineup, it's a great fest to check out if you want something different than the norm. Seriously, though—Ice Cube, Janelle Monáe, TV On The Radio, Flying Lotus, Thundercat, and George Clinton all on one lineup? You can't do better than that.
What else should you do in New York? What can't you do in New York? If you want to be a tourist, go to the top of the Empire State Building and take a ferry around the harbor. If you don't, go get some bomb Chinese food at Xi'an Famous Foods and then catch a late-night show at Baby's All Right. [Marah Eakin]
Where? Raleigh
When? September 8-10
Why is it the state's best festival? Hopscotch thrives on its diversity. Past lineups have included everything from Pusha T to Roky Erickson. Though this year's full lineup won't be announced until May 9, the fest's first act speaks volumes: Lavender Country, a group that released the first openly gay country record ever in 1973. Fronted by the outspoken Patrick Haggerty, Lavender Country should help Hopscotch reinforce that even if North Carolina's legislators aren't down with rights for all people, the festival is.
What else should you do in North Carolina? If you're going to go anywhere in North Carolina, the Raleigh-Durham area is the place to go. There are tons of record stores and music venues there, and seeing as how it's home to both Duke and UNC, there are plenty of cheap, hip little bars and restaurants. If you're into biscuits—and who isn't?—you'll want to check out Rise. [Marah Eakin]
Where? Minot
When? July 23-30
Why is it the state's best festival? It's the state fair, so its music also comes with funnel cake and, if you're lucky, some fireworks to close out a lineup that includes Kenny Chesney, Fall Out Boy, and KISS.
What else should you do in North Dakota? Again, it's a state fair for crying out loud, which means you can stay put. There are definitely enough fun things to do there. [Becca James]
Where? Nelsonville, right in the northern foothills of the Appalachian mountains
When? June 2-5
Why is it the state's best festival? While there are decent festivals in Cincinnati and Columbus, Ohio's best festival is a little more out of the way. Nestled in the foothills of the Appalachian mountains, Nelsonville Music Festival brings big-name acts to a small, charming mining town that's seen better days. Not just a fan favorite, Nelsonville has drawn rave reviews from artists, meaning that the lineups get better every single year. This year, the fest features headliners Randy Newman, Gillian Welch, Courtney Barnett, and Gary Clark Jr., with undercard performances from Mac DeMarco, The Tallest Man On Earth, Angel Olsen, Nikki Land, Ibeyi, and more.
What else should you do in Ohio? If you want to stick close to the fest, drive about 15 minutes down to Athens, home of Ohio University. This cute little college town is home to dozens of cheap-ass bars, as well as a creepy, maybe haunted old mental institution. Fill up on a plate of hippie, worker-owned Mexican fare at Casa Nueva before rocketing back up to Nelsonville for a stop at the Rocky Boot Outlet. [Marah Eakin]
Where? Pryor
When? May 27-29
Why is it the state's best music festival? "Life, liberty, and the pursuit of rock" is a pretty solid festival slogan, but the real draw is the way this event pulls together the newest bands in the Southern metal tradition and manages to create a three-day bill that's almost entirely of a piece. From Friday's headliners of Disturbed and Rob Zombie through Sunday's sets by Chevelle and Five Finger Death Punch, there's a unified musical and cultural aesthetic running through every band on the bill that makes the Warped Tour look like a humanities festival of variety.
What else should you do in Oklahoma? Take a breather from the nonstop headbanging and check out Woolaroc Museum & Wildlife Preserve, which boasts 3,700 acres containing bison, longhorn cattle, and elk. Now that's fucking hardcore. [Alex McCown]
Where? Pendarvis Farm in Happy Valley
When? August 5-7
Why is it the state's best festival? Well, for one, because it's been featured on Portlandia. Beyond that, Pickathon succeeds because of its enchanting, woodland-fairy-like location and killer lineup. This year alone, attendees can expect Jeff Tweedy, Wolf Parade, Beach House, Yo La Tengo, Ty Segall, Open Mike Eagle, and more.
What else should you do in Oregon? Portland's about 10 miles away, so chug on up there and drink your way through the city's more than 65 micro or craft breweries. If you're not that into booze, check out Powell's City Of Books, the largest independent bookstore in the world. [Marah Eakin]
Where? Ben Franklin Parkway, Philadelphia
When? September 3-4
Why is it the state's best festival? Because it was founded by Jay Z, and Hova only grants his imprimatur to the finest of products, be they music festivals, smartphone apps for chartering private jets, and celebrity babies.
What else should you do in Pennsylvania? Engage in a time-honored Philadelphia tradition by whipping a makeshift projectile at the symbol of an upcoming holiday. (The festival takes place over Labor Day Weekend—why not bean a union buster with your empty water bottle?) [Erik Adams]
Where? Fort Adams
When? July 22-24
Why is it the state's best festival? It's no Blessing Of The Fleet, but the Newport Folk Festival is pretty close to the water, and will be headlined by the well-rested Flight Of The Conchords, debuting some new music. Father John Misty, Ray LaMontagne, and Fruit Bats will also descend ever so politely on Fort Adams State Park for the festival. And getting a first look at newly formed supergroup Case/Lang/Veirs, comprising Neko Case, K.D. Lang, and Laura Veirs, is worth the price of admission alone.
What else should you do in Rhode Island? You could visit one of the nearby saltwater beaches, or you could leave the park to go on an H.P. Lovecraft walking tour. Better yet, get your Beavis on and check out the WaterFire Providence lighting. [Danette Chavez]
Where? Greenville
When? October 14-16
Why is it the state's best festival? There aren't a ton of festivals in South Carolina, so Fall For Greenville gets the nod purely for its breadth of lineup. Though this year's artists haven't been announced yet, last year's four-day affair had everything from national acts like Jeff The Brotherhood and The Orwells to more questionable-sounding local acts like Soul Stew and a group just called Song.
What else should you do in South Carolina? When you think of South Carolina, it's common to think beaches, but Greenville is actually far upstate, toward the mountains and away from the Atlantic. There are plenty of places to take advantage of the area's natural beauty, like at Falls Park and the GHS Swamp Rabbit Trail, but there are also interesting-sounding indoor attractions in town, like the Museum And Library Of Confederate History and the Shoeless Joe Jackson Museum And Baseball Library. [Marah Eakin]
Where? Deadwood
When? June 17-18
Why is it the state's best music festival? You don't just have to be a fan of the HBO series to have an excellent reason to visit Deadwood. This festival celebrating Wild Bill Hickok provides a musical lineup of Americana you'd be hard-pressed to find anywhere else. Goldpanning demos, karaoke championships, and reenactments of the legendary frontiersman are unique enough for a fest, but musically, it's a continuous feast of tunes by the likes of Waylon Jennings, Jimmy Buffett, Johnny Cash, and Garth Brooks, to name a few. Sure, they're tribute bands, but it's South Dakota, and the "what the hell?" choice of emcee Jay Leno ensures this should be memorable.
What else should you do in South Dakota? You mean, besides Mount Rushmore, the Badlands, Custer State Park, Crazy Horse Memorial, and Black Hills National Forest? We could throw in the Corn Palace, but seriously, you should already be on board. [Alex McCown]
Where? Manchester
When? June 9-12
Why is it the state's best festival? What started as an annual jamboree (emphasis on the jam) for Phish fans and Moe maniacs has evolved into the country's one-size-fits-all destination festival, where music fans of many walks can spend four days soaking in every genre under the (sweltering) sun. Onsite camping keeps the party going all night (literally, as some bands don't hit the stage until around 4 a.m.) and the sheer volume and variety of activities, vendors, food, and, uh, recreational substances is staggering. For those in it strictly for the music—the headliners this year include LCD Soundsystem and members of the Grateful Dead, those that's just the tip of the iceberg—Bonnaroo's secret weapon is its generous timeslots: Most artists, regardless of where they land on the bill, play full sets, in sharp contrast to the six-song warm-up gigs offered to the undercard acts at other festivals.
What else should you do in Tennessee? Does Graceland have central air? After four days in the Tennessee heat, just standing indoors is going to feel like a luxury worthy of the King himself. [A.A. Dowd]
Where? Austin
When? November 6-8
Why is it the state's best music festival? With behemoths like ACL Fest and the nearly month-long event that is South By Southwest, it's easy to be jaded into thinking that just because everything is bigger in Texas doesn't mean it's actually better. But Fun Fun Fun Fest's previous lineups have included a strong mix of music and comedy, with past headliners like Wu-Tang Clan, Tig Notaro, Passion Pit, and Henry Rollins. Below-the-fold acts suggest that this year's lineup will be equally strong, with an emphasis on hip-hop and heavier acts. Plus, November in Texas is gorgeous.
What else should you do in Texas? Considering you can drive more than five hours in any direction and still be in Texas, the world is your oyster. But if Tex-Mex food (tip: try the cowboy queso at Kerbey Lane, and eat as many breakfast tacos as your stomach allows) and surrounding Hill Country aren't enough of a draw, you should probably just stay home anyway. [Laura M. Browning]
Where? Heber
When? June 10-11
Why is it the state's best music festival? Lots of festivals presume camping out will be an aspect of your participation, but few take it as far as Bonanza Campground. Like an REI-heavy version of Lollapalooza, the festival takes the rugged outdoors as part and parcel of its experience, in gorgeous wooded hills. Big Gigantic and Cold War Kids headline, but there's a bevy of intriguing smaller acts like Jr. Jr. and the massive beats of Chicago's Manic Focus. Besides, haven't you been saying for awhile now that you've heard Utah is absolutely beautiful?
What else should you do in Utah? There's a ton of incredible sightseeing to do in Utah—that reputation for natural beauty doesn't lie—but for us, the must-see attraction is Arches National Park, which will leave you goggle-eyed and dumbstruck. [Alex McCown]
Where? Burlington
When? September 18-19
Why is it the state's best festival? Grand Point North blends hippie vibes with alt-country sounds and slaps the whole thing in a lovely location on Burlington's waterfront. This year, Grace Potter headlines both nights, interestingly enough, while undercard acts include Old Crow Medicine Show, Guster, and Basia Bulat.
What else should you do in Vermont? Burlington has a fairly eclectic population, thanks in part to the University Of Vermont. Expect farmers markets and cute little main street cafes and stores. While Ben & Jerry's HQ is a good 30 minutes down I-89, there's still plenty of wackadoodle stuff to see in Burlington, including the World's Tallest Filing Cabinet. [Marah Eakin]
Where? Richmond
When? August 20
Why is it the state's best festival? Since 1984, GWAR has become one of the cornerstones of Richmond's music scene. Now in its seventh year, the annual GWAR B-Q is the celebration of the scumdogs and everything it entails—which, fittingly, now includes a GWAR-branded barbecue sauce. Taking place right on a lake, and with acts such as Against Me!, American Nightmare, Eyehategod, and Virginia's own Lamb Of God, the seventh GWAR B-Q may be its best yet.
What else should you do in Virginia? Walk through the streets pleading with everyone that lives there to get Avail back together. [David Anthony]
Where? Olympia
When? August 12-14
Why is it the state's best music festival? Bumbershoot doesn't need any more attention, so let's highlight the most promising underground metal fest in the whole damn country. 20 Buck Spin and Gilead Media have joined forces to give you a concentrated blast of the best contemporary thrashers around—or rather, the best of the newest. With talent like Auroch, Dead To A Dying World, Magic Circle, and Panopticon's first ever live show, this looks to be the best opportunity all summer long to get your face melted by guitars.
What else should you do in Washington? Have you ever hiked Mt. Rainier? You should. But if that's a little too ambitious, Puget Sound is gorgeous, the Museum Of Flight is awesome, and since you're obviously into technical musical artistry if you're going to Migration Fest, the Experience Music Project Museum in Seattle should be right up your alley, nerd. (We went in the early afternoon, and were kicked out at closing time.) [Alex McCown]
Where? New River Gorge
When? June 2-4
Why is it the state's best festival? Just like the country roads that the John Denver song talks about, the Mountain Mama state offers you the Appalachians and tons of wilderness. This festival takes advantage of these area highlights by placing the event in a 1,500-acre nature adventure park. You can take off on jaunts like whitewater rafting, mountain biking, and ziplining in between seeing homespun bands you may/may not have heard of like Trampled By Turtles, Galactic, and Yo Mama's Big Fat Booty Band.
What else should you do in West Virginia? West Virginia kind of gets a bad rap, but for untainted camping experiences, it's hard to beat the Appalachians on the East Coast. Or check out historic Wheeling, which has a lovely botanic garden as well as a historic district on Wheeling Island. [Gwen Ihnat]
Where? Eau Claire
When? August 12-13
Why is it the state's best festival? Curated and founded by Bon Iver's Justin Vernon, Eaux Claires thrives on its unified vision. Every act playing has been approved by Vernon, and it just so happens that he has pretty decent and eclectic taste. This year's acts include Melvins, Erykah Badu, Shabazz Palaces, and Mavis Staples. Bon Iver will also perform—something that's a fairly rare occurrence at this point—and, weirdly enough, Bruce Hornsby And The Noisemakers are set to show up to play The Way It Is in its entirety. What Justin Vernon wants, he gets.
What else should you do in Wisconsin? Hunting and fishing are big in Eau Claire, and so is bowling. There also appears to be no shortage of apple orchards in the area, should you be interested in getting your apple cider doughnut on. For a brief historic stop, there's always the Paul Bunyan Logging Camp, which takes visits back in time to an authentic 1890s logging camp, complete with cookhouse, bunk house, blacksmith shop, and barn. [Marah Eakin]
Where? At the Grand Targhee Resort in Alta
When? July 15-17
Why is it the state's best festival? Wyoming doesn't have much to offer in the way of music festivals, but Targhee Fest stands out all the same. With a fairly solid lineup including the Drive-By Truckers, Bettye Lavette, and The Jayhawks, Targhee seems like it would be a solid hang. Plus, it's set on a fancy winter skiing resort, so the scenery is a plus.
What else should you do in Wyoming? On or near the resort alone, there's mountain biking, scenic chairlift rides, horseback riding, disc golf, and whatever EuroBungy is. Nearby, you can hit Grand Teton National Park, as well as Yellowstone. That kind of grand, majestic silence and space will probably sound mighty nice after a day of loud rock music. [Marah Eakin]