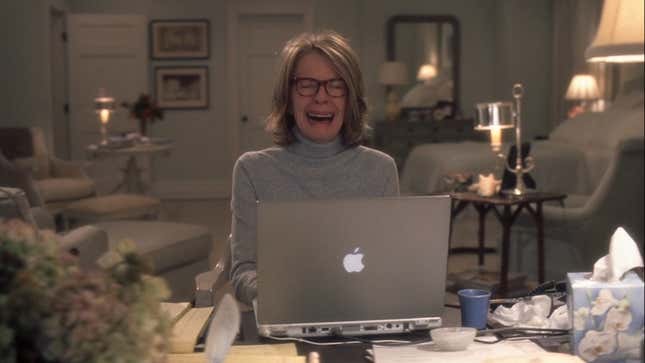 For years, Netflix has touted itself as a place where filmmakers can produce their passion projects, where Martin Scorsese can make his Irishman, Guillermo Del Toro, Pinocchio, and Alfonso Cuarón, Roma. As for American auteur Nancy Meyers, the director of Something's Gotta Give and The Intern, there's simply no money for a delightful romantic comedy set in a tastefully-decorated Cape Cod mansion.

Netflix is pulling the plug on Meyers' latest over, what else, a budgeting disagreement. Per The Hollywood Reporter, the streamer was willing to open its coffers to $130 million and not one cent more. However, Meyers needs a budget of $150 million, and because this movie isn't called Extraction, that's a no-go. So the Russos can spend $200 million on something called The Gray Man, but we can't get a $150 million Nancy Meyers kitchen in which Owen Wilson can apologize to Penelope Cruz? The movie would've been her first in close to a decade. Maybe she could consider making one of the characters [sigh] a spy with amnesia.

Meyers spends a lot but gets the goods, attracting big stars and generating massive returns. Her directorial features have generated over $1.3 billion worldwide, not including licensing to planes and cable. Moreover, they're good movies made by someone who knows what they're doing. Yet, Netflix's model, which continues to make zero sense, doesn't care much for making money directly from the movies they produce, forgoing theatrical in lieu of dumping movies into an algorithm that helps Dreamworks' Turbo enter its top 10. The weird shit that ends up in that top 10 is mind-boggling sometimes.
As with any Meyers' project, stars circled the project, with Scarlett Johansson, Penélope Cruz, Michael Fassbender, and Owen Wilson reportedly interested in the film, which may have been named Paris Paramount. It was to follow a writer-director who falls in love with their producer, and the pair find great success in the movie business but eventually break up. However, a new project brings them back together as they have to sort through their emotional problems and, worse, that of their stars. God, who the hell wouldn't want to watch that?
Anyway, it's not happening because we live in hell, and nothing's good anymore.