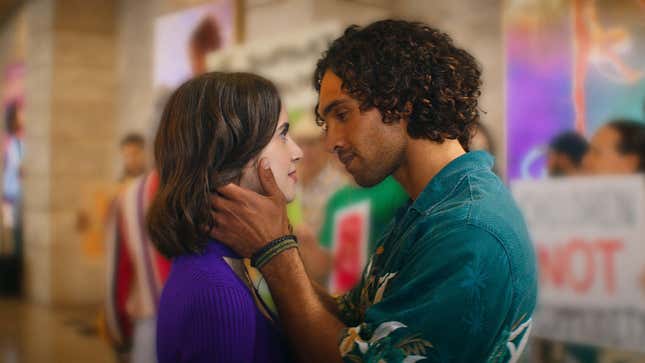 Question: do you think the directors of Clue (1985) knew what they were setting in motion when they released the film with three different endings? Yes or No.
If you weren't immediately prepared to pick a lane, you have some real boning up to do. That's right: Netflix is doing yet another audience participation film. Remember those? Half a decade (!) after their first interactive outing—Black Mirror's "Bandersnatch," a "choose-your-own-adventure story about a young man's efforts to finish a choose-your-own-adventure video game based on a choose-your-own-adventure cult novel," in the word of The A.V. Club's reviewer Zack Handlen—the streamer is once again trying to make choose-your-own-adventure happen. (By the way, there are way more of these than you probably remember. It's not just Black Mirror and that Unbreakable Kimmy Schmidt movie—Bear Grylls also did one?)
Anyway, this time it's a rom-com not-so-subtly titled Choose Love, starring Laura Marano, Avan Jogia, Jordi Webber, and Scott Michael Foster.
The "story" itself is standard fare. Marano plays a young, hot audio engineer torn between three young, hot guys. Foster is her long-term, about-to-propose boyfriend. Webber is the childhood crush who got away. Jogia is the dangerous rockstar. For all the Conrad vs. Jeremiah shippers out there, this one may be for you; all the stress (or fun, depending on how you look at it) is taken out of the love triangle since Marano's choice is 100% in your hands.
Like "Bandersnatch" and its nesting-doll of choose-your-own adventure plots, Choose Love really hits you over the head with the whole "these characters are merely puppets in your hands" thing. It's... a little eerie, quite frankly. Just in the two and a half minute trailer, characters warn each other that "the clock is ticking" (a reference to the timer that limits how long viewers can ponder their answers), "you are about to be pulled in all different directions," and "this is the fun part, when you don't know how it ends."
All in all, this does seem like an hour or two of fluffy fun, despite being yet another foray into a technology that has proven over and over to be just... fine. Let's just hope streamers don't start looking to audience-driven narrative as yet another excuse to not pay their writers.
Choose Love premieres August 31 on Netflix.