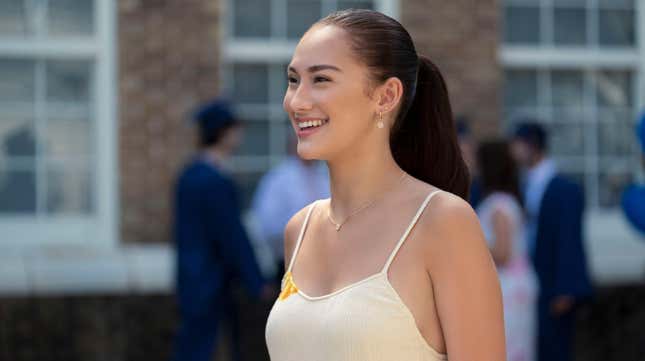 The Summer I Turned Pretty is a teen dream. In the Prime Video series, a beautiful beach house becomes the setting of a love triangle between Belly (Lola Tung) and her two childhood best friends, the brothers Jeremiah (Gavin Casalegno) and Conrad (Christopher Briney). It's a frothy fantasy right out of the pages of a young adult novel. Literally: the show is adapted from the book series of the same name by Jenny Han, who also serves as co-showrunner. Yet even when the drama is gorgeously overwrought, The Summer I Turned Pretty is still one of the most realistic depictions of teenagers on television right now.
Take with a grain of salt that this is the perspective of a decidedly Millennial writer, but TSITP's second season—released on July 14—reinforces something true about being a teen today. The previous generation's coming-of-age depiction felt entertaining but not always real. The glossy, polished princesses of Pretty Little Liars and Gossip Girl tended to find themselves in situations way more outrageous than anyone, let alone a high schooler, has ever dealt with. Riverdale may be the last vestige of this era, but it's more of a teen drama parody than anything, particularly its '50s-set final season. Even in its heyday, the CW series was running social commentary through its ridiculous perspective; its characters presented as archetypes (The Girl Next Door, The Femme Fatale) twisted through surreal high school scenarios.

By contrast, The Summer I Turned Pretty is grounded and small. The characters are not wrestling with an actual bear, but with teen-shaped problems like parents divorcing, moms being sick, and falling in love for the first time. The show has ditched the high-fashion, hyper-stylish mode of previous teen TV and stuck with costuming that looks pulled from The Gap's latest summer offerings. No doubt these kids have the privilege (see: gorgeous beachfront property), but watching them doesn't evince the sense that their lives are unattainable to the average viewer in the way that the old guard did.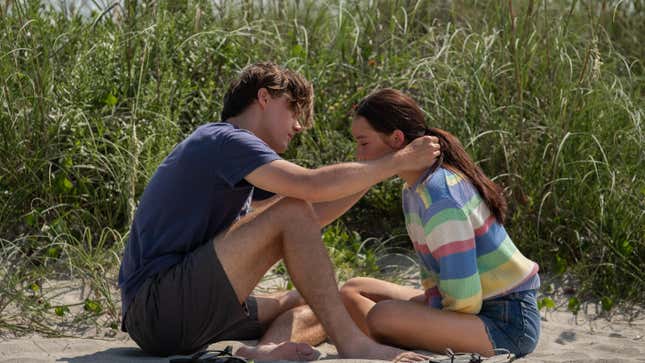 Even among the new generation of TV teens, TSITP stands out for relatability. Perhaps the most popular—or at least most talked-about—Gen-Z high school series is Sam Levinson's Euphoria starring Emmy winner Zendaya. It takes high school to the extreme. No doubt real teens deal with issues depicted in the HBO series: drug addiction, revenge porn, interpersonal violence, self-harm, and more. But Levinson's vision of being young today is relentlessly grim and gritty, a fairly adult version of school probably meant for an adult audience. Even the second season's most classically high school element, Lexi's (Maude Apatow) play, had a Glee-like unreality. (Who gave Lexi the budget and the go-ahead to recreate her childhood in such a manner?)

While that version of being a teen rings true for some, the average American high school experience is likely much more … average. The hard-partying Euphoria stereotype has become a punchline, as when The Summer I Turned Pretty's Taylor (Rain Spencer) complains her friends need to get a little more Euphoria. It's not that the teens here don't dabble in sex, drugs, and alcohol. That's sprinkled throughout the series, but in this case, it's a far more honest portrayal of trying those things out for the first time.
In season two, Steven (Sean Kaufman) gets drunk and tries to impress a girl by crowd surfing at a concert, injuring Belly. In a later episode, he takes a bite out of an apple bong on a dare and immediately vomits. Meanwhile, Belly's quintessential '70s glam night of cruising around a party in roller skates and refilling drinks ends with her drunk, crying, and calling her mom for help. Sometimes the adult aspects of growing up look cool and glamorous, but are uncomfortable and embarrassing. TSITP keeps it refreshingly true to life.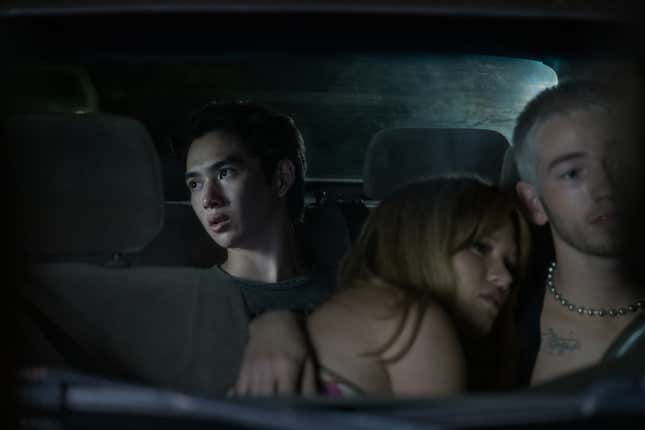 In that sense, its closest comparison in recent memory is Mindy Kaling and Lang Fisher's Never Have I Ever. Netflix's beloved series, which wrapped earlier this year, has a similarly youthful cast (except for a love interest played by the 32-year-old Darren Barnet) and appeals to a teen audience, as opposed to Freaks And Geeks or That '70s Show—high school sitcoms for primarily adult audiences. The dialogue in Never Have I Ever attempts to capture what appears to be an adult's idea of teenage cadences, like a season one scene when Devi's (Maitreyi Ramakrishnan) crush posts about her on Instagram, so she asks him: "Wait, you're posting that to your grid? Not just a temporary story?" Even if the show is for kids, it's written for the most clueless adults tuning in to understand the context at the cost of the script sounding natural. (No high-schooler would need to specify that an Instagram Story is "temporary.")
By contrast, The Summer I Turned Pretty's dialogue is natural, like you've just walked past a group of teens hanging out on the beach. "I really love mental health. You should look at my TikTok. It's like 70 percent therapists," Taylor earnestly says at one point. There's no winking explanation to the audience; even the most cringe lines don't make the teens into the butt of the joke. The writing is sometimes awkward and embarrassing but also heartfelt and sincere. The cast chemistry is even warmer and more comfortable in the second season, with a good dose of blushing, stuttering, and charmingly stilted flirting. Lots of Taylor Swift needle drops punctuate emphatic, dramatic speeches, and you know what, somehow that rings true, too.

There's no right way to be a teen, so there's no one way to portray coming of age on television. Still, The Summer I Turned Pretty is one of the more genuine snapshots of being young today, even via the narrow lens of Belly Conklin's romantic strife at Cousins Beach. Yes, she's living a teen dream—but it's lovingly and vividly realized; a perfect, precise little time capsule of this era's teen TV.