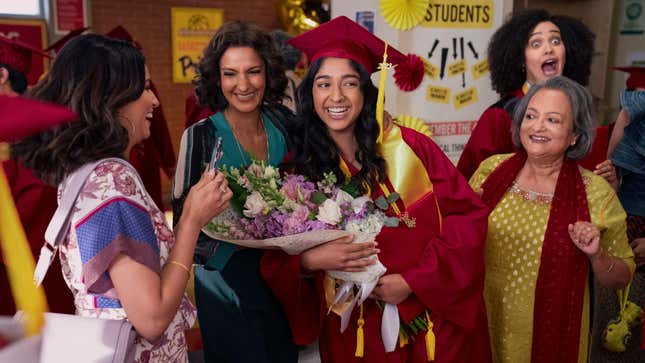 The end of any beloved TV series usually invites a conversation about its legacy. It's an especially hot topic right now thanks to recent series finales of favorites like Succession, Barry, and The Marvelous Mrs. Maisel, and how these shows left an indelible mark on the current landscape in only four or five seasons. While not celebrated enough by comparison, even though it should be, Netflix's Never Have I Ever is just as much of a tentpole for multiple reasons. Primarily, the persistently delightful comedy stands tall as one of the first shows to center on a multi-generational Indian American family. And it ends as remarkably as it began, with season four dropping on June 8.
Mindy Kaling and Lang Fisher's coming-of-age phenomenon will be remembered for its stellar lead performances, with breakout star Maitreyi Ramakrishnan and MVP Poorna Jagannathan deserving all the accolades. Who can forget drooling over a love triangle akin to the beloved YA dramas of the aughts? (RIP, Team Ben vs. Team Paxton) Like any good teen show, it also delved into fun high school shenanigans with aplomb, from unsupervised parties to Model U.N. trips, from classic cliques to memorable friendships. However, NHIE will mostly go down in history for its depictions of complicated, deeply relatable South Asian protagonists in mainstream media.
Devi Vishwakumar (Ramakrishnan) couldn't be more chaotic if she tried (and try she often does). When the show began, she was mourning the sudden death of her father, channeling her loss into unparalleled rage and often feuding with her mother, Nalini (Jagannathan). Her mission: to shed her nerd persona, become popular, and lose her virginity to a hot jock. As irksome as she could get during this mission, it was a sigh of relief to watch a flawed, multi-dimensional South Asian girl trying to figure out a place in the world. Ramakrishnan's heart-rending work helped further lift the material. And NHIE wasn't a typical portrayal of brown women, even though the lens has slowly been shifting.
There have certainly been nuanced South Asian women on the small screen before, ranging from ER to New Girl. But this series is a game-changer because of the specificity with which it explores generations of Vishwakumar women, whether succumbing to or subverting diaspora stereotypes. Over four wholesome seasons, the show charted a unique path with Devi, Nalini, Devi's cousin Kamala (Richa Moorjani, giving an increasingly potent performance each year), and grandmother Pati (Ranjita Chakravarty). Thanks to accurate representation in the writers' room, the show never felt like it was checking off a diversity list. It's representation with hilarious, heartfelt storytelling to support it. And the final season is no different.
About this last batch of episodes: Despite being a YA show, the heart and soul of the series lies in Devi's endearing familial relationships. Sadly, here's less Sendhil Ramamurthy as her dead dad this season, and the show could use more Nalini and Kamala in this final round. But it still ends with a beautiful tribute to the evolution of Devi's personality in correlation with how her bonds with her mother, cousin, and grandmother have developed. She continues to do dumb shit—dates the bad boy (as is every teenager's rite of passage), messes up her college applications, lies profusely about said messing up, almost gets someone expelled, and sets off a brief fight with BFF Fabiola (Lee Rodriguez). Devi's rebellious acts aren't surprising anymore, but she bids farewell as a smartly layered character who accepts her flaws.
Season four also cements the show's theme of letting go, with Nalini embracing the idea of independence and a potential new romance. Kamala goes through ups and downs that feel one-note at first but ultimately end with a similar hopeful message of championing herself. Even Pati enters an exciting new relationship. However, why NHIE cast Jeff Garlin to play her love interest remains a puzzling mystery; his stiff performance adds nothing of value to the otherwise promising storyline. The other sore spot of season four is a glaring lack of Megan Suri's Aneesa, but at least there's plenty of joy to be mined from Devi, Fabiola, and Eleanor's (Ramona Young) final year at Sherman Oaks. And don't worry, Devi's never-ending Ben (Jaren Lewison) vs. Paxton (Darren Barnett) drama meets a swoon-worthy conclusion.
Ultimately, Never Have I Ever maintains the same sense of optimism and charm that's carried it throughout its run. It's got the same sense of zany humor as Kaling's work on The Office and The Mindy Project, or Fisher's on Brooklyn Nine-Nine, making the show appealing to a broader audience while capturing a specific community, and doing it all with terrific performances to boot. (When will the Academy retroactively give Jagannathan her Emmy?) And that's its legacy: Never Have I Ever is emblematic of a time of change for South Asians on TV; it's both a momentous stepping stone and a perfect little four-season treat.
---
Never Have I Ever season 4 premieres June 8 on Netflix