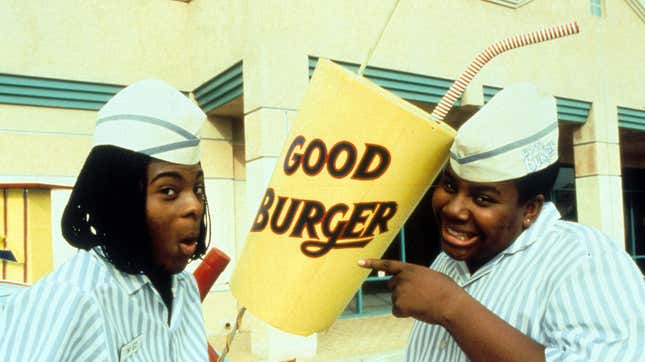 Exciting news from the Nostalgia Mines today, as those dedicated diggers at Paramount+ announce they've just knocked a big ol' chunk of our collective childhoods free for processing into precious, life-giving views: Good Burger's coming back, baby!
Per Variety, news of the revival project—which will bring to the streaming screen all the majesty and the grandeur of 1997's most beloved Nickelodeon burger comedy based on an All That sketch—was announced by stars Kenan Thompson and Kel Mitchell last night during an appearance on The Tonight Show With Jimmy Fallon. Both guys (as well as the film's director, Brian Robbins, who is now the CEO of Paramount despite being not just the director of Good Burger, but also the director of Meet Dave) have expressed, more than once, their desire to get Dex and Ed back behind the grill over the years.
And now it's happening, with a script and everything, which will apparently see Thompson's Dex, now a down-on-his-luck inventor, returning to work at Good Burger besides the endlessly unflappable Ed. This premise is not sad, we are assured by Thompson and Mitchell's good-natured camaraderie. There is nothing sad, about this.
Thompson and Mitchell both released statements after breaking the news on Friday night, with Thompson saying that, "Being a part of something so many generations of people have come to love has made me so proud and now to be back where it all began working on the sequel is surreal! Love performing with my brother Kel and can't wait to show the fans what these characters have been up to since we last saw them." Mitchell, meanwhile, asserted that, "Ed is one of those timeless characters that has brought so much joy and laughter to fans, and it's such a beautiful blessing to still be doing it after all these years. It's super awesome to come back and continue the stories of Dex, Ed and Good Burger for both the people who grew up watching and their kids."
Good Burger 2 will arrive on Paramount+ some time in 2023