Pity the poor sound editor, forever the butt of creaky Oscar telecast jokes about how nobody really knows what separates them from the sound mixers. For seemingly unknowable showbiz arcana, however, this information's pretty easily Googled: The award for sound mixing singles out the audio engineers responsible for assembling the full soundscape of a film, balancing dialogue with background noise and canned special effects. The award for sound editing pays tribute specifically to foley artists, those specialists tasked with manufacturing the effects to later be dropped into the mix. It's not an especially glamorous profession, and if Peter Strickland is to be believed, it occasionally drives people over the precipice of sanity.

To their credit, the Academy's technical voting branches have recognized the difference between these two fields more consistently than head gag man Bruce Vilanch. Recent years have seen a number of splits between the two contests; just last year, the editors awarded the alien whale song of Arrival, while the mixers gave their prize to the carefully arranged chaos of Hacksaw Ridge's battlefield sequences. Unlike the voters in the Film Editing category, who often acknowledge the film most baldly flaunting its own artistry (call it "the Whiplash effect," if you like), the sound editors evince a nice appreciation for subtler and more surgically targeted work. It's not all massively scaled sonic spectacle, as proven by recent wins for the minute rustlings setting off our troops in American Sniper and the muted vacuum of space in Gravity.
I'm allowing myself a shred of hope, then, that the spectral scratchings of Olivier Assayas' fastidiously composed ghost story Personal Shopper could stand a chance in this year's race. The film's foley editor Morgane Thomas and foley artists Louis Naudin and Nicolas Fioraso created a quietly intricate network of otherworldly noises that torment mourning medium Maureen (Kristen Stewart) with vague suggestions of what might be present. She's looking for a sign from her recently deceased brother, Lewis, waiting for him to make good on their pinky swear that whoever goes first will send the other a message from beyond the veil. She spends much of the film confused and uneasy, plagued by wispy signs she cannot parse into meaning, eventually yelling to her absent brother that she needs something more than hints of memory. Assayas and his team of audio prestidigitators won't let her—or us—have it.
Personal Shopper wedges itself into liminal spaces and never quite gets comfortable. Assayas situates his film between life and death, between the self and a shadowy other, between knowledge and conjecture. Seamy ambiguities are everywhere, right on up to the defiantly oblique ending that drew nasal boos from the French critics at the Cannes premiere back in 2016. This is the cinema of the uncanny, and master manipulator Assayas integrates clever formal trickery to further envelope his audience in that atmosphere. A figure appears out of focus in the background while Maureen enjoys a morning tea, and Assayas cuts away right before a viewer can fully register what they're seeing. He's aiming for the cinematic equivalent of the breeze that tickles the back of Maureen's neck as the barely visible figure creeps into the frame, doing just enough to keep us off balance and not so much that the film ever fully congeals into the generic familiarity of gotcha horror. (Though we do all, ultimately, get gotcha'ed.)
G/O Media may get a commission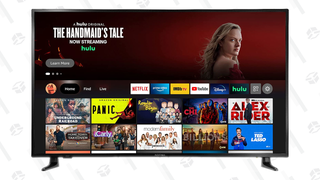 38% Off
Insignia 50" 4K UHD Smart TV
The most effective tool in Assayas' gilded box are the noises of indiscernible origin ginned up by his foley team. While most of the e-ink related to this film has been understandably spilt over the much-ballyhooed sequence in which KStew gets cyber-bullied over the course of one working afternoon, the most crucial scenes come a bit earlier, when she spends the night in Lewis' former home. Here Assayas inserts sounds while only suggesting their point of origin to force us into surrogacy with Maureen as she futilely grasps at understanding. The hand of a director can be as light as any ghost—to the point of imperceptibility.
As Maureen first gets acquainted with the layout of Lewis' house, Assayas patiently follows her in a series of dolly shots that map the floor plan. She walks through the front door all the way to the back patio, doubles back, and climbs up the main staircase to a sitting room on the second floor. It's there that she whispers, "Lewis, are you there?" and receives a dampened din of what sounds like crinkly static as the only response. Maureen whips her head around, presumably in the direction of the sound, and Assayas makes his first cut motivated by an action on the screen rather than the objective of keeping Stewart in the frame. Now Maureen's looking in the general direction of the camera, while not at it. Is this a point-of-view shot? And if so, from whose vantage? Maureen later tells her boss' sexy/creepy lover that she thinks she's received a sign, but she's not sure.
So she returns for another game of aural peekaboo about a half hour in. The faucets in this old dark house start spontaneously spewing water, though the sound more closely resembles the static from before until Maureen follows it to its source. This is not the connection to the spirit realm she's been looking for, and she gets frustrated enough to stutter at the opaqueness of this gesture, if it does indeed come from Lewis. She angrily demands a more palpable expression of presence and gets it as she descends the stairs. Buried deep in the mix, there's an alien twinkling (soon, we'll learn that this is a female apparition jangling the chandelier in the main chamber) for all of one second, just enough to get Maureen's attention. She stops, and Assayas pulls the same trick again: wham, head whips around, hard cut to behind Maureen. But this time, the ghost leaves something behind, having scratched out Maureen's pen-and-ink sketches. As Maureen finds her ruined drawings, an Eraserhead-ish white noise crosses the absolute threshold of hearing, and she's suddenly face-to-face with a confirmation of paranormal activity for which she was not quite as ready as she thought.
In these scenes, Assayas sets up shop in the cinematic medium's unsettling gap between image and sound. The basic nature of the movies allows for a wide range of disembodied audio, sometimes played for laughs and more frequently for frights. The director and his foley team prove themselves adept in the latter mode, but they exploit the form's disconnect predominantly to set us off balance rather than spook us. It's one of the great aggravations of cinema that the viewer can only analyze what the director has knowingly allowed them to; as much as we might want to, we cannot look around unless the camera permits it. Assayas plays it stingy with visual information that would contextualize the foreign noises cooked up by the foley artists, cluing us in to their specific nature only when Maureen has access to that knowledge. In the moment, this reliably generates suspense, but it more pointedly gets at her exasperation with the inexactness of her seances. We cannot possibly know what these sounds are or where they're coming from until Assayas is good and ready, and even though she's in the physical space, Maureen's not any closer to gleaning any conclusions from them than we are.
The last scene grants Maureen her closest proximity to satisfactory proof, as she communicates with a spirit—maybe it's Lewis, maybe it's not—via bumps in the daylight. It appears at first glance that Assayas has chosen a paradoxical note on which to conclude when Maureen asks, "Is it just me?" and a single bump responds in the affirmative, the gravelly voice from under the bed assuring you that you've got nothing to fear. But applying the film's pre-established formal patterns to this scene brings some precious clarity. When Maureen hears the final wham, she looks through the fourth wall instead of behind her and directly into the camera rather than in its vague vicinity, suggesting that the sound "happened" right in front of her. (It's for this reason that Assayas has no need for another dramatic cut; we're already right where we should be.) At last, it's clear that this shot does indeed come from the perspective of a ghost, but the question persists as to who it might be.
Whether Maureen will find inner peace after this final anonymous encounter is left maddeningly unresolved, but what's for sure is this isn't all in her head. She's been haunted by both a wraith and the camera, two intangible presences conflated by inscrutable sound to supremely discomfiting effect. She'll spend the rest of her life wondering whether that really was Lewis, much in the same way moviegoers wonder what Rooney Mara wrote on that slip of paper or what Scarlett Johansson whispered to Bill Murray. We'll never know for sure, and neither will she. All we can do is keep listening to the sounds, as if what isn't there will appear if we want it badly enough.