Over the course of its original eight-season run, Psych referenced or parodied any number of genres, including slasher films, crime comedies, musicals, reality TV competitions, and most notably, that mystery drama that's back in style. Steve Franks' little blue-skies dramedy could stretch any which way, because while its fake psychic premise was piquant enough to simultaneously exist on CBS, the friendship between leads Shawn (James Roday) and Gus (Dulé Hill) was the real framework of the show. It didn't really matter whether the Psych Detective Agency would be found out or how Shawn's powers of observation would help crack their latest case. The real draw was Roday and Hill's chemistry, which could potentially support any number of concepts.
The latest Psych story tests that theory, as the fake psychic/slightly more authentic private detectives have changed genres again—and addresses. Psych: The Movie is the first TV movie from Franks and Roday (though it's not their first feature-length offering), and it ventures into Hallmark Channel territory with its Christmas setting, both on and off screen. It has a lot more in common with Gremlins than A Christmas Prince, but Psych: The Movie is also poised to kick off a batch of TV features from Franks and Roday (ratings will surely factor in, of course). USA Network might have given up on its breezy dramas as its main focus, but the cabler is optimistic about how well this fizzy fare could do over the holiday season. And Psych: The Movie delivers on its potential, both as a holiday-adjacent comedy and as the springboard for a new USA subgenre.

Directed by Franks, who co-wrote the teleplay with Roday, Psych: The Movie is lively and lightweight, buoyed by Roday and Hill's bond, which hasn't diminished at all in the last three years. Its structure is classic Psych, with mystery assailants, a break-in or two, a little self-reflection, and rapid-fire pop culture references to make up for their absence. Roday has called the movie a "love letter" to the fans, and it is definitely an enjoyable continuation of the original series. Virtually all the main and recurring players, including Timothy Omundson, who's recovering from a stroke, are worked into the story, which centers on Juliet (Maggie Lawson). The San Francisco cop has been targeted by the Thin White Duke (Zachary Levi) and his goons, including WWE star Charlotte Flair. The antagonists threaten to spoil not just Christmas, but possibly even Shawn and Juliet's engagement, which remains jewelry free.
Levi struts around as a villainous yet dapper Englishman who aspires to be a David Bowie knockoff; Roday and Franks always wanted the late music icon to make an appearance, but this is as close as they could get. And yet, it works because Levi, who honed his accent in Thor: The Dark World, really sells his bottle blond, bespoke menace. Unfortunately, the other bad guys are much more thinly sketched, even the ones whose backstory will make the most devoted fans sit upright when they first appear onscreen. But the lack of strong characterization for villains didn't hinder the show in the long run, and it doesn't dampen any of the energy here. Shawn's famous observational skills and eidetic memory aren't even key elements of the movie, which bounds along to a soundtrack made up of The Ramones, Gin Blossoms, and impressive choruses of "come on, son"s.
G/O Media may get a commission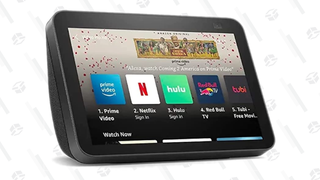 Logic and consequences never mattered much on Psych, and they don't carry much more weight in the film, which wraps with a showdown that's also a jumping-off point for the next entry in this prospective series. The main appeal of the movie is what drew viewers to the show—snappy dialogue, a truly great bromance, and enough references to satisfy the most obsessive of pop culture geeks. And just like on the show, there are several inspired bits, including Flair tossing the good guys around like rag dolls, and a complicated dick joke that would make Alec Berg and Mike Judge proud.
Psych was always the sessionable beer of comedies, something bubbly that you could partake in in significant quantities. And that spirit carries through to Psych: The Movie, where Roday and Hill reaffirm their standing as one of the great yet mostly unsung comedic duos. USA might be doubling down on dramas, but Psych: The Movie proves there's plenty of gas left in the comedy tank, too, even if the car is now heading over the river and through the woods to grandmother's house.