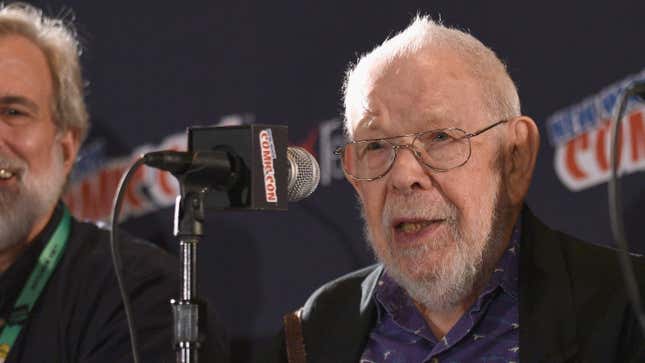 Al Jaffee, Mad Magazine's innovative and influential cartoonist, has died. As confirmed by his granddaughter, Fani Thomson, Jaffee died of multi-system organ failure on Monday. He was 102.
Late-night hosts welcome back their writers—and their jokes
Jaffee's contributions to cartooning, comics, and American comedy, cannot be overstated, but they can be summed up in one compound word: Fold-In. The cartoonist redefined how magazines could be read with the 1964 invention of the Fold-in, a parody of Playboy and Life's centerfolds. Of course, magazines already encouraged readers to unfurl their images, allowing viewers a longer gaze at the subject. But Jaffee's innovation encapsulated the spirit of Mad, asking the reader to participate in this visual gag, recontextualize the original meaning, and invert the world around them into something as truthful as it was funny.
But this was only a mere frame of Jaffee's story. Born in Savannah, Georgia, in 1921 to Jewish immigrants Mildred and Morris, Jaffee moved with his deeply-religious mother and three brothers to her hometown of Zarasai, Lithuania, at age 6. His father, the owner of a department store in Savannah, remained in the U.S., sending his boys care packages of comics every few months. "We would just sit there and read them for days and days," Jaffee told Vulture in 2009. "My brother Harry, who was also artistic, would take these Sunday comic pages, and we'd cut them up and turn them into little books. We would provide our own dialogue, maybe with a Lithuanian joke or two."
Jaffee stayed in Zarasai, reading "Annie" and Roy Crane's "Wash Tubbs" until he moved back to the U.S. in 1933, just as Hitler rose to power. His youngest brother wouldn't return until 1940 as the tensions escalated, while his mother perished in the war.
Upon his return to the States, he attended the High School of Music and Art in New York City, where he met many of Mad's original Gang of Idiots: Harvey Kurtzman, Al Feldstein, John Severin, and Will Elder, all attended high school with him. Unfortunately, cartooning was not allowed in their fine arts school, but that didn't stop Jaffee, who sold his first comic to Spirit creator and fellow future luminary Will Eisner fresh out of high school.

Jaffee's early career was filled with stories like this. After working with Eisner, he moved to Timely Comics, later known as Marvel. There, he worked under a 19-year-old wiz kid named Stan Lee, who tossed him the script for the police spoof "Squad-Car Squad." "If you can do this, you can work for me," Jaffee recalls Lee's challenge. He continued to work with Lee on numerous titles in Marvel's pre-superhero pantheon, including "Ziggy Pig And Silly Seal" and "Patsy Walker," which included one-page strips by Jaffee's old schoolmate and future Mad editor Harvey Kurtzman. The old friends stayed in touch. Around this time, Jaffee's schoolmates, including Kurtzman, Elder, and Severin, were putting out the first issue of Mad for EC. In 1955, Kurtzman invited Jaffee aboard. Jaffee would much of the rest of his career in the pages of Mad.
In 1964, Jaffe changed the shape of magazines with the invention of the seminal Mad Fold-In. Inspired by the "elaborate full-color fold-outs" in the pages of Playboy, Life, and National Geographic, Jaffee asked if he could "mutilate the magazine" with a "cheap, black-and-white Fold-In." Editor Al Feldstein, who succeeded Mad's original EIC Harvey Kurtzman, loved it. "'Do it, and if it mutilates the magazine,'" Jaffee remembered Feldstein saying, "'the kid'll buy a second one for his collection.' Ever the money man." The success of the Fold-In became a curse. About three weeks after turning in the inaugural foldable, Feldstein wanted more. The Fold-In became one of Mad's signature features, along with another mid-60s creation by Jaffee, "Snappy Answer To Stupid Questions."
Throughout the 60s and 70s, the Gang of Idiots continued to deepen their relationship. As an incentive, publisher Bill Gaines invited the staff on trips to meet publishing goals. So, in 1960, they traveled to Haiti to visit Mad's singular Haitian subscriber and, in 1971, to the offices of Krokodil, the Soviet Union's humor magazine.
In 1967, Jaffee divorced his first wife, Ruth Ahlquist, whom he married in 1945, and fathered two children, Richard and Debbie, together. Roughly a decade later, he married Joyce Revenson. They remained together for 45 years until she died in 2020.
Awarded the world record for longest career as a comic artist by Guinness World Records in 2016, Jaffee continued contributing Fold-Ins for another three years. In 2019, the magazine phased out new material, relying on legacy work and special issues to keep the brand alive. His final Fold-In appeared the following year in the special "All Jaffee Issue," which featured reprinted and previously unpublished Jaffee work.

"I had two jobs all my life," Mr. Jaffee told the New York Times in 2020. "One of them was to make a living. The second one was to entertain. I hope to some extent that I succeeded."