Eddie Van Halen, the beloved rocker whose namesake band dominated the charts, has died. A rep for Van Halen confirmed to Variety that he passed on Tuesday following a long battle with cancer. He was 65.
Van Halen's son, Wolf, also confirmed the news via Twitter. "I can't believe I'm having to write this, but my father, Edward Lodewijk Van Halen, has lost his long and arduous battle with cancer this morning. He was the best father I could ever ask for. Every moment I've shared with him on or off stage was a gift. My heart is broken and I don't think I'll ever fully recover from this loss. I love you so much, Pop."
Whether it was misinterpreted or not, what's popularly known as Van Halen's "brown sound" went on to influence decades' worth of guitarists following the release of the band's 1978 debut. Described by The A.V. Club as "the sound of a humbucker-equipped guitar fed into a wattage choked, 100-watt Marshall amplifier cranked to 10," it set a wholly unique tone that drew attention to the speed and dexterity displayed by Van Halen, the likes of which would go on to influence various forms of thrash, speed, and, of course, the hair metal that dominated the 1980s. Van Halen is often credited with popularizing the art of finger-tapping, a technique in which players tap out notes with both hands on the fretboard.
Before he was setting fire to stages across the world, though, Van Halen and his brother, Alex, who would serve as Van Halen's drummer, were budding rockers in Amsterdam. Born to a family of musicians, the brothers began playing piano at the age of six. They moved to Pasadena in 1962, and Van Halen's love for Eric Clapton and Jimmy Page drew him to the guitar. After linking up with vocalist David Lee Roth and bassist Michael Anthony, the band found a fan in KISS' Gene Simmons, who helped them record the demos that would serve to form their 1978 breakout. Van Halen wasn't an instant chart-topper—it only hit 19 on the Billboard Top 200—but scorchers like "Eruption," "Ain't Talkin' 'bout Love," and their cover of The Kinks' "You Really Got Me" have endured across decades.
The five multi-platinum Van Halen LPs that followed fared much better, producing singles "Dance The Night Away," "Jump," "Panama," and, yes, "Hot For Teacher." In the early '80s, Van Halen also contributed to the solo album of Queen's Brian May, penned a solo song for 1984's The Wild Life, and appeared in a Frank Sinatra music video, "L.A. Is My Lady." Most famously, though, was the iconic guitar solo he provided for Michael Jackson's "Beat It."
G/O Media may get a commission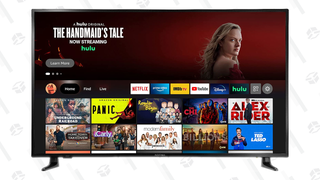 38% Off
Insignia 50" 4K UHD Smart TV
"It was 20 minutes of my life," Van Halen said of the recording in a 2015 Billboard interview. "I didn't want anything for doing that...I literally thought to myself, 'Who is possibly going to know if I play on this kid's record?'"
Roth left Van Halen in 1984, though not everyone would call that a tragedy. Van Halen, for example, seemed happy to see him go: "I'm a musician, Dave's a rock star, he told Rolling Stone that year. And it's true that the band didn't need Roth to survive. Ex-Montrose vocalist Sammy Hagar replaced Roth and, between 1986 and 1995, the band dropped four consecutive number one albums, producing singles like "Dreams," "Right Now," and "Why Can't This Be Love?"
But Van Halen's history was a tumultuous one. Hagar left the group in 1996 due to arguments over a greatest hits album, leading the band to briefly reunite with Roth before bringing on Extreme's Gary Cherone for a three-year stint. In the 2000s, the band would reunite with both Roth and Hagar and see the departure of Anthony. Wolf Van Halen took over on bass.
Van Halen struggled with illness and addiction during this time, including a chronic joint problem and a tongue cancer diagnosis in 2000. After having a part of his tongue removed, he was declared cancer-free in 2002. A decade later, Van Halen struggled with diverticulitis, and in 2019 it was revealed that the guitarist had been struggling with throat cancer.
Both his health struggles and his 2007 divorce from Valerie Bertinelli, his wife of 16 years, exacerbated the artist's decades of alcohol and drug abuse. "I didn't drink to party," he told Billboard. "Alcohol and cocaine were private things to me. I would use them for work. The blow keeps you awake and the alcohol lowers your inhibitions. I'm sure there were musical things I would not have attempted were I not in that mental state. You just play by yourself with a tape running, and after about an hour, your mind goes to a place where you're not thinking about anything." He entered rehab in 2007 and maintained his sobriety since 2008.
He mellowed out in his later years, describing himself as a "a T-shirt and jeans guy." Reflecting on his career to Billboard, he found himself swept back to he and his brother's days at Pasadena Community College, where "all these strict jazz guys would call us musical prostitutes, because we would be gigging at rock clubs every night and then stumbling into class the next day."
He continued: "But there is an element of music that is for the people. You make music for people. Otherwise, just play in your closet. And how do you reach the most people? By giving them the band that they know. To do it any other way would be selfish."