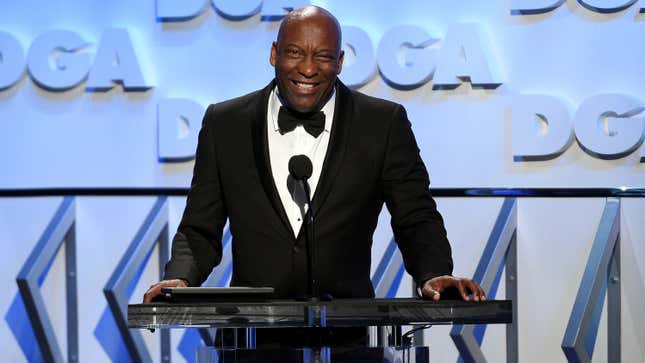 John Singleton, the filmmaking maverick who shifted mainstream focus onto black art with Boyz N The Hood, Poetic Justice, Higher Learning, and much more, passed away after suffering a major stroke on April 17. Prior to his family's earlier decision to remove him off of life support - a choice that was confirmed by a statement from Singleton's publicists -Singleton slipped into a coma and did not recover. Per Deadline, the family released the following statement: "We want to thank the amazing doctors at Cedars-Sinai Hospital for their expert care and kindness and we again want thank all of John's fans, friends and colleagues for all of the love and support they showed him during this difficult time." He was 51 years old.
John Hughes says the director called his Ferris Bueller performance "boring"
Born in Los Angeles, Singleton developed and maintained an early love of cinema by enrolling into the USC School Of Cinematic Arts. Soon after graduating in 1990, the budding director and screenwriter completed his first film Boy N The Hood, a bold and dramatic tale of inner city life starring Cuba Gooding, Jr., Ice Cube, Morris Chestnut, and Angela Bassett. Not only did his debuting effort receive resounding critical acclaim, it established a distinct point of view within a landscape largely reserved for white male filmmakers. His impact was swift: Singleton was nominated for Academy Awards for Best Original Screenplay and Best Director, becoming the first African-American to be nominated as well as the youngest person ever to receive the honor. In 2002, the Library Of Congress entered the film into the National Film Registry for preservation, deeming the work "culturally significant." He would go on to direct action films, adding Shaft and 2 Fast 2 Furious to his steadily diversifying body of work.
Singleton's influence permeated throughout entertainment as he extended his talents beyond cinema. From music videos to his turn into television with series like FX's Snowfall, he cultivated a creative voice that was distinct, poignant, and candid about his experience in navigating the world. Outside of his work, Singleton was outspoken about racism in Hollywood, speaking directly to the industry's refusal to allow Black filmmakers tell their own stories in favor of more passive black narratives in 2014:
"They want black people [to be] what they want them to be. And nobody is man enough to go and say that. They want black people to be who they want them to be, as opposed to what they are. The black films now — so-called black films now — they're great. They're great films. But they're just product. They're not moving the bar forward creatively. … When you try to make it homogenized, when you try to make it appeal to everybody, then you don't have anything that's special."
The culture-defining director will forever be synonymous with creating art that fearlessly reflects one's voice and remaining unflinchingly vocal about a more inclusive entertainment landscape.
UPDATE: A previous version of this story stated that Singleton's family had chosen to take him off life support.