The shuffler: Alex Turner, singer-guitarist-songwriter for the still-fledgling Arctic Monkeys. The group released a second album, Favourite Worst Nightmare, in April, following up respectably on the unlikely excitement it stirred up even before its debut, Whatever People Say I Am, That's What I'm Not.
Dion & The Belmonts, "Where Or When"
Alex Turner: I love all that harmony and stuff like that. I like The Four Freshmen, anything with good harmonies, some Beach Boys. I like the girl groups as well, like The Dixie Cups and all that.
David Bowie, "Moonage Daydream"
AT: From the BBC sessions [Bowie At The Beeb]. I really like the sessions albums. This version of "Moonage Daydream," I almost prefer it to the album version. There's also one on that BBC session called "In The Heat Of The Morning." I love that tune.
G/O Media may get a commission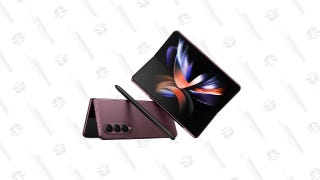 Save Up to $300
Galaxy Z Fold4
Modey Lemon, "Crows"
AT: We supported them once in Sheffield, when we were first starting out. They're from America, I don't know where. This was their single, if I remember, and I love that tune, the sound of the drums on it.
The Shirelles, "Will You Still Love Me Tomorrow"
AT: If I want to work that one out on guitar, it'd be a good one to sit and sing. I might do that, actually, this afternoon.
The A.V. Club: Do you always listen to a lot of poppy, vocal stuff?
AT: Yeah, I'm in that mood at the moment.
Tony Bennett, "(Where Do I Begin) Love Story"
AT: This is on a compilation my friend made me. It's a good song to play after a gig. I like to play that and a song by The Coral called "Late Afternoon."
AVC: What makes for good post-show listening?
AT: A bit chilled-out, like you can sort of go off into a daze.
Billie Holiday, "Gloomy Sunday"
AT: I love that tune. The lyrics and the whole mood of it.
AVC: Do you generally favor older music?
AT: Yeah. I mean, I just got this iPod the other day and put a lot of stuff on it yesterday, and it was a lot of older stuff. But yeah… Together as a band, we always listen to stuff like The Prodigy and Queens Of The Stone Age when we're in the dressing room, like things that we always agree on.
Richard Hawley, "Bang To Rights"
AT: He's from Sheffield. I like him. This is off his first release, a little mini-album that he put out a couple years ago. I'm a big fan of his, I've got all his albums.
Davie Allan & The Arrows, title unknown
AT: They do instrumentals… like fuzzy guitar sounds, all that stuff. I like Link Wray and all that kind of thing, and Johnny & The Hurricanes. I've got a 45 of theirs.
David Bowie, "In The Heat Of The Morning"
AT: This is on that BBC session as well. I'm not sure if he wrote it. It's got like a flute on the intro.
The Libertines, "Time For Heroes"
AT: This is a band that we really liked when we were sort of just getting together, and obviously The Strokes and all that. I love that band.
Pharoahe Monch, "Mayor"
AT: It's a rap tune, and it starts like a bit of dialogue, and then he shoots the mayor, and then tells what happens after it. He's in a hotel and the police are coming for him. It's a bit of a narrative. It was on that Rawkus label. I think he's great. Every verse ends with, like, "Fuck it, if I'm gonna die, at least I shot the mayor!"