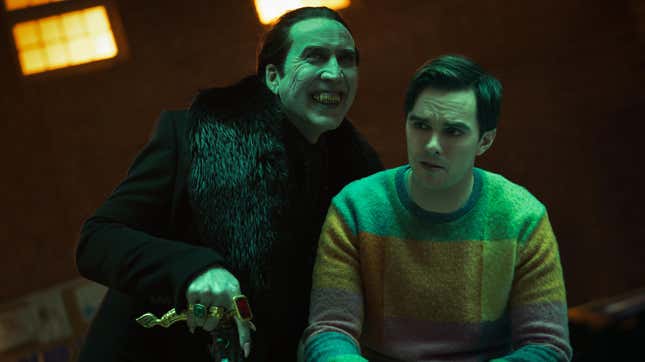 How novel it seems to make a movie about Renfield, Dracula's lowly familiar. Renfield has a lot going for it: Rob Zombie's The Munsters' lighting aesthetic and the director of The Lego Batman Movie. It also has Nicolas Cage playing the famed count. But one movie wasn't enough for Mr. Cage, who already seems to regret not diving deeper into Renfield. In a new interview with Total Film (via Variety), the actor admitted that he didn't get a complete picture of Dracula's "psyche." Who other than Cage would dare plumb the depths of The Prince Of Darkness' psychology and blood addiction?
A.V. Club interviews: Judd Apatow and the cast of The Bubble
"You know, there are some minor moments here where you get to see some of the pathos in Dracula's eyes," Nicolas Cage said. "That made me think that maybe one day I might like to try for a whole movie where you're really understanding the psyche of the character. I didn't really have the time to delve into that here."
Wow, a whole movie about Dracula? Let's pump the breaks a little bit. Maybe after we get a couple of other movies under our belts. Dracula can come after Harker, Westenra, and Van Helsing Abraham. Once we've established the four protagonists, they can team up for Dracula. Though, we can't blame Cage for wanting his own movie because the character, as he says, "is a challenge."
"It's been done so many times already," he said. It's been done very well and it's also been done not very well. I certainly admire Christopher Lee and Frank Langella and Bela Lugosi and Gary [Oldman]. But I wanted to see if I could bring something fresh to the character. And I also kind of always knew I had to do it at some point."
In the end, he based his version on Christopher Lee, whom he met on the set of Season Of The Witch and liked "very much." Cage said that Lee reminded him of his father, so in the end, he based his Dracula on his dear dad, August, even though his father wasn't a blood addict—he was an English professor. But not even a Dracula based on dad and Lee was enough. It's all about the blood.

"More importantly than borrowing from my father, or from Christopher Lee, it's really about the psyche of the character," he continued. "An addiction to blood is not unlike an addiction to alcohol or heroin or sex, so I thought about how that lust can drive someone into darker dimensions."
The trailer does set up a group therapy scene, so maybe blood addicts anonymous plays a more significant role in Renfield than we expect. We'll find out on April 14, when Nic Cage's daddy Dracula hits theaters.