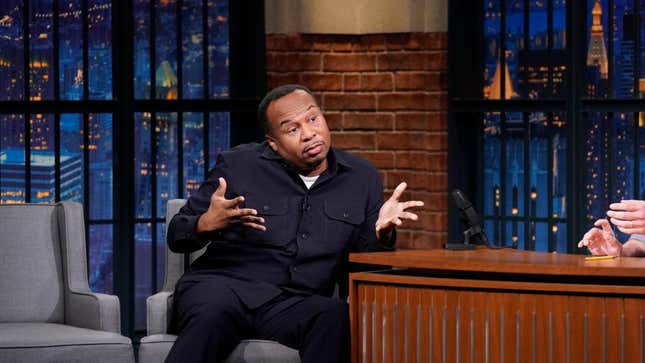 In the aftermath of Trevor Noah announcing his departure from Comedy Central's The Daily Show last year, eyes went, pretty much immediately, to Roy Wood, Jr. Along with Desi Lydic (also reportedly in the running), Wood is the longest-serving correspondent on the show's cast, having started his run on the series the same day that Noah did, back in September of 2015. And while he's branched out into lots of other projects, and continued his work as a stand-up, over that time, Wood has also become a key part of the show's identity, to the point that it's not hard to imagine him just slipping behind the host's desk and taking up the vacant spot.
Writers' strike shuts down late-night talk shows
That being said—and, considering that Wood is a comedian—he's mostly made jokes when the topic comes up, although he did acknowledge his interest in the job during an interview back in October. Now he's made an even more definitive statement, saying that he's "absolutely" pursuing the job—and narrowing his focus on late night in general.
This is per Deadline, reporting on Wood's announcement this week that he's putting his Comedy Central-produced podcast, Roy's Job Fair, on hold "while I figure out what the fuck to do in the world of late night." That includes, obviously, The Daily Show, with Wood noting that,
My future at The Daily Show is not promised, in terms of hosting. Do I want to be in consideration for hosting? Absolutely. Am I in the hopper as one of the many guest hosts that will be coming up in the next couple of months? Absolutely.
"But," he added, "In the interim, not knowing how that's going to go. I got to put a couple of the pots on the stove, man, and I got to make sure that one of them bits pays off." As Wood notes, late-night remains a very crowded space, especially with news that CBS is cutting back the budget on its Late Late Show after James Corden leaves. "Television is changing," Wood noted. "The bigger scope of the industry of which I really pay my bills is changing. Paramount cut their unscripted and reality shows last year. That's how much people are trying to save money."
Wood is one of several Daily Show guest hosts who'll rotate through the top spot in the weeks to come. Others include Wanda Sykes, Leslie Jones, D.L. Hughley, and Sarah Silverman.