Well, squirrelfriends, we made it. After a rocky start, RuPaul's All Stars Drag Race turned it out for the second half of the season, coming to a close with a strong episode that is all about the charisma, uniqueness, nerve, and talent of the final four queens. For their packed final challenge, the contestants have to give interviews with a celebrity reporter, then change looks as they accept an award, then change looks again as they head to the Comedy Store, where they each perform stand-up comedy routines. Stand-up comedy is not this show's strong suit, but the queens pull it together to deliver some of the least cringe-worthy live performances this show has ever seen (although the bar isn't set especially high).
While discussing the contestants on the runway, RuPaul points out that the top four of All Stars is essentially a battle between the old showgirl school of drag and the newer school of high-fashion drag. Chad and Shannel are perfectionists but predictable, whereas Raven and Jujubee aren't as polished but more likely to think outside the box. Both schools have one queen who excels in this episode, but overall everyone justifies why they've made it this far in the competition. Except for maybe Shannel, but every good story needs a villain.
The first leg of the challenge is a group interview with journalist Marc Malkin of E! Online, and this is where Jujubee loses her grip on the crown. Jujubee has no problem standing out in a big crowd, but get her in a smaller, more intimate setting and she has trouble grabbing the spotlight. It also doesn't help that Shannel is an attention whore that just won't shut up, but it's up to Jujubee to step up and make sure that she's whoring it up as much as her competition. At the Hamburger Mary's press conference, Jujubee is engaging, sexy and fun, digging into her signature burger and really selling how delicious it is by gorging on the product. She takes Cheri Oteri's advice and uses her family for her stand-up material, and while it takes some time for her to get a flow going, once she slips into her old Asian grandma character she wins over the crowd.
Somebody that foolishly chooses to ignore the advice of the great non-stand-up comedian Cheri Oteri is Shannel, who decides to lead her comedy routine with her "32-year-old white man trapped in a black woman's body" joke. There's a great moment during judging when Michelle points out that Shannel could have made it "black woman in a man's body" and gotten rid of some of the uncomfortable racial stereotyping, and Shannel's like "Duh, yeah! I should have done that!" Shannel just loves to overcomplicate things; she'll never use one word when 20 will give her the opportunity to talk longer. Just take a peek at the "red Cirque de Soleil realness" she brings down the runway, a lobster look that is a lot closer to "crustacean couture." Everything with Shannel is taken just a little too far, and it ventures into tacky territory. At the interview, Shannel rambles on about how she's going to spend the prize money if she wins the competition, and that's just bad strategy. You never talk about the money, you talk about wanting to represent the show and all the suck-up bullshit that Chad says.
G/O Media may get a commission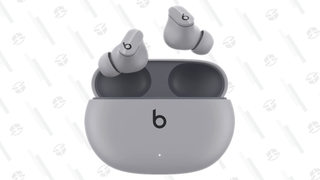 Being in the bottom two twice in a row gives Raven extra determination to impress Ru this week, and she skates through each part of the challenge. She's comfortable in the interview, and she's flirty yet powerful at Mary's, selling a burger topped with a grilled apple dipped in honey that sounds really delicious. When she gets up for her stand-up act, Raven shows that she's a great storyteller, outlining her whorish lifestyle for the audience by talking about a short-but-sweet affair with her jail cellmate Anpherny. Raven has great comic timing, and her personality really comes through in her set. Her outfit is definitely on the janky side, but it's part of the schtick, and shows just how versatile Raven's style can be. During the opening montage showing past moments of the top four queens this season, Raven's fashion sense is incredibly diverse, and she's definitely pushing the boundaries further than the other finalists.
Sometimes you don't need to push boundaries, though. Sometimes you just need to take what you've already got and polish it to perfection. Enter Chad Michaels, the winner of RuPaul's All Stars Drag Race. She brings it hard at every step of this week's challenge, and has basically dominated this competition for the last couple of episodes. There's a reason for that, and it's because she's incredibly well put together. She has the best interview of all the queens, talking about how she wants to positively represent RuPaul and the Drag Race brand, and never monopolizing the conversation. She looks absolutely stunning at the interview as well, with a fantastic short blonde wig that is playful and young. She also has the best showing at Mary's, displaying great confidence before the crowd without sacrificing any cheekiness. That confidence is also what sets her apart during the stand-up, and Cheri applauds the lack of filler in the act while RuPaul applauds the fillers in Chad's face. Like the best stand-up comedians, Chad casts a self-deprecating eye in on herself to poke fun at her plastic surgery, and the crowd eats it up. Wearing her Kathy Griffin hair, Chad Michaels shows that she knows how to get on stage and read a bitch; that bitch just happens to be herself.
It comes down to a Raven/Chad lip sync to "Responsitrannity," and it's a bit of an underwhelming final showdown. Both queens are very clean performers that rely on dramatic posing more than fancy footwork, so it's not all that visually exciting, but Chad and Raven are lip-syncing professionals working at the top of their game. In the end, Chad has had a stronger season than Raven (especially in the makeup department), and deserved the win. After more than 20 years in this business, it's a well-earned honor.
Stray observations:
In this week's Untucked: RuPaul visits one of the lounges for the very first time, guiding the queens on mini-spiritual journeys as they try to make the most compelling argument for why they should enter the Drag Race Hall of Fame. Also: orange Tic Tacs. Eat it!
Poor Delta Work and Ongina, invited back to Drag Race just to drive vans as boys.
I live about six blocks away from a Hamburger Mary's—are these All Star burgers going to actually be available? My personal favorite is the Buffy the Burger Slayer. Now I'm hungry.
Shannel looks exactly like Kirstie Alley when she presents her signature burger, and I'll let you make the jokes for that one.
Ongina doesn't care if you're going to be late for your comedy show.
Apparently afros are supposed to be funny. Is that a black thing or a clown thing?
Somebody get Beth Ditto a cup of coffee because it looks like she might fall asleep on the table in front of her.
"I have diarrhea now." Too much fried chicken, Jujubee…
"Let me tell you a little bit about my meat, ladies and gentleman."
"You can fuckin' eat me."
Shannel's "Wassssssup!" when she begins her stand-up routine is horrible.
"Sha-ding!"
"Well I am lookin' for a heart."
See you all in January for Drag Race season five!